The Velotric Nomad 1 Fat Tire Electric Bike follows hot on the heels of Velotric's successful launch last year and makes all-terrain riding accessible at any budget. Currently priced at just $1,399, the Nomad 1 is a deal that's hard to pass up if you're looking for a durable Class 2 ebike built to traverse dirt trails, bumpy pavement, and off-road routes.
We've put feet to pedals on this all-new electric bike to see if it lives up to the hype and scribbled down our thoughts below.
About Velotric
The Velotric brand has stepped up its game with the Nomad 1 and now offers two different ebike models. Last summer, we reviewed the commuter-oriented Discover 1 model which was launched on IndieGogo and marked Velotric's entrance into the electric bike market in 2021. We were impressed by its killer price and attractive look that outshone similar bikes from rival brands like Ride1Up and Rad Power Bikes. The rookie brand is led by e-mobility veteran Adam Zhang, the co-founder of the electric scooter giant Lime. On November 1st, the new Nomad 1 hit the market, adding an all-terrain fat tire ebike to the brand's growing lineup.
The Velotric Nomad 1 is designed as a go-anywhere ebike equipped with knobby 4" fat tires and a robust 750W rear hub motor to charge over a variety of surfaces. It's a burly build with enough power behind it to achieve a balanced and agile ride feel. While its Velotric sibling, the Discover 1, makes more sense as a commuter, this model is perfect for weekend joyrides and detours onto rougher paths— it can also serve as a heavier-duty city bike if that's what you're after.
Frame Size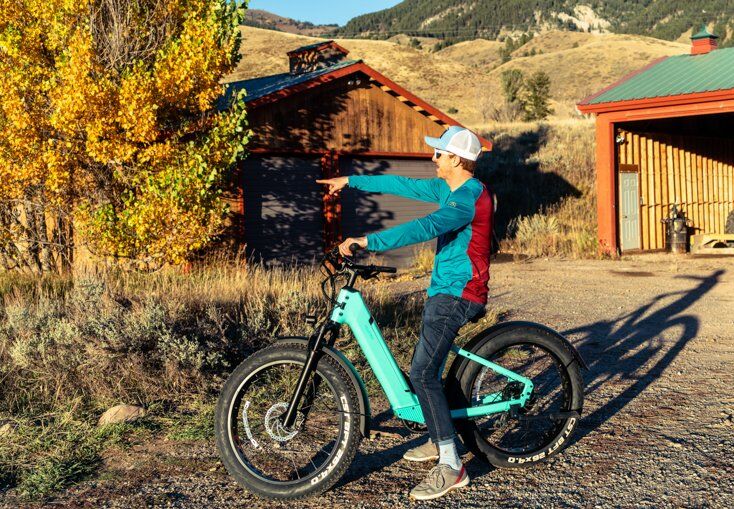 We tested the step-thru version of the Nomad 1, but the ebike is also available with a high-step frame. The colorways are different according to the frame style, so there's a total of 8 distinct paint jobs across the two models. To be honest, I'm a huge fan of the mango-yellow and spring-green colors— they are eye-catching hues and rare sightings in the ebike space.
The step-thru frame is rated for riders between 5'1" and 6'4" while the high-step version fits taller people from 5'6" to 6'9". The total payload capacity of the bike is higher than most at 440 lbs.
750W Rear Hub Motor
This ebike gets its pace from a 750W rear hub motor that provides 75Nm of torque and peaks at 1200W of power. The Nomad 1 easily reaches its top speed of 20 mph and being Class 2 means it's ready to ride on almost all local trails without having to restrict its power settings. Riders can toggle through 5 levels of pedal assist, a throttle mode, and a handy walk mode to get up ramps or push it while off the bike.
The thumb throttle is located on the left side of the handlebars and is a setup I like more than a half-grip twist system. I especially appreciate the feature where the throttle delivers on-demand speed according to the power or assist mode you are in, allowing for a more customized ride. The motor easily handles gradients up to 15°.
14.4Ah Battery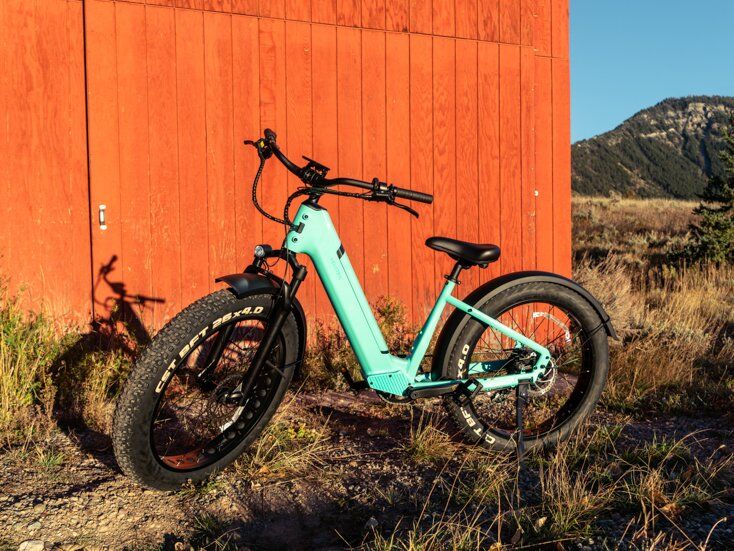 All the electronics on the Nomad 1 receive their juice from a 14.4Ah battery hidden inside the downtube. The removable battery is top-loaded into the frame which makes it easier to take out in a flash. Some other ebikes have batteries that drop out from the bottom edge of the downtube and, with so little space between the frame and the front fat tire, removal that way can be a bit awkward— the Nomad 1, though, avoids that complication.
The more-than-decent range is rated at 55 miles on a single charge so you can adventure for longer. There is also a USB port that derives power from the battery so you can charge your smaller devices on the go.
Fat Tire E-Bike
Probably the most recognizable feature of the Velotric Nomad 1 E-Bike is the oversized 26"x4" fat tires. The knobby tread pattern offers plenty of grip without being overkill, meaning the rubber still rolls efficiently over smoother surfaces. A major plus that I wasn't expecting on such an affordable fat bike is the holed-out rims.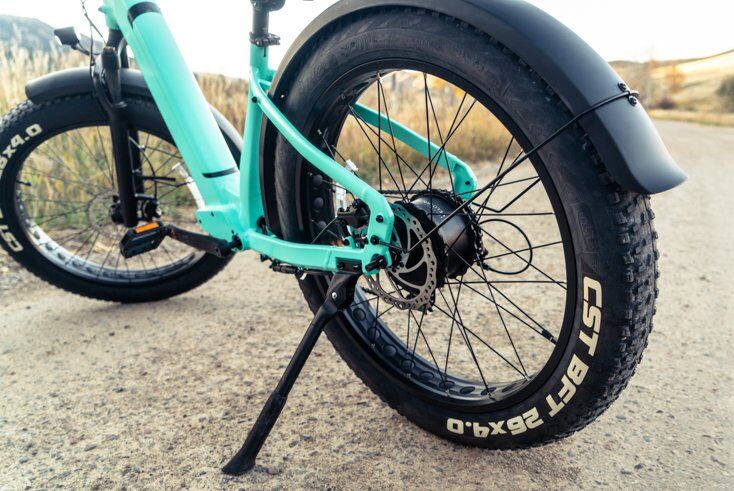 High-end fat bikes have rims with holes drilled out in order to reduce weight, but the wheels need to be made of good quality metal to maintain strength given the removed material. The Nomad 1 boasts this extra feature to shave off grams and it's a nice touch.
Components
The mechanical components on this all-terrain bike include a Shimano Altus 8-speed drivetrain and 180mm hydraulic disc brakes. This model outshines similarly-priced rivals by squeezing in an additional gear and opting for the hydraulic brake option rather than a cable-actuated mechanical setup. There's an 80mm front fork to absorb the bumps and bruises along the route. The Nomad 1 has a comfortable riding position and the swept-back handlebars come outfitted with some quality ergonomic grips.
Additional accessories on this Velotric E-Bike are a built-in headlight and a 3.5" LCD display mounted at the center of the handlebars. The front light can be set at different angles, but I am disappointed that there's no matching rear light— riders will need to purchase a taillight separately for safe riding at night.
The included bike computer is super readable and nice to look at even though it's not a full-color display and shows metrics like speed, power mode, and battery level.
Overall Impression
The Velotric startup is prioritizing quality over quantity as it's making a name for itself in the electric bike space. Despite only offering two different ebikes, the brand's flagship pair (the Discover 1 and Nomad 1) have thoroughly impressed with their build quality and even better price. The Velotric Nomad 1 ($1,599.99) rolls over everything in its path and is currently on sale from its standard $1,599 price tag, making your next off-road adventures taste even sweeter.
Related Articles: