Magicycle has upped the ante with their Cruiser Pro Fat Tire E-bike that's built for a wide range of riding all year long. The Pro is this model's second generation and it's sticking with the impressive 52V battery so riders can enjoy the bike's power without worrying about running out of juice.
For around $1,899 depending on current deals, the Cruiser Pro is a solid all-rounder that comes with several higher-end touches. Keep reading this in-depth review to find out if this Magicycle E-bike is worth the price and is right for you.
Cruiser Pro Upgrades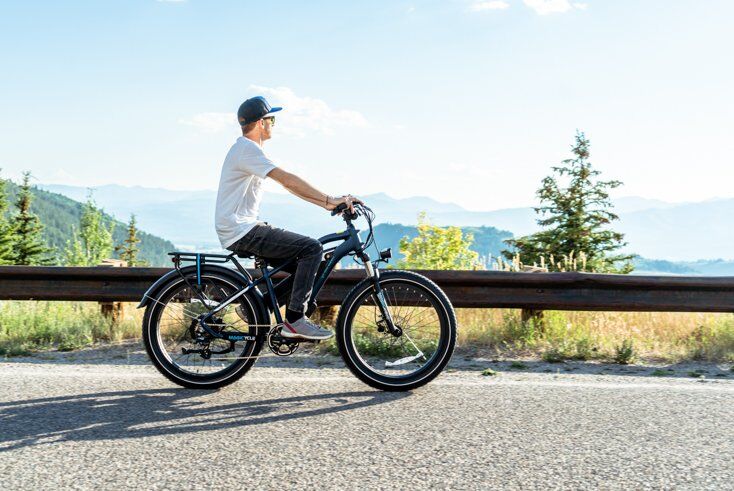 A newcomer to the e-bike game, Magicycle has only been producing e-bikes since 2021 but made waves with their original Cruiser model. That bike was a great option for riders on a tighter budget and improvements have arrived on the Cruiser Pro.
The main changes include upgrades to hydraulic brakes, front suspension, and better pannier compatibility on the rear rack. Besides the noticeable performance boost from better brakes, it's a very similar setup to the older model so, while Magicycle hasn't reinvented the wheel here, there's still plenty of bang for your buck with the Cruiser Pro.
Sizes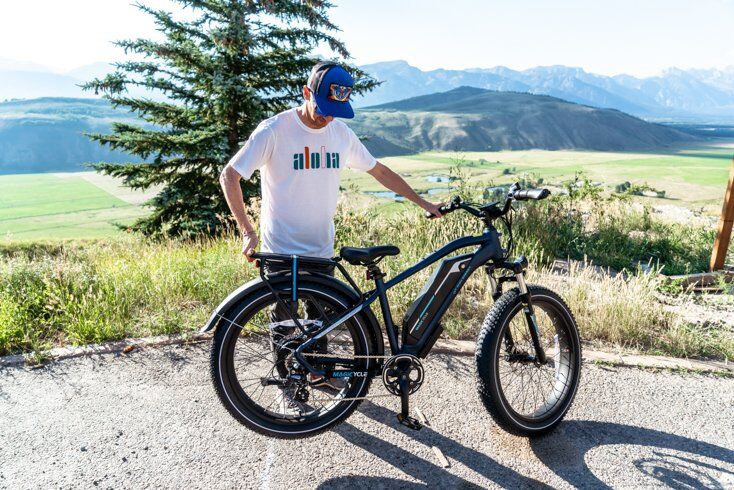 The Magicycle Cruiser Pro joins the peloton of fat tire e-bikes that continue to populate the market and is available with mid-step and high-step frame options. With no step-thru setup, the bike can seem a bit high to mount and that makes sense as the one-size frame skews towards the taller end of the spectrum, fitting riders between 5'5" and 6'5".
The multipurpose 4" fat tires from Kenda perform great across all seasons and provide cushion on and off the pavement.
750W Rear Hub Motor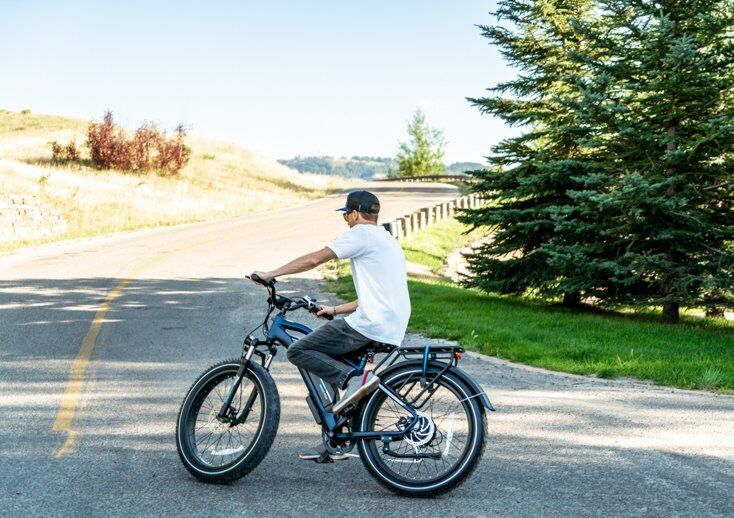 This Magicycle E-Bike gets its horsepower from a 750W rear hub motor rated with 96Nm of torque so you can ride easily even while loaded up. There's a half-twist throttle and a whopping seven pedal assist levels that can be completely customized via the LCD display. For such an affordable bike, I'm impressed by the inclusion of a 12-magnet cadence sensor that achieves buttery smooth acceleration.
More advanced controls even allow for fine-tuned sensitivity settings! While a 750W motor is fairly standard on this category of ebikes, this powerful motor feels a bit more premium than most.
Magicycle 52V Cruiser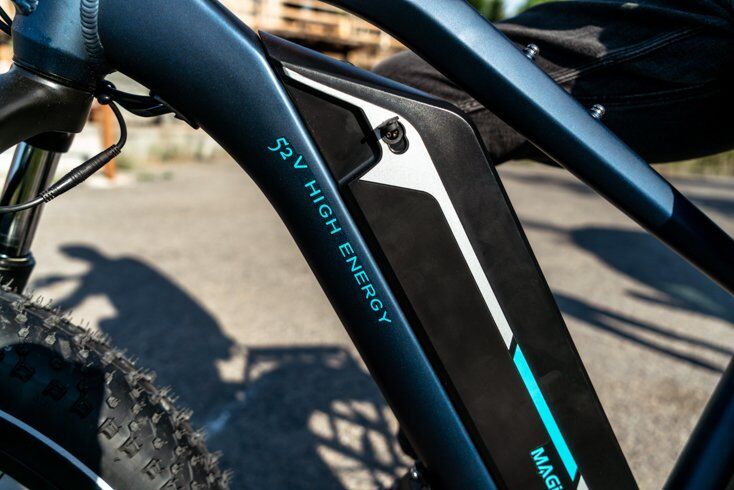 A main draw of the Cruiser Pro is its large 52V 20Ah battery that extends the bike's range to up to 80 miles on low levels of pedal assist and 60 miles using the throttle. This battery has increased from 15Ah on the original model and its sizable profile is the reason behind the large frame.
The Pro would appear much cleaner and sleeker if the battery was a bit smaller, but for riders who prioritize range over aesthetics, it's a fine tradeoff. Below the battery on the underside of the downtube sits the controller unit, something that's normally neatly integrated into the frame, so the Pro loses a couple of style points here.
Components
On the mechanical components side of things, I'm impressed with the Tektro hydraulic disc brakes with large 180mm rotors. They provide extra-secure stopping power that is definitely the way to go for the hefty 78-pound Cruiser Pro— that's relatively heavy, but still a standard weight for an e-bike of its class.
There is a reliable 7-speed Shimano Altus drivetrain with a 14-28 cassette, but the outdated SiS shifter is a cheap touch. There's a neoprene covering over the chainstay so any chain slap won't scratch the frame. The updated front suspension fork provides plenty of cushion and now has additional adjustability of compression rates and a quick lockout option.
Large LCD Display
Magicycle has stayed with the full-color LCD display (the same as the one used on the original Cruiser) and that's a smart choice. Riders can customize just about any settings they can think of. The display easily shows all your ride metrics and a deeper dive into the system reveals advanced settings to adjust pedal assist levels and so much more. We found that the screen is difficult to see in bright sunlight or through polarized sunglasses, though.
Near the head unit are all the brake and shift cables that could be much better organized. Magicycle's bulky version of cable management involves a few thick ties that don't streamline the housing— it's a small detail that could be an easy fix in future models.
Final Touches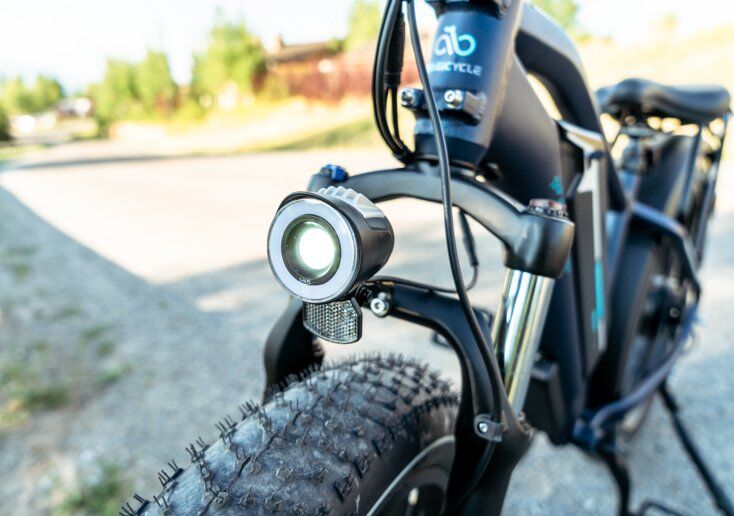 There are useful final touches on the Cruiser Pro like the included rear rack and integrated lights that run off of the battery. The pannier-ready rack allows this Magicycle electric bike to perform excellently as a comfortable commuter and there are even additional mounts on the head tube for a front basket, too. Keep in mind that the overall payload capacity of the bike is 350 lbs.
The headlight is controlled by a switch next to the left-side grip where the pedal assist buttons and the taillight function as a working brake light to inform motorists and other cyclists that you're stopping. The beach cruiser-style seat is a comfortable option that'll work well for most riders. There's a small bell that offers a pretty weak ding that'll be missed by most cars, so I recommend upgrading to a louder bell or horn if you frequently ride in the city.
Overall Impression
It's difficult to pull off a sequel that's better than the original, but the updated Magicycle Cruiser Pro ($2,199.99) comes with a host of new parts that give its rivals a run for their money. Its affordable price tag and all-terrain tires make it a go-to choice for daily commuters and weekend warriors alike and for riders who put battery range at the top of their wishlist, this model goes the distance and then some.
Related Articles: