Magicycle has just raised the bar with the Ocelot Pro— an impressive upgrade to their original electric fat bike with 20×4" tires. Designed for riders who want to go the distance, this new model boasts long-range stats that beat out the standard Ocelot as well as the Magicycle Cruiser which we reviewed this fall.
We got our hands on the recently launched Magicycle Ocelot Pro E-Bike and put feet to pedals to see if this compact electric bike is worth the investment. The bike has a mid-range MSRP of $2,199 but there are frequent sales that can slash a couple of hundred dollars off the sticker price. Keep scrolling to get a closer look at the Ocelot Pro's specs and takeaways from our test ride.
About Magicycle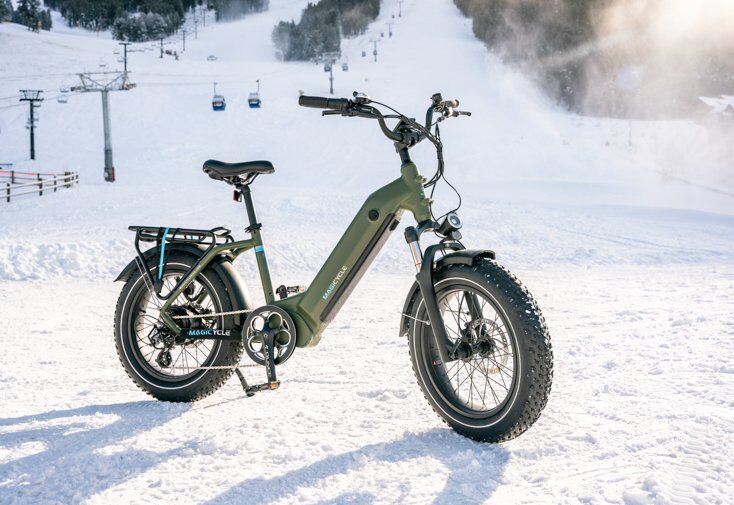 While it's not a household name yet, Magicycle has been growing fast ever since its launch in 2021 in order to compete with the bigger ebike brands. They now offer six distinct models to choose from but why did Magicycle pick the name "ocelot" I hear you ask? Well, for the cyclists out there not trained in zoology, an ocelot is a medium-sized wild cat related to the bobcat. I assume the name refers to this bike's smaller, zippier profile compared to the full-sized Magicycle Cruiser and Cruiser Pro models.
Magicycle Pro Model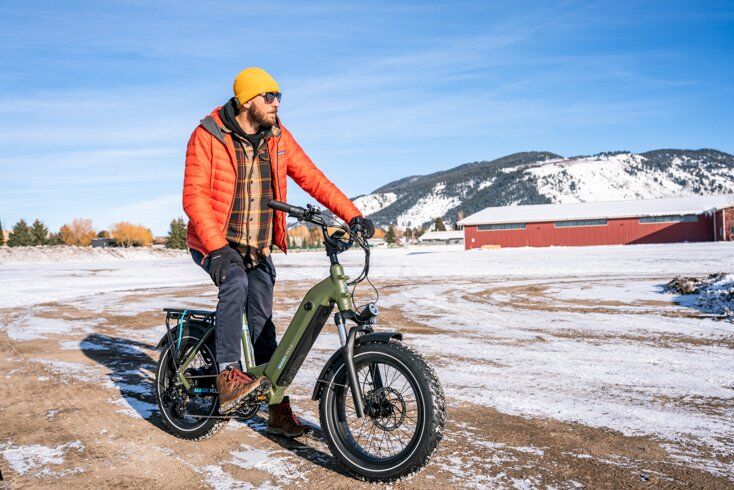 Labeled as a "Pro" model, the Ocelot Pro comes with some fancier components and ride-enhancing tweaks compared to the standard model. In a nutshell, the changes include 5Ah more battery capacity, new hydraulic disc brakes, a motor with 150 additional watts, a color LCD display, and a rear rack. This upgraded package is geared toward riders who need serious range and higher-quality parts that'll stand up to heavy usage, perfect for a daily commuter or adventure bike.
Frame Size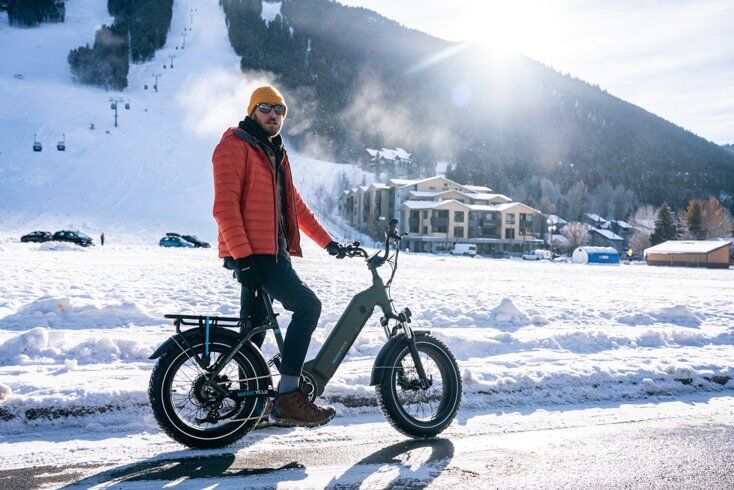 The Ocelot Pro has a noticeably smaller profile than the Magicycle Cruiser—the brand's flagship electric bike — which makes it great for shorter riders and people who want a more compact setup. The one-size frame is made of 6061 aluminum and is only available in a step-through version. Magicycle claims the bike fits riders between 4'10 and 6'2" which I'd say is fairly accurate, although taller riders may want a larger bike. We noticed that the seat post can go really low to accommodate shorter riders which is a plus. The comfort-oriented frame comes in pearl white, army green, and space gray paint jobs.
Weight
The frame geometry on this Magicycle E-Bike is designed for comfort and ease of use rather than saving weight. The maximum payload is 350 lbs. so feel free to load up the rear rack with panniers or a top-loading bag. The complete bike weighs in at 73 lbs. and removing the battery can get the bike down closer to the 60 lbs. mark which is the limit for many heavy-duty bike racks. That said, the 4" wide tires mean you'll probably need to buy a fat tire-specific rack anyway to transport the Ocelot so keep that in mind.
750W Rear Hub Motor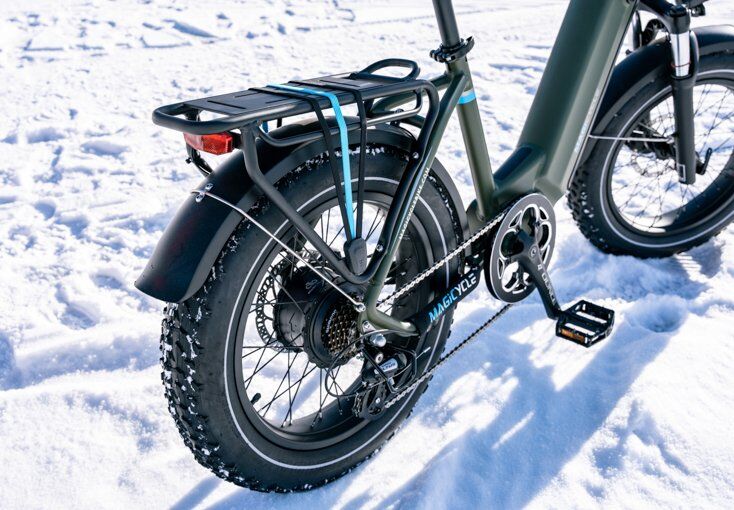 Magicycle ups the ante with a more powerful 750W rear hub motor with a whopping 96 Nm of torque! Most electric bike max out at around 80 Nm of torque with the Magicycle Cruiser boasting an impressive 86 Nm but the Magicycle Ocelot Pro takes it to a whole new level. You can ride up steep gradients with ease and the motor runs smoothly, even when the bike is loaded up with heavy gear.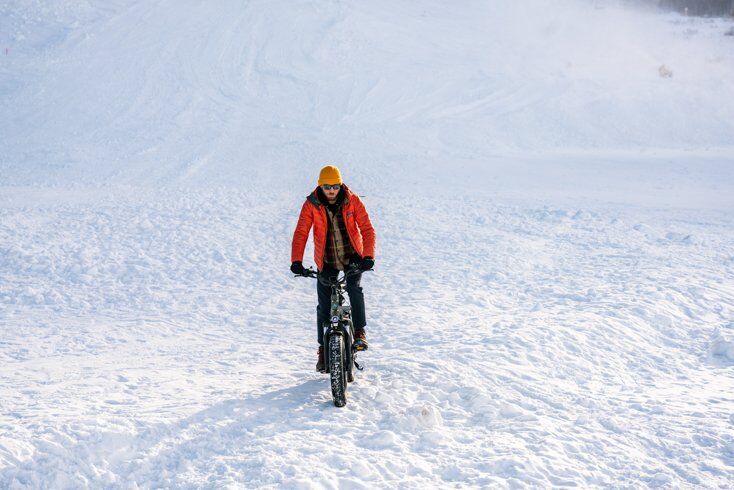 The bottom bracket area looks as if it were a mid-drive setup but maybe this will turn into some extra compatibility in the future.
Class 3 Electric Bike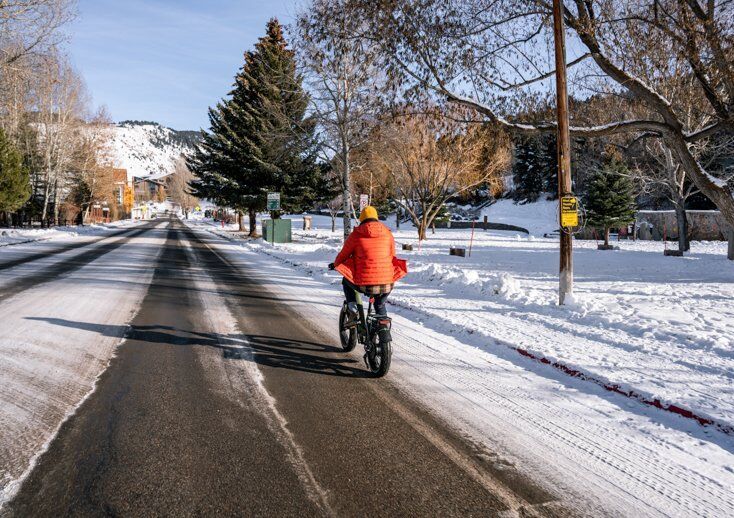 The Ocelot Pro is a Class 3 Electric Bike meaning it can reach 28 mph in pedal assist mode and has a throttle for pedal-free cruising, too. Additional configuration settings can limit the top speed if you don't need as much pace and riders can customize the exact pedal assist levels (there are seven) via the touchscreen display unit.
The bike has a right-side twist throttle that automatically engages cruise control after a few seconds— it switches off when you squeeze the brakes, start to pedal or rev the throttle again. This automatic feature can't be turned off and I wish the cruise control was optional as it can catch some users off guard.
52V 20Ah Battery
One of the biggest draws of the Ocelot Pro is it's high-capacity 52V 20Ah battery that's one of the longest lasting units on the market. The battery is a large one but it tucks nicely into the underside of the downtube to preserve the sleek, compact look. Magicycle claim the battery can provide juice for up to 80 miles using pedal-assist and I think a lightweight rider using low assist levels could definitely reach those numbers.
The range for throttle mode tops out at 60 miles and will be less if you are a heavier rider using the more powerful assist levels. Some Magicycle aficionados might be wondering if the new bigger battery is cross-compatible with the Cruiser model but it isn't— however, Magicycle say they're working on that.
Components
The upgraded componentry package is robust and reliable, making the Ocelot Pro a good choice for riders wanting some higher-end touches at an affordable price. The biggest change from the standard model is the swap from mechanical to hydraulic Tektro disc brakes to boost the stopping power. The large 180mm rotors offer excellent performance in all conditions and are a great match for the Kenda 20×4" fat tires that'll roll over just about anything.
The drivetrain is Shimano Altus 7-speed and provides sufficient gears to avoid spinning out in the higher pedal-assist levels. The SIS shifter does the job and is ubiquitous on budget ebikes these days but I am still irked by its cheap-feeling performance. There's a branded neoprene sleeve on the drive-side chainstay to protect from chain slap and we think it's a good-looking solution. In addition to the cushy tires, there's a suspension fork to absorb off-road bumps and city potholes.
LCD Display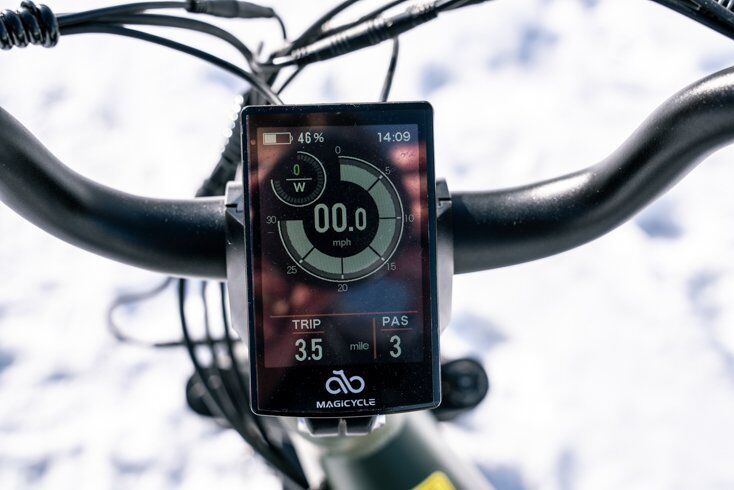 This Pro model has a bright, full-color LCD display instead of a traditional black-and-white screen to show all your important ride metrics at a glance. There's no accompanying app like some other brands but riders can adjust settings and track average and max speed, time, distance, and the odometer.
Controls on the handlebars make it easy to turn the entire bike on and off as well as activate the bright front headlight— the rear red light automatically functions as a brake light. If you're considering using the Ocelot Pro as a commuter, it comes fully equipped with wide fenders and an integrated rear rack that's noticeably tougher than other designs I've seen.
Overall Impression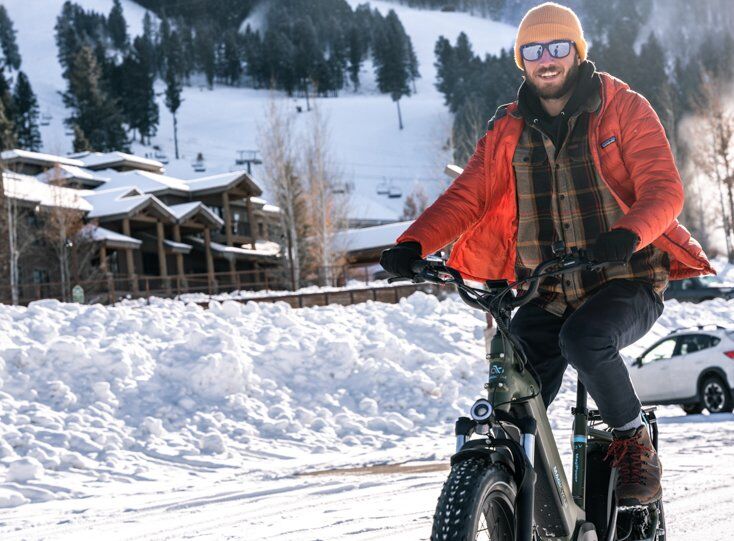 The all-new Magicyle Ocelot Pro E-Bike ($2,199.99) successfully splits the difference between cruiser ebike design and the emerging moped-inspired models. It's a comfortable bike that's incredibly easy to simply hop on and ride and its compact size makes it a smart choice for shorter riders. In my eyes, the snazzy upgrades to the motor, brakes, and everlasting battery justify the price tag.
The Magicycle brand has been showing off some exciting developments recently so I recommend hopping on the Magicycle train sooner rather than later so you don't miss out on great two-wheelers like this one.
Related Articles: