Is it a motorcycle, a moped, an ebike or a fat tire bike? That's a good question. With Addmotor's M66 Cruiser Bike you get a little bit of everything. This Addmotor E-bike is the perfect bike for commuting to work, to the gym, for groceries and even picnic lunches.
750W Hub Motor
Addmotor is using the powerful Bafang 750W Motor to power the M-66 Fat Tire Bike. The 750W Motor gives enough output to power the fat tires of the bicycle, the bikes 91.5lb weight and even carrying a second passenger.
The Bafang Hub Motor is engaged by either pedal assist or twist throttle. One thing to note, with this bike you will most likely use the throttle the entire time. Its fun, its punchy and incredibly responsive. Plus if you want a bike with the look and feel of a motorcycle, why bother peddling it's got a twist throttle?
It's much more fun cruising around on Addmotor M-66 E-Bike than any bike you have ever ridden, this we can guarantee. It's the sort of bike that puts a huge smile on your face from ear to ear.
Speed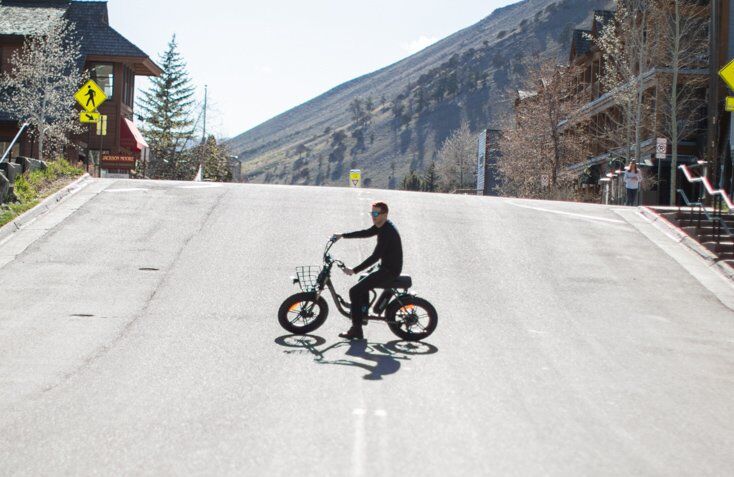 Out of the box the Addmotor M66 Class 2 moped style e-bike has a top speed of 20mph. If you get into the onboard computer you can even adjust the top speed up or down a bit or change the tire sizes among other adjustments.
I was able to get the bike to hit 25mph / 40km top speed by changing a setting on the LCD screen which is perfect for riding with traffic in town as we have a local speed limit of 25mph.
Features
One of the more unique features to this bike is the ability to ride with a second person on the back. Addmotor added rear foot pegs like old BMX bicycles utilized in the past and a large comfortable leather banana seat that can comfortably fit two adults.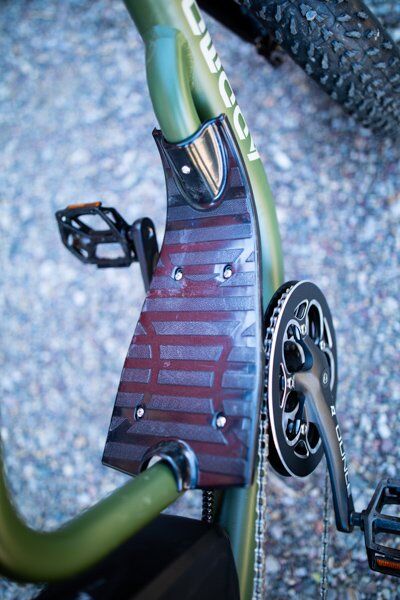 When riding solo, the M-66 even had a foot rest that can accommodate both feet in the middle of the bike. This is the first e-bike we have seen with this style that seems to mimic mopeds.
The bike comes equipped with front and rear lights that are really bright and noticeable. If you decide to add a front basket accessory to the bike you will need to re-mount the light to the basket which can be a little tricky to secure in place.
Tires
This bike utilizes Kenda Tires in 20 x 4.0 tire size. This beefier fat tire works for a smooth comfortable ride in gravel, mud, dirt and of course it works on the road or bike path. We have yet to try the bike in the winter, but surely these tires and a heavier bike would be really stable to ride around in the snow.
One thing I wish this bike had was rear shocks. When riding the Addmotor M-66 on dirt roads with large pot holes the bike really gets jarred and bounces around a bit so you'll want to slow down and try and actually avoid the pot holes like you would in your automobile, motorcycle or moped.
Sizing
This step through style e-bike works best for riders 5'2 – 6'2. Since it's a step though the bike is easy to get on and off without having to kick your leg over a center bar. One thing to note is the large banana style seat is fixed so there's no ability to adjust the height of the seat up or down.
At 5'11 in height I noticed my knees were sort of high when peddling which isn't much of an issue as I use the throttle 100% of the time. If this was a different style e-bike I could simply raise the seat to lower my knees.
Brakes
With a bike weighing almost 92lb having reliable brakes is a must. For this bike the Tektro Mechanical Disk Brakes were used which allow for quick, powerful stopping power.
Shimano Components
Addmotor wanted to use reliable components across the entire bike including Shimano. The Addmotor M-66 E-Bike runs a Shimano 7 Speed Shifter along with Shimano Altus M310 Derailleurs.
I rarely found the bike being used outside of the 7th gear, the one that would make it most hard to pedal. As this bike is really meant for going fast down the road via a throttle.
Battery
One of the more reliable batteries we have tested the new Samsung 18650 2600mha 2C has given us on average 20-30 miles per charge. Keep in mind that's using the throttle the entire time in the highest power assist mode. This powerful battery is needed to make everything on the bike communicate from the onboard computer to integrated lights on the front and back to the throttle and more.
Addmotor states in Level 1 pedal assist on a full charge the bike can get up to 45-55 miles. Most likely that would be via peddling on a flat road, with no wind and not much additional weight.
Regardless of how long I ride, I come home and plug the battery in. With the Addmotor M-66 R7 a full battery offers the most power and wattage, as the battery drains your speed, and power will slow down. So don't expect to max out at 25mp with 1/4 battery.
Overall Impression
If you're looking for a fun, unique, stand out moped style electric bike to commute to work, to run errands and just get outside the Addmotor M-66 R7 Fat Bike is a wonderful option. Out of all the e-bikes we tested this year (20+) this bike stands out the most. It's the bike everyone in the office wants to use to run to the mailbox or grab a bite to eat and who can blame them.
You won't really get a good workout while riding this Addmotor Electric Bike, but that's not what the bike was designed for. This is a super fun bike to zip around with your friends. It's especially cool for someone like myself that has never owned a motorcycle. I can ride through town and feel like I'm a bass ass dude while riding the Addmotor M-66 R& Electric Fat Bike ($1,999).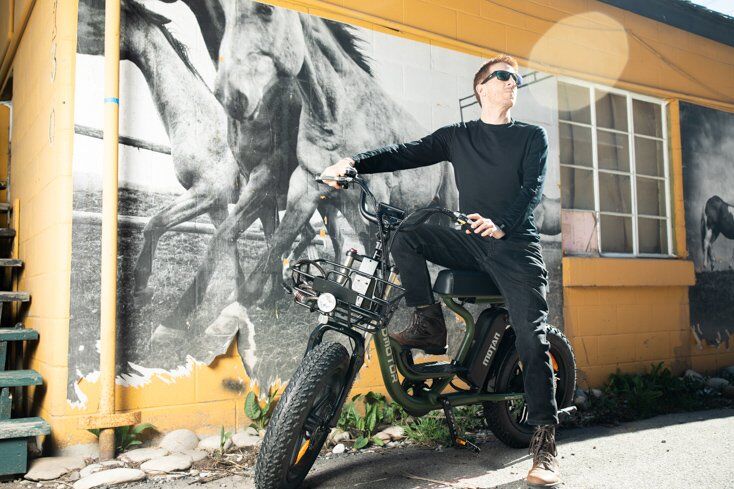 I highly recommended ordering the bike with the front basket as it makes carrying a bunch of stuff a breeze.
Related Articles: