Having a portable power station can be a huge benefit for a lot of different activities and ways to relax and work. The thing is, not all power stations are created equal, and not all of them are equally good at different kinds of jobs.
We've looked at Bluetti power stations before, so you might already be relatively familiar with these power stations and the company that makes them. But, just in case this is the first Bluetti power station review you've seen, we're going to cover everything from the company to the features and functions of this specific power station, just like always.
Here's what you need to know to decide whether the Bluetti AC60 Portable Power Station is the right power station for you.
About Bluetti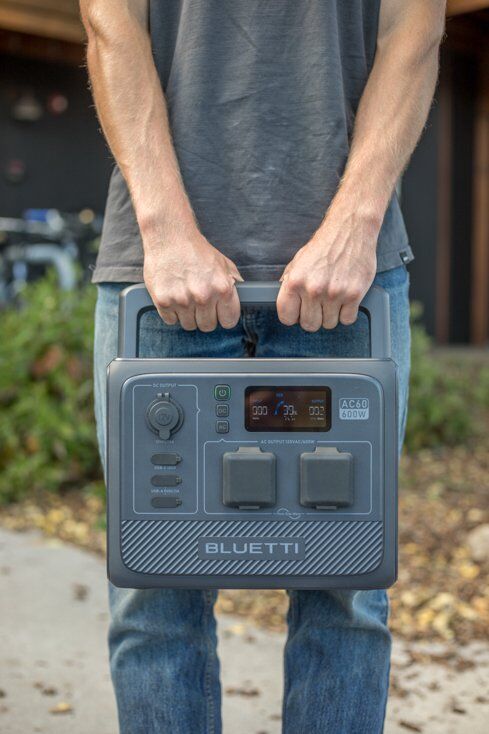 Bluetti is one of several different power station companies looking to create affordable and reliable power on the go. They are focused on eco-friendly technologies, renewable energy sources, and reliable energy storage that's small enough to be practical on the go.
It's important to note that Bluetti isn't yet competing with whole home generators or other traditional energy solutions. They aren't going to replace the solar panels on your roof, or offer a practical alternative to having a utility connection to the power grid any time soon.
However, when it comes to smaller electrical devices like your mobile phone, laptop, or even certain RV appliances, Bluetti has a variety of power station solutions.
What Is The Bluetti AC60 Portable Power Station?
The Bluetti AC60 portable power station is a fast-charging power station, lightweight and portable for all your power needs, and reaches a full charge in as little as a single hour. The nice thing about this power station is that this is an expandable power station, you can connect it to other compatible power sttions or extension batteries in order to get access to even more power when you need it.
This power station, like most, uses lithium-ion batteries to offer sustainable and long-lasting power storage with minimal memory or safety concerns. Specifically, it uses the newer LiFePO4 battery, which offers advantages in battery longevity, charging speed, and safety.
The AC60 is also the first IP65 rated portable power station that is dust-proof and carries a water-resistance rating. It's not perfect, but this is an important additional feature for anyone who wants to be able to use their AC60 outside and truly on the go.
The lightweight design of the AC60 also makes it an incredibly convenient option. There are a lot of portable power stations out there, but few of them are as lightweight and compact as this one, while still offering a reasonable amount of power storage and fast power delivery.
Features
Here are some of the key features behind the AC60 and how this power station works.
600W Rated Power: 600W rated power is enough to manage most small appliances and mobile devices. It's a reasonable level of power delivery even for most mid-range computers, more than you need for standard cell phones, and powerful enough to run small mobile appliances designed to work with this kind of power sourcing.
7 Different Outputs: Power options on this power station include two AC outputs (standard AC power outlets), a USB C and USB A outlet, 12 volt DC car charger outlet, and additional DC USB C and USB A outlets, as well as a 12V DC outlet.
In addition, the front AC outlets can be switched to DC power mode with the push of a button.
20 lbs: The weight of batteries is a significant limitation on the amount of portable power available. But, in this case, you get a ton of power in a slim 20 lbs device. That's more than small enough for most people to be comfortable moving this power station from place to place with minimal effort.
Additional expansion batteries add to the weight but are themselves lightweight and effective alternatives.
Compatible with 2 B80 Expansion Batteries: This model is also compatible with B80 battery extensions, which add a significant amount of additional power storage, as well as several additional outlets to make this power station even more versatile and effective.
Fast Charging: Charging a power station shouldn't have to be a pain in the butt, or something you have to plan in advance. Charging this station takes as little as an hour at a standard outlet, and as little as 2.5 hours using a compatible solar panel.
That means that you have speedy same day charging for all your power needs, whether you're at home or on the go.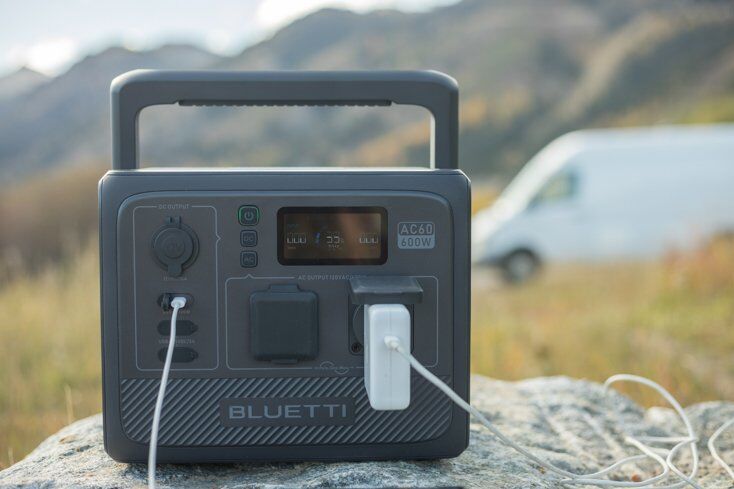 Charging Flexibility: A lot of power stations offer only one or two charging options, which can be pretty limiting if you're often on the go. Fortunately, that isn't a problem with the AC60 since you have the option of plugging in to a traditional outlet, using a solar panel, a car charger, or getting power from lead-acid batteries.
6 Year Warranty: One of the problems with investing in a power station is that you need to be able to use that power station for a long time to make it worth the investment. Unfortunately, a lot of companies offer a short warranty that would be suitable for other kinds of products.
With a 6 year warranty you have some assurance that this power station will work long enough to make the investment worthwhile, and that the company will make it right if something goes wrong.
Dustproof: When it comes to portable technologies, dust is one of the problems not a lot of people consider, but it's also one of the most serious threats to most electronics. Silicate dust can be conductive, so all it takes is a little dust in the wrong place to cause big problems.
Having a dustproof power station takes away that concern, especially if you're going somewhere like Colorado, the Playa, or really any desert where dust is going to be more common.
Water Resistant: In addition to being dustproof, this model is also water resistant, so you don't have to worry as much if you get caught out in a sudden storm.
Remember that resistance isn't the same as waterproof, and that you can and will still damage your power station if you leave it out in rain or other wet conditions for too long. It's always a good idea to have an emergency tarp or other protections with you when you're out and about with your power station.
Who Is The Bluetti AC60 Portable Power Station For?
This power station is really designed with people who need mobile electricity most. It's a good option for folks who need to charge mobile devices on the go, it's a good option for powering photography equipment in the field, and much more.
If you want to see where life takes you and get off the beaten path (and away from easily accessed utilities), this power station can make that easier, more effective, and give you more options while you're out there.
This is also a reasonable option for folks who need more heavy duty power on the go, but you might also want to consider investing in a larger slightly less portable model if you're trying to provide consistent power in a single location.
Overall Impression
The smaller Bluetti AC60 Portable Power Station ($699.99) is a little less powerful in terms of sheer battery storage than some alternatives, including other power stations in the Bluetti lineup, but it's unquestionably one of the most portable options out there. It's versatile power arrangements, fast charging, and lightweight design all work together to make this one of the best truly mobile power stations we've seen so far.
Related Articles: