The BOTE HD Aero Inflatable Paddle Board is the all-in-one paddle board. This 11'6 SUP is sturdy as heck, portable and can accommodate virtually any paddle board activity you can dream up.
Stability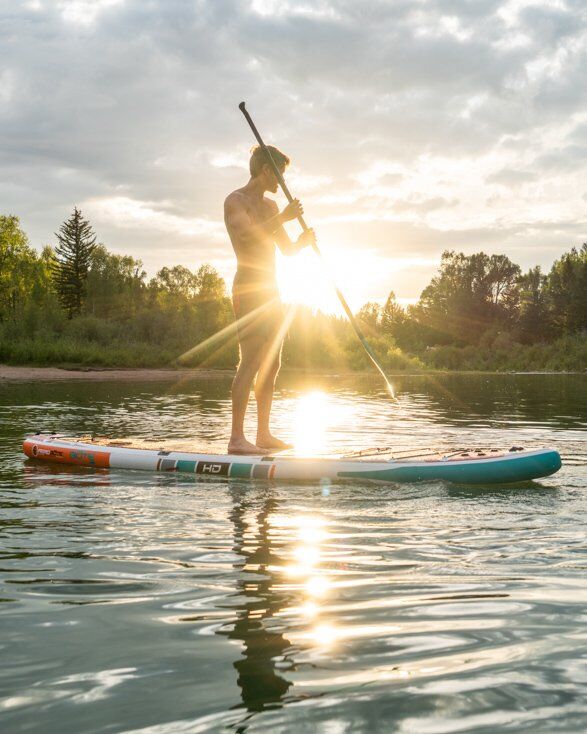 The first thing you notice when standing on the BOTE HD Aero 11'6 Inflatable Paddle Board is its sturdy and durable construction. It felt more like standing on solid ground than the water. This is likely a combination of the wider and thicker base – 11′6″ L × 34″ W × 6″ D – and the rockered design.
Durability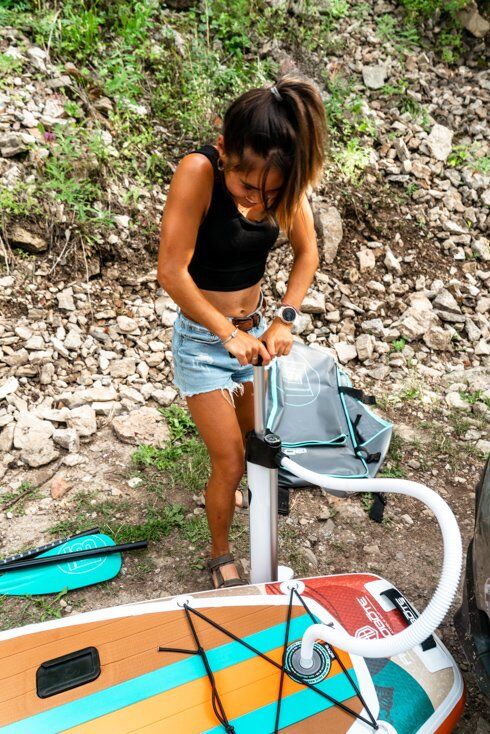 After a little research it was clear that the HD Aero not only looks durable; it is durable. The HD Aero boasts a "tough as nails" design with military-grade PVC skin for the rowdy adventurer.
For those of you who like paddle boarding off the beaten path however, the military-grade construction and sturdy design can pack on the pounds. With a loaded bag weight of 48 lbs (30 lbs stand-alone) lugging this more than a few hundred yards wouldn't be enjoyable for most of us.
Maneuverability
After testing a variety of paddle boards we've seemed to notice a trend in fin design. Boards with 2-3 fins tend to maneuver better than those with 1 fin. Due to the larger nature of the HD Aero, we were skeptical about the board's turning radius but after taking it out for a spin we were pleasantly surprised. The HD Aero maneuvered quite well and felt stable doing so.
Sizing
Due to the wide deck, we believe the BOTE HD Aero Paddle Board is ideal for medium to large riders but can be enjoyed by anyone. This board boasts a weight capacity of 315 lbs making it perfect for larger riders, heavy gear or a couple kiddos on the back.
The 3-piece adjustable paddle is convenient and easy to use and caters to most heights.
Features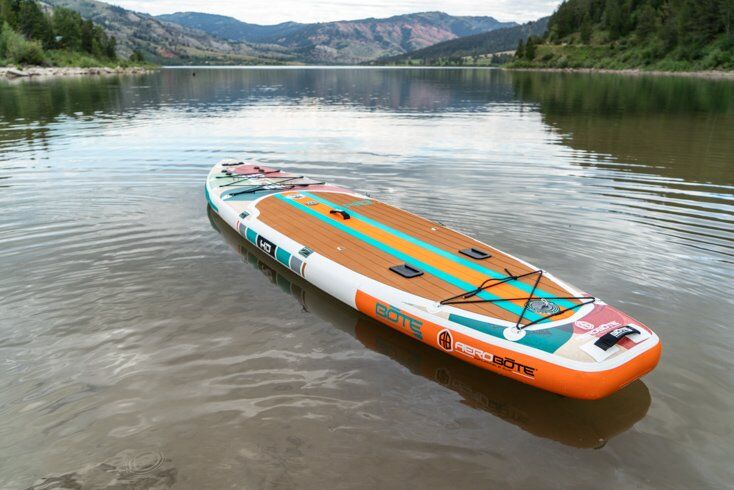 The BOTE Aero HD is the king of innovative features making it a versatile, do-it-all board. The board comes with aero rack receivers for BOTE's array of attachments making it the perfect fishing vessel or sit and row machine. In addition to the HD Aero's three handles, it has Travelink compatible latches for easy transport (Travelink sold separately).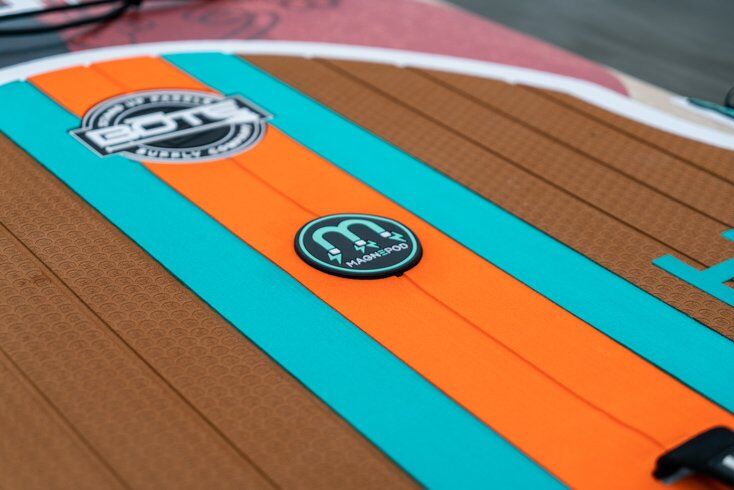 One particularly fun design is the Magnepod cup holder that can hold metal drinkware which makes for a very low-profile design. The optional paddle sheath is also a great innovation for anyone that doesn't always want a paddle in their hand (great for photographers like me).
Transport and Set-Up
Like most quality inflatable paddle boards, the HD Aero comes with a 3-piece adjustable paddle, pump and travel bag that doubles as a backpack. The setup was quite straightforward and required no instructions. Simply snap the fin on, pump the board up and get out there.
Overall Impression
The BOTE HD Aero Inflatable Paddle Board ($1,149.00) is top of its class in innovation, durability, and quality design. We recommend the HD Aero for anyone who wants a board that can serve as a serious fishing vessel to a fun outing with the kids.
This board is one of the most stable we've tested making it great for newer riders while the durability and versatile features appeal to the veterans. It's hard to go wrong with the HD Aero, and if you want a portable board that can do it all, the HD Aero is for you.
Related Articles: