From one of the best selling inflatable paddle board brands in the world comes the iROCKER ULTRA All Around 11′ SUP.  This lightweight SUP is easy to transport thanks to it's own backpack, paddles smoothly across open water and most importantly is effortless to maneuver.
For our first day on this board we took the iROCKER All Around ULTRA SUP to Grand Teton National Park.  The day offered calm winds, glassy water conditions and a stunning backdrop for testing.
SUP Sizing
The iROCKER ULTRA All Around SUP is 11′ in length which works best for paddlers with a height of 5'9 and above.  That being said 2 of our testers were well under 5'5 and seemed to enjoy this board the most out of all the other boards we tested.
Being 6″ thick the iROCKER All Around Paddle Board was easy to move from point A to B.  Even initiating turns felt like less work on this board. When it came time to shift weight from side to side to help turn, maneuvering was really to the point and uncomplicated. You roll your weight to the right the board starts to turn to the right.  You roll your weight to the left and the board starts to turn left.
This helped tremendously when wanting to paddle around to friends, whereas some of the other boards really take a lot of work to turn from a dead stop.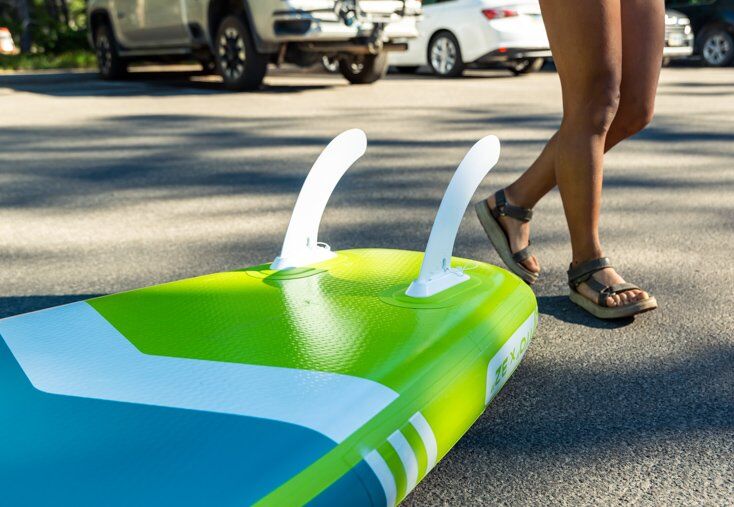 Being as nimble and responsive as this board is, I would happily surf the iROCKER ULTRA 11 SUP in the ocean too with its twin fin setup.
Rocker
As the name implies the iROCKER is a SUP with a rockered nose. This helps to keep the nose up and above the surface of the water for smoother gliding. Rocker is also the same tech we use in snowboards and powerboards to keep the nose of the board up a little higher than if they were flat.
If you have ever been on a SUP in bumpy waters the nose of the board takes the energy first.  This then reverts throughout the entire board.
With a larger rockered nose, a shape like this wants to stay up and above water while helping to dampen the impacts of bumps when they occur on open water. And bumps happen.
We like to ride most SUP's on glassy days with clean conditions for this very reason, when the boards start bouncing around on you its not fun.  Luckily iROCKER has figured out a way to make a smooth paddle board that can glide effortlessly.
Whos This Board For?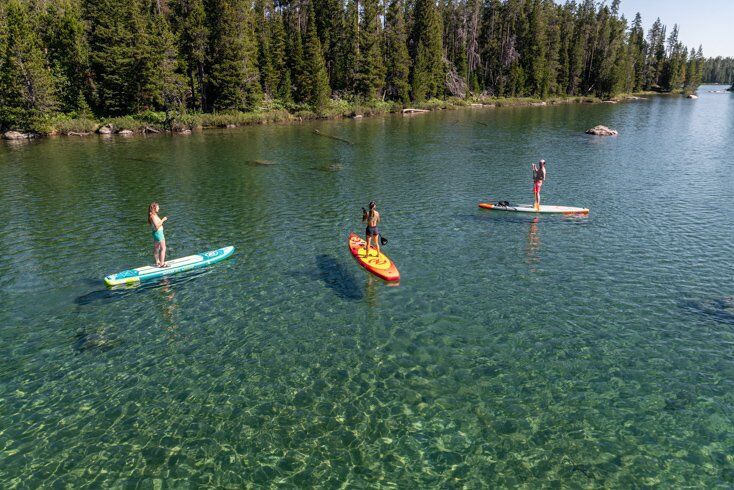 Anyone wanting to go paddle boarding with friends, explore some new places or even do some SUP yoga will truly appreciate the iROCKER Ultra 11 SUP.
The board can even be used by two smaller people at once as the iROCKER Ultra 11 SUP has a total weight capacity of 290 lb. One of the cool features about this SUP which makes it a great all-around board is the ability to easily bring and mount a bunch of things with you on your board.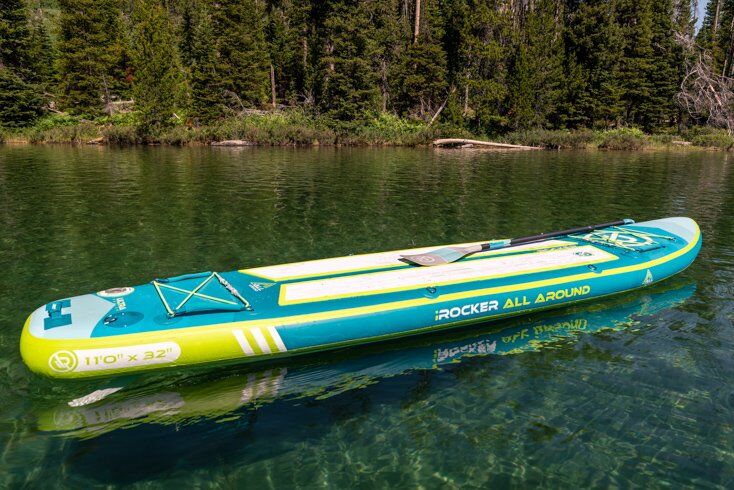 Things like an iRocker cooler, backpack, change of clothes, picnic stuff you name it can be brought along. And you don't worry about loosing extra gear as it can be safely secured under the mesh net bungees at the front and rear of the board or attached to the plethora or metal rings across the top sheet.
Electric SUP Pump
The iROCKER All Around 11′ SUP packages comes with it's own 12v Electric Pump that plugs into your cigarette lighter.  Electric pumps for SUPs are a must have.  This pump allows you to fill your boards quickly and most importantly effortlessly.  Paddling takes upperbody work, let the electric pump fill the board and your arms get a workout paddling, not pumping.
Plus this pump can be used to inflate things like packrafts, sleeping pads and even exercise balls.
Overall Impression
The iROCKER ULTRA Series All Around 11′ SUP not only looks pretty it rides really well.  Comes with everything you need for a day on the water including compact backpack, SUP, removable fins, pump, carbon paddle and even a leash.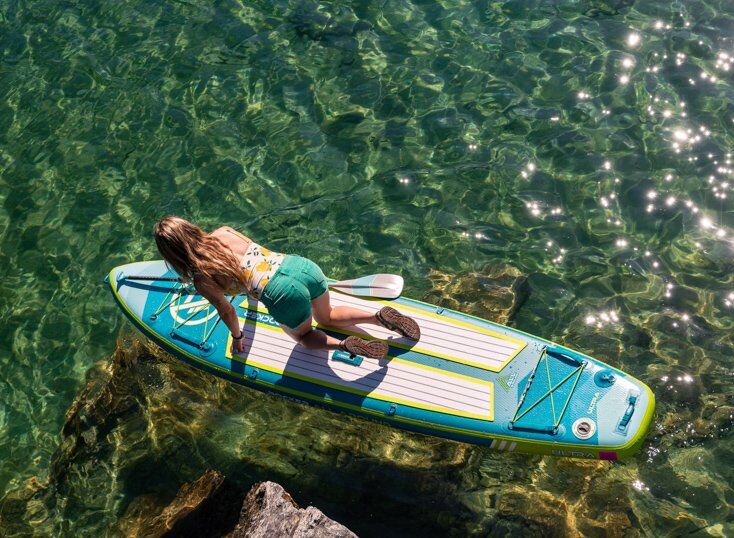 Best of all the deck is really comfortable for standing, sitting or kneeling on for hours on end. Heck we even did yoga on our board!
Clearly the iROCKER teams uses the products they promote and it shows in just how clean and compact everything fits into the backpack and most importantly how smooth these boards paddle.  Everyone and anyone will love the iROCKER All Around ULTRA 11′ SUP ($949.99) from experienced paddles to beginners alike. iROCKER has absolutely nailed it with their line of high quality ULTRA Series boards.
Related Articles: