I purchased my Alpacka Expedition Packraft this year after five years of paddling an Alpacka Alpacka (this is similar to the current 'Classic' small size Alpacka). There are noticeable upgrades on the Expedition. Many of these upgrades are now standard on the Alpacka Classic series as well. These include the partial one-way valve that seals when the pressure is high. It is much easier to transition from inflating to capping than with the old two-way valve. 
Alpacka Expedition Packraft
As a former kayaker, there are many things I appreciate about the ingenious packraft. I store it in a large duffel bag on a shelf in my garage. I do not need to strap it to the roof of my car to go paddling. The versatility for roadside, hike in, or even multi-day trips is hard to beat. It is stable and easy to paddle so I do not feel like I get off my game if I get distracted by mountain biking or other sports. Car shuttles with five friends are easy with deflated boats in the back of a standard car. Packrafts handle lower water creeks and rivers well. 
I do a fair number of roadside trips on hot days but also enjoy hiking the trail for 5 or so miles and paddling down. I had a five-day Smith river trip planned for this year, but the low water level has canceled the trip. 
Alpacka T-zip
Although the T-zip has been available on previous boats, this is my first experience with it. It is a great feature for overnight trips or for stashing your pack after a hike. If you are more of a roadside packrafter, the extra expense and maintenance of the T-zip would make it less useful to you.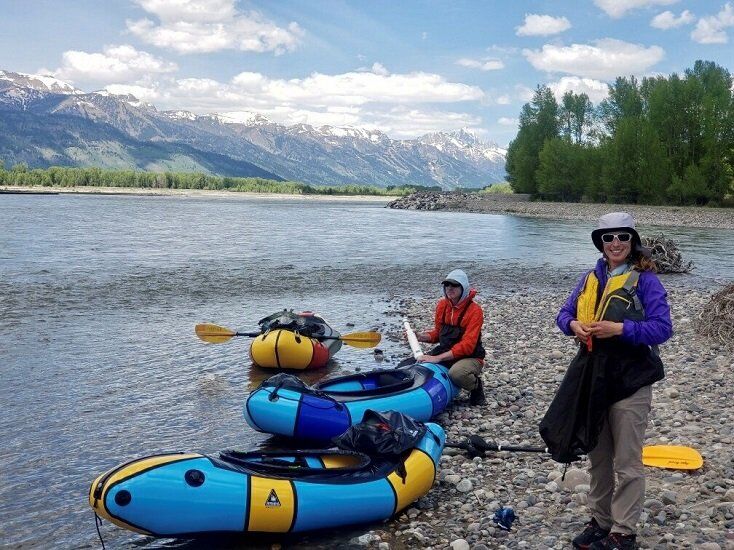 The Expedition is a nice combination of a lightweight boat with many of the whitewater-specific features of Alpacka's newer lines. I have noticed that the whitewater specific boats are heavier and likely bulkier which isn't as ideal for packing and carrying if that is in your plans. I am enjoying the thigh straps and slightly tighter fit of the Expedition compared to my Classic. 
I purchased the K-pump from Alpacka ($84.95). It is an amazing accessory for bringing the boat to a higher pressure for peak performance. I find that after tempering the boat and using the K-pump, the times I need to pull over and top off the boat are way less than in the past. Sometimes I don't even need to bother with this. Be sure to purchase the K-pump from Alpacka in order to have the correct fitting for Alpacka valves. 
Expedition Bow Bag
Another must-have accessory is the bow bag. I had the smaller version in the past but I added the larger version this time. It's pretty amazingly convenient to access food, water, spare clothes, etc. through a quick unzip of the waterproof zipper. 
Alpacka Expedition vs Classic
My understanding is that the Expedition is a little narrower than the Classic. I have not really noticed the difference but as I paddle larger whitewater as the rivers come down in volume this summer, I will see if I notice a change in maneuverability. In general, these boats are extremely maneuverable, stable and easy to paddle.
It's worth mentioning the difference in Alpacka quality versus other brands. When I started Packrafting about 10 years ago, I cautiously purchased a Kokapelli that was recommended by a knowledgeable paddler to be similar or even better than an Alpacka. It was really terrible advice and frustrating because I knew better than to buy a cheaper brand from decades of gear experience in skiing, mountain biking, etc. Sadly, nothing ever worked right on that boat. It flexed strangely in whitewater, the spray skirt design never kept water out very well, and my position in the boat was too reclined. 
Overall Impression
Packrafting has proven to be the perfect paddle sport for me. I am a casual river runner who does have other hobbies and interests but generally loves being outside in wild places and having fun adventures with friends. 
All of my paddling friends have Alpacka Packrafts and issues are rare or nonexistent. They are durable, smartly designed boats. Of course, that quality comes at the Alapacka Expedition price ($1,700). I am confident that my investment will bring me years of joy on rivers and creeks.
Related Articles: