I got a chance to test out the great Sea to Summit Hydraulic Dry Pack 65L on a 4 day Owyhee River trip and wanted to share my thoughts via the review below.
Sea to Summit Hydraulic Dry Pack Material
What is it that makes the Sea to Summit Hydraulic Dry Pack so burly and durable? Seat to Summit uses 600D TPU heavy-duty laminated fabric aka the toughest material in any of the company's dry bags. The Hydraulic Dry Packs high-performance abrasion-resistant fabric does what it says.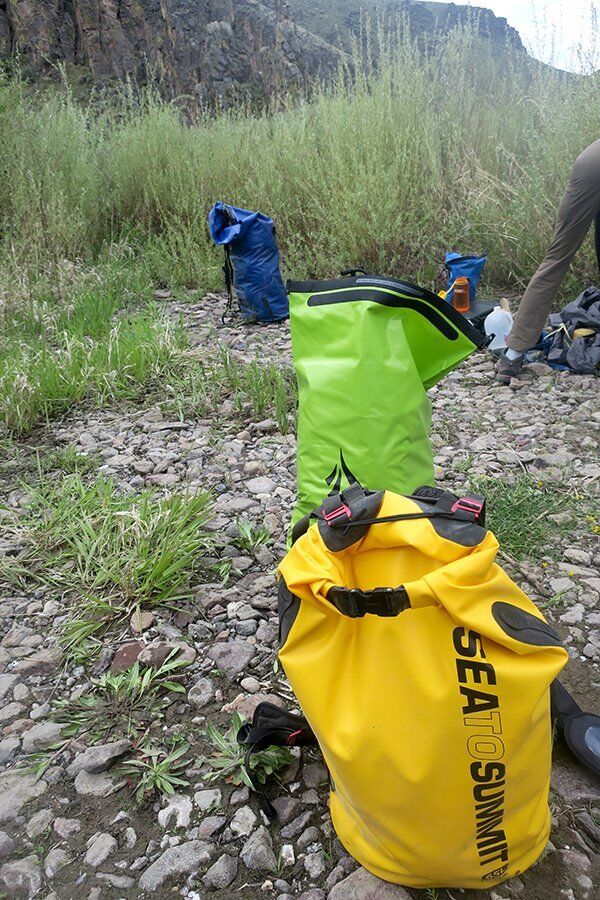 I tested the durability by dragging the Sea to Summit Hydraulic Dry Pack 65L from our boats to camp and back and forth. Keep in mind this Dry Bag does come with a traditional backpack carry straps, most likely you won't end up dragging your bag across rocks and gravel. Even with such abuse Sea to Summit's Hydraulic Dry Pack failed to show any wear and tear, offering an incredible piece on mind when on the river, this bag won't rip.
Roll Top Closure
We know the bag's durable, what about the waterproofness? The Hydraulic Dry Pack comes with welded seams and a roll-top closure to keep water from penetrating inside. One thing to keep in mind though is these bags are NOT meant to be held underwater, the same can be said for any other roll-top closure dry bags.
If you're planning to bring along electronics, the best bet is to "double bag" your stuff. Buy a smaller dry bag for anything that can't get wet and then toss it inside your main dry bag.
For this trip, I opted to take two 65L bags, a Hydraulic Dry Pack and a Sea to Summit Stopper Bag. One bag held my camp stuff; tent, sleeping bag, sleeping pad while the other had clothes, food, and items for comfort. With 2 bags it's easier to pack and even easier to access your gear without having to dump everything on the ground.
You can even fit a full-size packraft in the 65L bag, with some room to spare.
Hydraulic Dry Pack vs Stopper Bag
The 65L Hydraulic Dry Pack from Sea to Summit comes with built-in backpack straps and a removable hip belt for carrying the bag over long distances. Hiking in a rainstorm, perhaps consider taking the Hydraulic Dry Pack along, even if you're not planning to be on the river.
Whereas the Sea to Summit Stopper Bag does not have any built-in straps. For this bag, you can either carry it like a baby in your arms or by grabbing the roll-top closure. Made of 210D TPU-laminated Nylon fabric which can still stand a beating but best to avoid sharp objects like pointy rocks or knives as the material is thinner than the Hydraulic Dry Bag.
Even in heavy rainstorms both bags performed as needed, without fail and kept all of my gear dry.
Overall Impression
Rapids and waves are sure a lot of fun to ride on the river. Thanks to Sea to Summit's 65L Hydraulic Dry Pack ($269.95) you can let go of worry while playing in some of the best terrain the river has to offer.
Related Articles: