After driving all night we arrived at a gas station in the middle of nowhere Nevada to pick up the drivers that would shuttle our vehicles hundreds of miles over the next few days while we floated the Owyhee River. My legs felt cramped from the 8-hour drive so I jumped in the bed of the truck to stretch out and grab a few hours of sleep before the guys arrived.  A few minutes later I woke up to the smell of burning trash coming from a nearby dump, welcome to the Duck Valley Indian Reservation.
Most likely you haven't heard of the Owyhee River unless you're a die-hard river rat, as the area is very remote, access is difficult even for high clearance four-wheel drive vehicles. Once you leave the gas station the travel time one way to the put in is about 4-5 hours down a tooth-chattering dirt road. Be sure to pay special attention to the weather as rainstorms frequently make travel on these roads impossible.
Here's what local adventure Thomas Turiano had to say about a past Owyhee River trip, "We spent April 25 driving from Jackson, WY to a camp where Mud Flat Road crosses Deep Creek (or Hurry Back Creek on some maps). We arrived in late afternoon, and sent two vehicles, a Dodge van, and a Toyota pickup, to run a shuttle to Rickard Crossing. At about 10 pm, a beat-up 1970 pickup dropped off our members covered in mud and exhausted. They had gotten both cars hopelessly stuck in the mud just south of Mud Flat Road".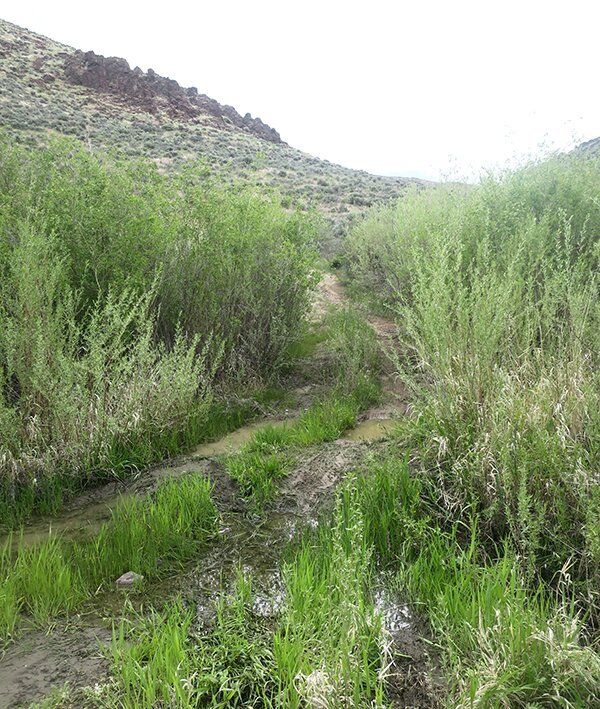 An Owyhee adventure truly begins well before you have a chance to put your PFD on.
If you have a new vehicle or care about your truck's suspension, you may want to consider taking something else to get to the Owyhee or you may find yourself swearing at the road conditions for hours on end. Around noon we arrived at the put in, some 12 hours after leaving Jackson.
We pulled the packrafts out, pumped them up full of air and loaded all the gear that would need for the next 4 days of our self-supported trip down the Owyhee River.
The Owyhee is remote, the sort of place that if something bad happens you would be up shit creek instantly.  So when we saw rattlesnakes swimming across the river, a mountain lion at camp, and a cable to portage rafts it quickly becomes apparent "there is no place like home" and we were far-far from it.
In 1984, the United States Congress designated 120 miles of the river as Owyhee Wild and Scenic River under the Wild and Scenic Rivers Act of 1968.  This classification allowed the Owyhee River to preserve its free-flowing condition. Then in 2009, President Obama signed The Omnibus Public Land Management Act designating 323,274 acres on and around the Owyhee River in Idaho as wilderness.
The Owyhee River flows north over 346 miles through Nevada, up to southwestern Idaho and then finishes in southeastern Oregon.  It's one of the most remote parts of the lower 48's, the Owyhee is the sort of place an outlaw on the run could call home, as it has done before.
Claude Lafayette Dallas, Jr., a mountain man that had been living along the river came into contact with a couple game wardens, the story goes like so:
Knowing the stories of the Owyhee's past allowed our minds to wander down the river and up the canyon walls.  Could someone on the run really call this place home?  You better believe it.
We finally got the boats launched and started paddling down the river by mid-afternoon.  We had lost time, and our goal was to go as far down river as it would allow before dark.
A few hours later rain clouds started appearing overhead.  At first, there was only a light drizzle, but then the weather turned and the sky started to unleash buckets of rain down on us.
This was my first overnight river trip,  so I figured this sort of storm was the norm.  However one of the guys that have been guiding and running rivers for over 50 years said that was the hardest he had ever seen it rain on the water.
After hours of paddling through the rain and a serious lack of sleep, our group started to tire. The rain was coming down and we had yet to find a place to get off the river to make camp. The Owyhee River, for the most part, has steep canyon walls which are amazing to look at, however, the rocky terrain makes for difficult camping,  so we continued down the river in search of a spot flat enough to call camp for the night.
Finally, after pulling around a bend in the river we spotted a flat bench a few hundred yards above the water that would work for camping. The only hiccup was getting from the boats to camp involved serious bushwacking through thick thickets of river plants. The branches were so thick and had just the right amount of bend that they would literally trap you in place with each step.
It took forever to plow through the bushes, I had barely gone more than 10 yards in 5 minutes. I was tired, frustrated, wet and hungry when the brush started to open up, I sighed – what a relief.  And at that very moment, I looked over to my right just in time to make eye contact with the most beautiful animal I have ever seen, a mountain lion, a mear 30 feet away.