Peeling waves, beach and point breaks; wild late-night; hip Mexican town; a super-rad ocean-front cemetery; all the killer tacos you can imagine. There are few foreign surf destinations as easy to get to as Sayulita, Mexico, or as guaranteed to give you a good time with sick waves.
Puerto Vallarta's got to be about the cheapest and quickest Mexican airport to fly to from any-where especially in the western mountains; Sayulita is just a 45-minute drive north. And once you get there, the places to stay are otherworldly nice, and not too heavy on the wallet.
This is the land of Iguanas and fishermen and pearl divers, all hovering around the bay where the Baja Peninsula used to connect to the mainland. There's a reason the old Hollywood crowd followed Ava Gardner down to the Nayarit after she finished "Night of the Iguana."
Sayulita brings that old beach town vibe to revitalized hipster cafes serving ridiculously good coffees and food with some of the freshest fish around. Which reminds me, fishing's great. Go surfing, then fishing, then crush a Choco-Banana from the corner.
Best Hotels in Sayulita
You wanna live like a Don? Clifftop oceanview patios with tropical flowers dancing on the edge of the iron railing. Just south of Sayulita beach (like, a less-than-10-minute-saunter south), this place is luxury without being cheesy; that surfspot-centered hotel you dreamed of while watch-ing old Mexican romantiques.
It's just south of the insane oceanfront town of Sayulita beach. But just far enough away from the madness to be a place of refuge. And just behind it is Playa de los Muertos, an otherworldly little cemetery tucked against a sparkling cove.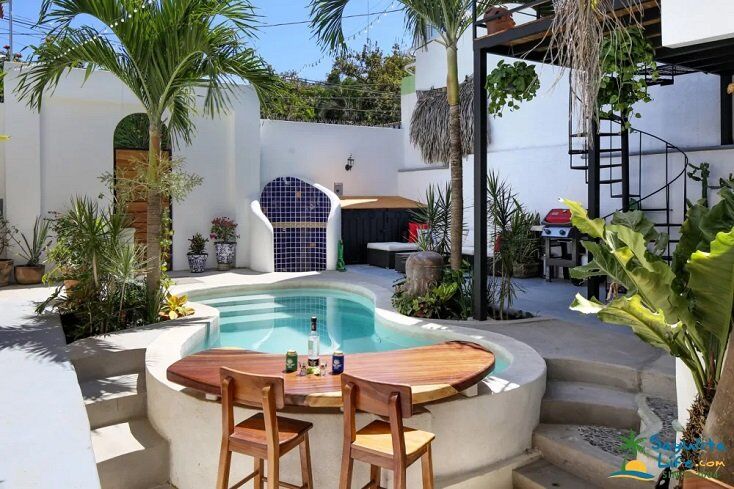 Yeah, this one is pretty on-the-nose. A surf hotel. Like, a legit surf hotel. Like, one a surfer can afford. A couple minutes from the crowded scene of sandy madhouse surf lesson beach break at Sayulita Beach. Though even Sayulita Beach can be fun; it's like surfing the PB pier but with more surf lessons. You there to get after it in every way though?
The Casa Buena Onda is the spot, with a big wide open area for unwinding with the other guests when your arms feel like jel-ly. And with its reputation as a surfer motel, you can almost guarantee you'll get somebody to split a cab up to San Pancho.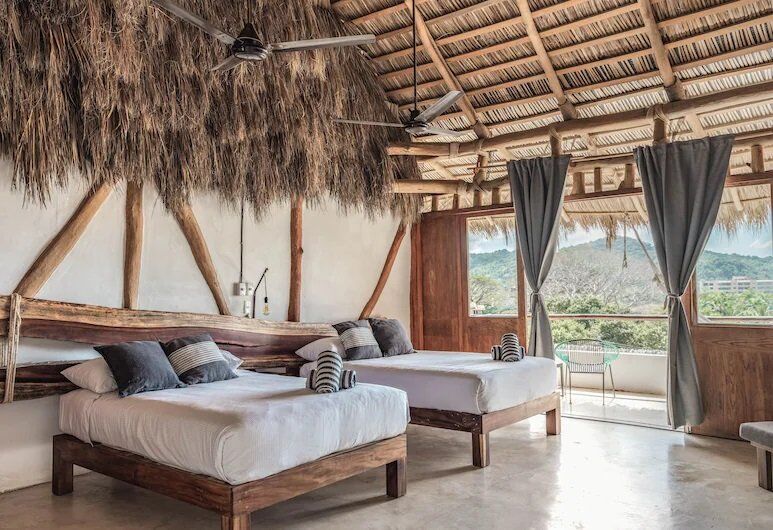 Are you a hippie? Yeahh, you know you are. You just don't want to camp in the middle of downtown. Maraica blends that rustic oceanfront charm with understated… is it luxury? Comfort? It never feels stuffy. Just… nice. Realllly nice.
This is definitely the spot to take your hippie significant other, or to have an epic meditation-full soul surf trip where you just concentrate on the waves and being present.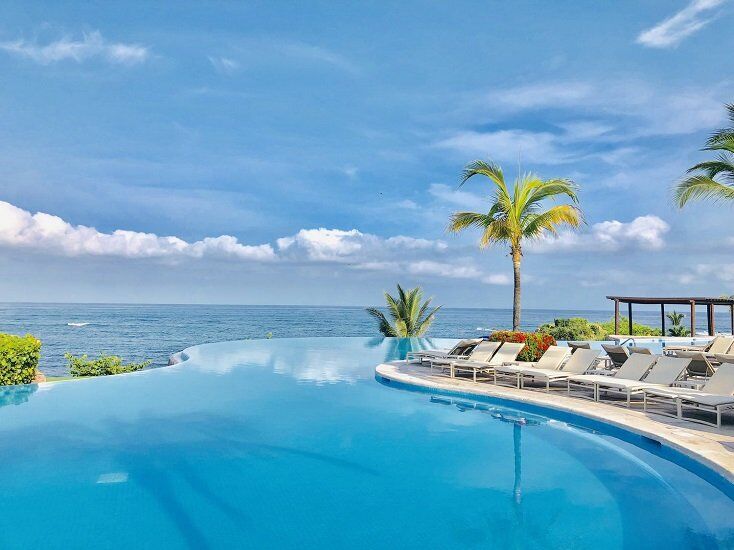 You want a paradise, cut off from the rest of the world, with insane surf wrapping around the point where this blessed sanctuary sits? That's the Four Seasons Punta de Mita. That Four Seasons unbeatable luxury. On a glorious peninsula jutting out into the Pacific, far from every-where. Where endless rollers just wrap around like they were sent off from heaven. And did we mention the stunning infinity pool?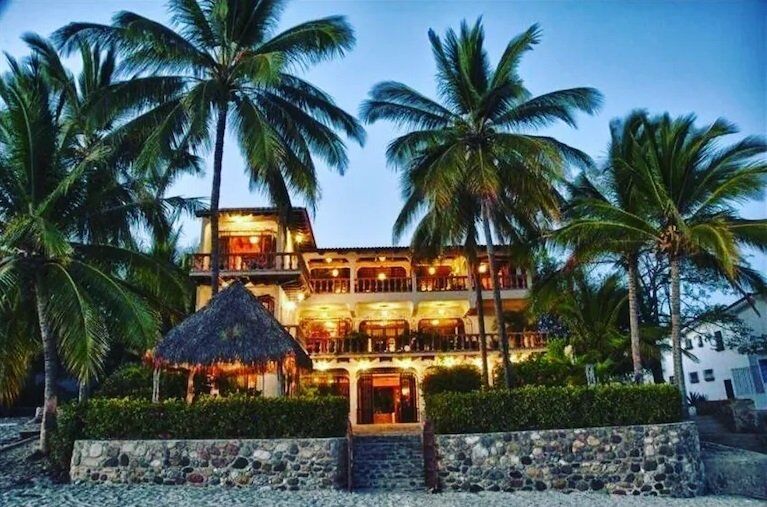 This is actually on the outskirts of a town just south, an old fishing village called Bucerias. The town's like Sayulita but smaller, less known. No waves because it's the heart of the bay but if you get a rental car, you can launch up to Burros, or WildMex for a short jungle trek to La Lan-cha, or all those spots on Punta del Mita.
We found a ridiculously nice villa right on the water of its own beach, with snorkeling out front and palapas by every one of the 3 pools on site. And the town of Bucerias has a handful of good time bars that don't get as crowded as the ones in Sayulita proper.
Related Articles: