Its no question why vast amounts of people enjoy tropical beaches but the small surf town of Montanita, Ecuador surfing attracts Ecuadorian locals from across the country as well as international surfers and travelers while still managing to keep a laid-back, small-town atmosphere.
Montanita translates as little mountain or little hill but is famous for its beach. Its a town of roughly one thousand inhabitants but has a constant stream of tourists find the beach to be a favorite getaway. It began as a small community with occasional surfers who camping on the beach but now is a thriving small town that has an economy based in tourism, international cuisine, and craft sales.
Guyaquil local Viviana García Rodríguez has been traveling the three hours from her hometown to her favorite beach town on weekends since she was a teenager. If you like the beach, the best place is Montanita she said. It offers a bohemian environment, almost totally natural without luxurious hotels, with people that simply enjoy life and don't worry about external factors, a place where you simply arrive and forget the world.
Visitors to Montanita can make any of their tropical paradise dreams come true. If adventure sports are craved, there is surfing, scuba diving, waterskiing and windsurfing. There is a unique and wild nightlife scene that brings in people of many languages. If quiet relaxation is the desire, one can stroll the beach, enjoy the sun, listen to live music or can simply repose in a hammock at one of the many hotels and hostels.
There's nothing else like it in the country, Viviana said. Many foreign tourists can share and exchange cultures and practice languages. Switz traveler Thomas Linder has been on a two year trip in South America and found Montanita to be one of his favorite places for windsurfing, partying and relaxing. He believes the surf is what draws in most of the people. Surf means gringos, he said. Gringos means girls, tourism and partying and everybody likes this!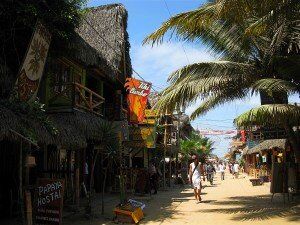 One will hear about Montanita all across Ecuador. Ecuadorian youth find it a hot spot for partying and socializing. The nightclub Hola Ola may be one of the most popular multicultural partying destinations as it has dancing, a mini swimming pool, and gets live music often. It is translated as hello wave but the h in hola is silent and hola and ola are each pronounced equally as O-la.
Surfers of all skill levels will be pleased with the waves at Montanita. The beach is a long stretch where waves break consistently. One can seek out the wave sizes suited to their abilities. There are smaller, slower waves for beginners and large, fast breaks for experts and everything in between for intermediates.
It's obvious why the small surf town sees so many travelers who all have exciting memories to share about it. It's a very little town but very comfortable, said Marisol Naranjo, another Guyaquil local. In Montanita, people feel free and peaceful and you can do what you want, meet people from all around the world all in the same place. People who visit it can't leave it easily. And it's a paradise for surf.
Food and accommodations are very economically reasonable for the traveler. Ecuador's currency is the U.S. dollar but rates are less than what Americans are used to. Hostels are as cheap as five dollars a night for a basic room with a bathroom and shower but nicer hotels can be found for up to ninety dollars. There are also beachside cabins to be rented for couples or groups. Meals range from $1.50 to $10, cocktails are about $2.00 and Ecuadorian domestic beers that come in large, bomber bottles are only about $0.50 to $1.00.
Montanita experiences a rainy season from December through May but has an average yearly temperature of 82 degrees Fahrenheit. Water temperatures range from 56 degrees to 68 degrees Fahrenheit but most the time it will feel like swimming in a giant, hot bathtub of saltwater with waves for surfing.
Related Articles: