El Tunco is quickly gaining attention as a safe haven for backpackers and surfers of all ages wanting to visit El Salvador. With incredible sunsets, amazing surf and lots of options for dining this town is a must-visit. I put together a list of some of the best places to stay in El Tunco El Salvador from the most luxurious beachside rentals to hostels and of course, the best family-run surf camp.
Wondering where to stay in El Tunco El Salvador for your next vacation.  We put together some of the best places from luxurious full service resorts to casual surf lodges and everything in between.  If you haven't been to El Salvador yet, what are you waiting for?
Best Places to Stay in El Tunco, El Salvador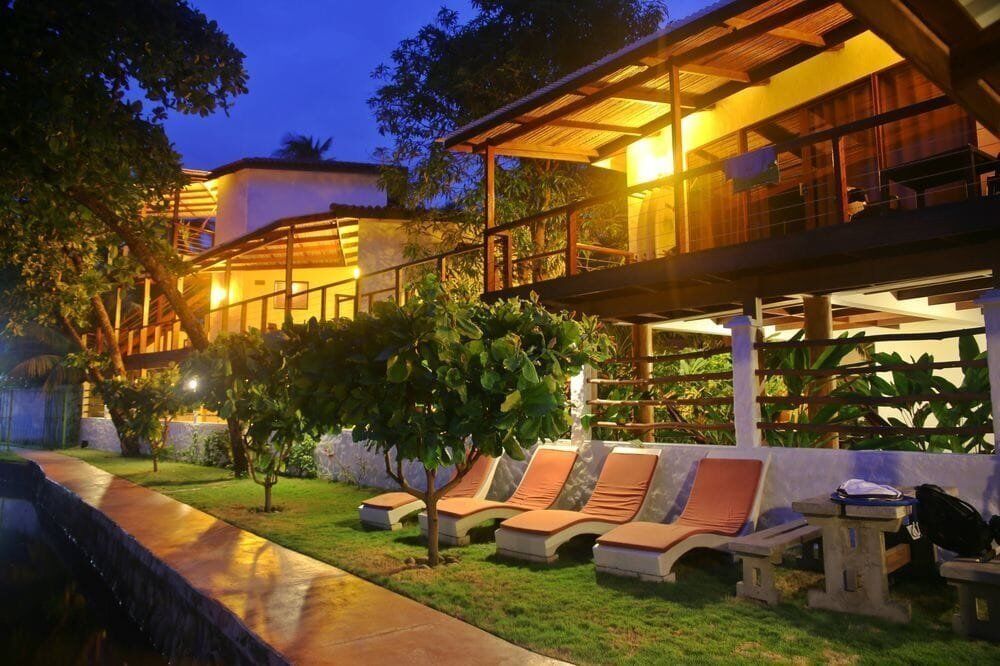 Bocas Olas Resort Villas is tucked into the quiet northern end of El Tunco, perfect for couples or solo travelers wanting to be away from all the nightlife in El Tunco. One of the perks of staying at the Boca Olas Resort is the golf cart transportation to and from the core of town. This is the only resort in the area offering such a service. With a great private pool and the La Bocana surf break located a minute walk away, Bocas Olas Resort is the best option for sun lovers in El Tunco.

Balance Villa is located on private property at the river mouth where the Rio Grande River and La Bocana surf break meets into the ocean. This 3-bedroom villa comes with an infinity pool, large sun deck and plenty of palm trees in the grassy backyard for shade. It's hard to leave this property with a full kitchen, modern styling and incredible ocean breeze throughout the property.
The most unique vacation rental home in the area is without a doubt the Esymar Beach House perched up above on a small hill steps from La Bocana beach. The views here are unreal. The 6-bedroom home is equipped with AC, a huge pool and great use of indoor-outdoor space. Although the interior is basic especially the kitchen, this is the sort of rental you would want to spend all of your time outdoors on the beautiful property instead.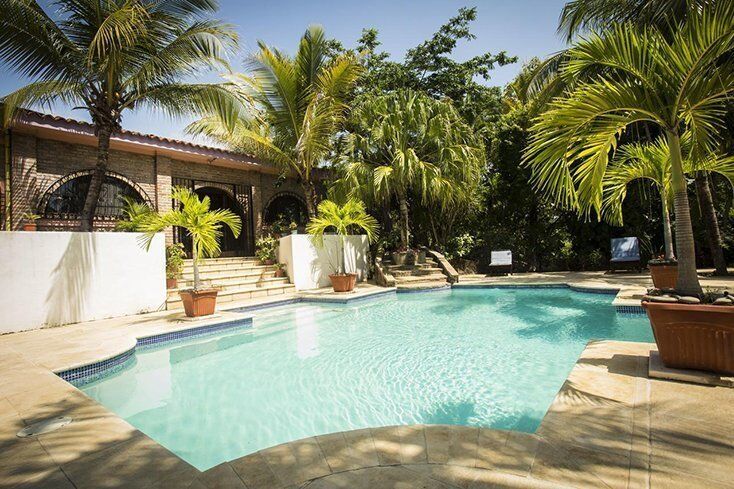 For total relaxation, peace and quiet the Cielo Vista Hotel & Spa is the perfect option for your El Tunco vacation. Located in the trees away from the beach this property offers total tranquility. With 2 pools on the grounds and lovely gardens perfect for meditative walks along with some of the best home-cooked foot in El Salvador, you can't go wrong. The location is a bit of a walk from the beach, the tradeoff comes with the evening trade winds, and the perfect location for finishing a book or two.

Located on the beach in front of the main drag in El Tunco is the Roca Sunzal Lodge. With AC and flat screen TV's the room you just might forget you're traveling in Central America. Start your day each morning with an included breakfast in the restaurant overlooking the ocean, you'll most likely end up here for the sunset as well. Roca Sunzal has 3 swimming pools and direct access to the beach, what more could you ask for? And best of all the rooms here are a fraction of what you would expect to pay for a resort like this on any other beach around the world.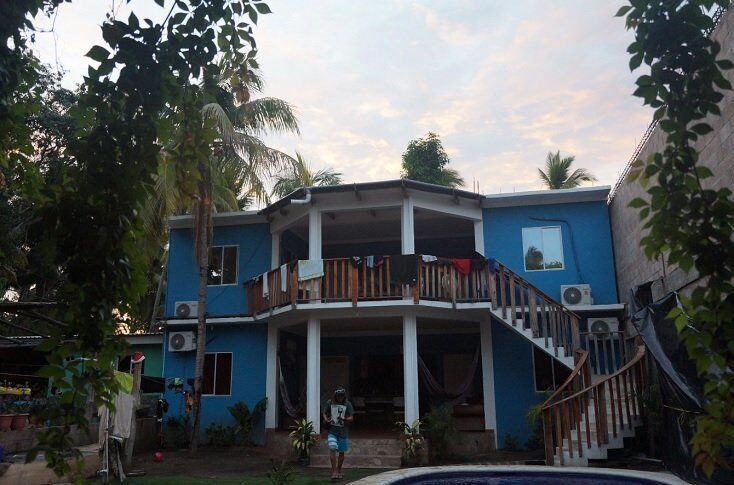 For surfers on a budget or anyone looking to surf real waves staying with Vaquero and his family at the Vaquero Surf Lodge is a must. To be honest, I am hesitant to talk about his place as it's such a great deal, and I plan to come back many times in the future. The lodging is super basic, some rooms have 2 beds, some 3 and even 4, the showers are cold, and you'll be woken up early every morning to surf. Isn't that why you're heading to El Salvador in the first place. For an added cost you can have surf tours and photography daily from Vaquero and his local crew to breaks up and down the coast. It really doesn't get any better than this for experienced surfers.
El Tunco, El Salvador is a hot spot for backpackers and international surfers from around the world and for good reason. The people, the surf, the food, and safety are unlike any other town I have ever visited while on a surf vacation.
Here are some of the reasons why.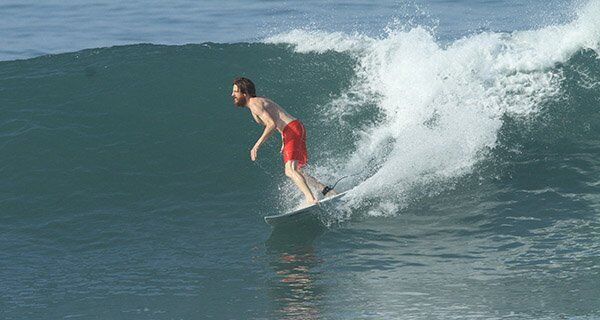 El Tunco Surf
Surfing in El Tunco El Salvador is a ton of fun regardless of your surfing abilities. The easiest wave to surf is the right-hand point break on the north end of the beach known as Sunzal. In the middle of El Tunco lies La Bocanita, a really fun, fast beach break and to the south is La Bocana point break located at the river mouth of the Rio Grande River.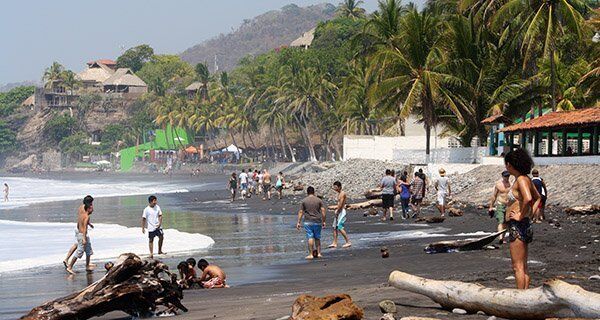 El Tunco Beach
Stunning Sunrises and Sunsets in El Tunco. I mentioned some of the local surf sports as being North or South of El Tunco, however, El Salvador actually runs West to East what this means is daily sunrises and sunsets right in front of the beach in El Tunco. Hawaii, Indo, and California can't even compete with this. Twice a day the sky comes to life on this stretch of the Pacific Ocean.
Spend some time in El Tunco amongst the locals and before you know it you will have a ton of friendly faces not only smiling, throwing shakas and giving high fives (they do a high five first then fist pad greeting here, 2 parts) but actually saying your name, asking how you are doing, and truly taking an interest in you. This is not a town to be "to cool" in, everyone here is on the same level, tourist and locals alike. Show some love and it will be returned 10 fold. A friendly greeting and smile go a long way here in El Salvador.
El Tunco Hotels
Rooms range from $6 El Tunco hostel dorms with a fan to around $25 for a private room with AC and if you really feel like spending more money a few places cater to the $100-200 USD crowd.
For true relaxation, check out the Boca Olas.
If your El Salvador vacation is strictly about surfing and you want to get woken up at 5:30 am each morning check out Vaqeros Surf Lodge. If you like a great deal, flat screen tv's and stumbling distance walk from all the bars the Posada Luna is a solid option.
El Tunco Spanish Lessons
I came to El Salvador very green, not knowing much Spanish. I would highly recommend brushing up on your skills before heading down. Or better yet practicar (practice) while in El Tunco. I have started taking lessons from Alejandra for $15 an hour and it's already helping out big time. Some of the locals speak a little English, however, if you try to speak Spanish or even "Spanglish" it's much appreciated by the El Salvadorians. This is a fun and easy way to practice, especially when they repeat what you said and say it the way it's supposed to sound. Try not to translate words, as it won't really work out. Find the local meaning and stick with it.
El Tunco El Salvador Nightlife
At some point between Thursday night and Sunday night, everyone will just be hanging out on the streets in El Tunco. Locals, visitors, ex-pats you name it. Throw in a very liberal open bottle policy and some Regatron music and the scene in this tiny little beach town in El Salvador is surely the polar opposite of what people expect when they think of a vacation to this not so scary part of El Salvador.
Ladies Night Drink Specials. Women can get buy without the need to pay for drinks while visiting El Tunco. Most nights bars in town offer free drinks known as "Ladies Night" the party moves from place to place depending on the night, and the guys will always surely follow. Keep in mind EL Tunco is safe however, you are in a third world country… Bottomless drinks are fun until??
El Tunco Street Dogs
El Tunco has a large population of mostly friendly unfixed males and unspayed female dogs roaming the streets whose numbers have rapidly increased over the years. If you spend more then a few days in El Tunco odds are you will not only be able to recognize but might even start to create imaginary names for some of these cute four-legged locals.
El Tunco Massage
Surfers Massage. One-word "Rhina", somehow this tiny little El Salvadorian lady was able to give me a series of the best massages of my life. I felt bad for her as my muscles were incredibly tight, throw in surfing a couple of times a day and she had her work cut out for her. Best $35 you can spend in El Tunco! Tell her Mike says hi…
Taco Guanaco El Tunco
Is my favorite place to eat in El Tunco for many reasons. The food is incredible, the prices are cheap I have the Pollo de Torta (Chicken Torta) for lunch daily without fail and it's always mouth water good. At $4 it's a solid deal. I like to sit downstairs with the locals and talk shop while people watching. They also offer to seat upstairs however I prefer to sit on the street.
Take a Wok El Tunco
I walked by Take a Wok many times my first visit to El Tunco without ever really considering going in. Having traveled in Asia I was not really excited to see Asian food in Central America. That was BEFORE I tried Take a Wok. Although it's expensive for El Tunco at under $10 you can get a fresh cooked Asian stir fry customized to exactly the way you want it. The veggies option is amazing too and only runs about $7. Typically a box of stir fry (they serve food in Asian to-go boxes) will last 2 meals unless you are really hungry. However, I have yet to see anyone finish a serving in one sitting. Couples could surely enjoy sharing some delicious grinds from Take a Wok.
Desayuno Traditional El Salvadorian Breakfast
Traditional El Salvadorian breakfast in El Tunco cost $2-$5 numerous restaurants, cafes and stands offer up Desayuno Traditional. I can and do eat this daily, eggs, avocado, beans, fried banana's and bread are perfect after surf meal, this is what the locals eat daily at home as well. My favorite place for Breakfast is located on the main corner intersection in El Tunco, not sure the name but the place has a green awning and is fun to people watch from. (across from Fafi's)
Related Articles: