Two decades and the secret is out about the durable, lightweight, loose-fitting, lifetime warrantied Burton [ak] line.  For this review, I tested the Alaska-inspired Burton ak Tusk 3L High Top Pants. Here in the Wydaho backcountry quite a few skiers and snowboarders rock the Burton [ak] line of outerwear.  You read that right: SKIERS!!!
Burton [ak] Tusk 3L GORE-TEX
With a Burton athlete-inspired redesign over the last few years, is it possible that the best of the best bibs are now better?!  You can judge for yourself, or you can take my word for it.  But — just sayin' — if you like monkeying around in the backcountry you should probably go ahead and git yourself a pair.
The Men's Burton [ak] Hi-Top Pant is built with three layers GORE-TEX sandwiched between some of the most mysteriously badass fabrics on the planet. Which is thin yet durable, lightweight and packable, tougher than most (perhaps all) similar pant/bib offerings from any ski, snowboard, or mountaineering company.  Seriously. Along with a super-convenient, comfortable, simple, and soft (Velcro) suspender adjustment system.
The fit is roomy, flowing fit without feeling or looking too baggy.  FYI, these pants run a little large.  I am 5'11", 210 lbs, 33" waist, and I can make a size Medium work though I'd prefer to get my hands on a Large for a slight increase in my personal steeze.
Burton Tusk Bibs Technical Features
The Burton Tusk 3L Bibs come with a great pocket assortment and placement: two surprisingly spacious pockets positioned in the very breathable material above the waist, and two big, perfect pockets on the thighs at just the right height to avoid impeding uphill progress.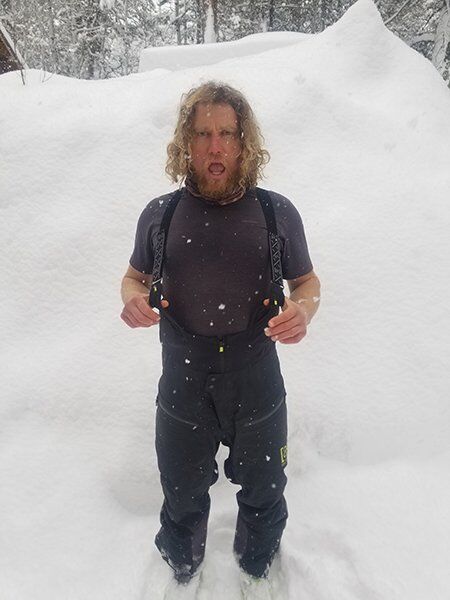 *Full crotch (TEST-I-COOL) vent and 1/2 leg side vents create crossbreezes making these ideal for uphill travel in all seasons and especially during steamy spring and summer days. This is the ideal system of double zippers on all vents and to accommodate your pee-pee while writing your name in the snow.  Sweet!
*Kevlar-reinforced cuffs with a bomber cuff width adjustment make these pants ideal for snowboarding, snowmobiling, skiing, and even cramponing up the Grand Teton for the first female snowboard descent.
Some things to keep in mind with the Burton ak stuff. Protect your zippers with slow, smooth, gentle use.  If you encounter resistance stop, back up, and reassess.  We don't want to blow a zipper on a pair of $650 pants by being in a rush and kooking out.
I usually wear these bibs in a Large but could only get my hands on a Medium this winter.  Amazingly the Mediums are working for me because the AK line runs big, but squeezing into them is a good reminder that I have to lose some weight.  Bummer, but thanks for the reminder Burton!
Overall Impression
Finding the perfect pair of pants for your backcountry adventures is truly a game changer.  More often than not, I've been rocking Burton's AK bibs for the last 17 years and have never been disappointed.  I've tried out Arc'teryx bibs, Patagonia bibs, Trew bibs, and a whole assortment of snow pants of all sorts, and nothing can compete with the Burton AK bibs.  No matter how well built they are, all bibs eventually catch fire or fall apart, and its always a sad day when I have to retire a worn-out set of my beloved Men's Burton [ak] Hi-Top Pant Bibs ($649.95)
…if you're bummed that this year's batch of Burton AK outerwear has already darn near sold out you can blame us skiers.  Truth told, I've been rocking Burton's top outerwear lines since I stole my older brother's grey ~'98 Burton TRI-LITE bibs back in 2003.
These bibs pretty much come with an owner's manual. And LIFETIME WARRANTY.
Related Articles: