For a stiff high performance snowboard binding, this season I turned to the Burton Cartel X Bindings. Available in both the Burton Cartel X Re:Flex that works on all snowboards and the Burton Cartel X EST models for anyone that prefer to use the Burton Channel System.
Stiffness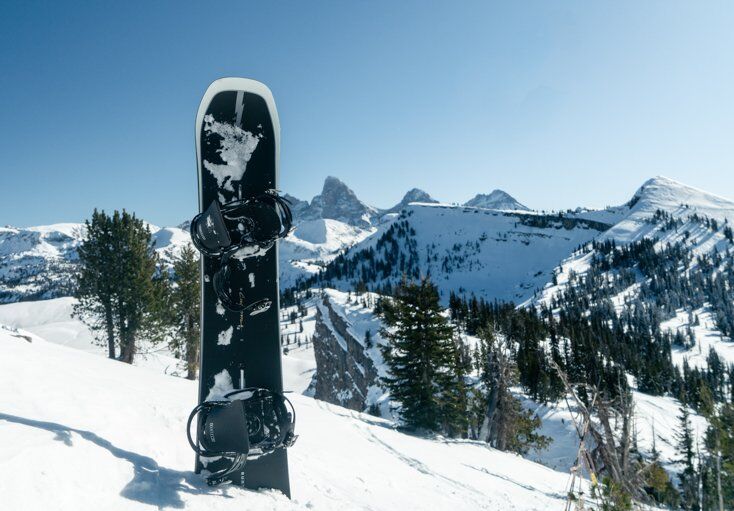 This Burton Snowboard Binding gets its stiffness from a stout highback, that's one of the stiffest in the Burton line. Although it's not carbon fiber it seems close in terms of just how darn tough the highback is. However and a big however the Burton Cartel X Binding is still incredibly responsive and here's why.
Burton included the Heel Hammock into the bottom of the Cartel X Bindings which is made up of soft rubber material that connects to your boot at the ankle. This connection allows for slight movements to effortlessly transfer energy from your feet through your boots, and since it's connected to the highback, the rubber moves with you.
The Cartel X Bindings seems to initiate turns without really much thought, you start moving one direction and the board and bindings easily follow.
Burton designed the bindings with a Hinge hi-back that offers tool free adjustment and the right and left bindings are actually built with the curve of your leg in mind. Our legs are round, not flat and Burton was able to make a highback that fits better than most. I typically don't mess with the forward lean on my bindings ever, but for this test it was incredibly easily to spin the rubber dial to give the binding additional forward lean.
Who Would Like this Binding?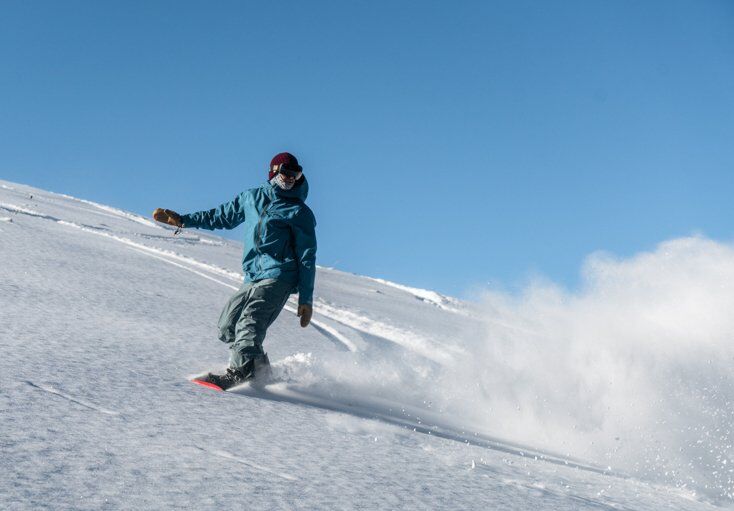 Hard charging intermediate to advanced snowboarders will dig the Burton Custom X Bindings. For a less stiff version the Burton Custom X Bindings are also a great option. The person that buys this binding likes to ride fast, likes to send jumps and it confident putting their feet or landing gear down when needed.
I tested the Burton Cartel X Bindings at Jackson Hole Mountain Resort, Big Sky Mountain, Grand Targhee Resort and Snowbasin all of which offered up big mountain terrain for testing. And the bindings handled really well, they stayed locked in when needed and best of all I knew if I trusted my gear and ride hard these bindings will ride over any terrain.
Comfort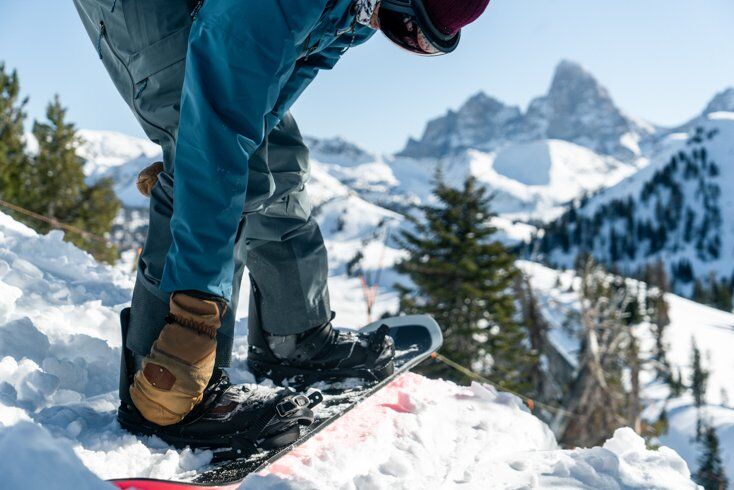 For padding the Burton Cartel X Binding offers Re:Flex FullBED packed with padding that makes going bell to bell that much easier on your legs and back. Along with the Re:Flex FullBED padding, Burton added B3 gel cushioning in the center of where your heal sits. I did notice both the Cartel X Re:Flex and CEST Bindings both had the added B3 Gel, with the EST offering a little bit of extra gel/padding compared to the standard binding.
Combine this with Burton's tried and true straps for both the toe and heal and you have a binding that is built to fit around your snowboard boot.
Sizing
One hiccup you may find when getting a pair of Burton Cartel X Bindings is what size to get if you have a 10.5 boot like myself as Burtons sizing is as follows:
Small Size 6-8
Medium Size 8-11
Large Size 10+
I have used the Cartel X EST Bindings in both Medium and Large and preferred the Medium size as the binding is already larger than standard bindings thanks to the EST system.
In the Cartel X Re:Flex traditional binding I opted for a Medium which gave a nice snug fit. I did have to adjust the length of both the toe and heal straps to make that work on the Mediums, where as the Larges fit correctly out of the box with no adjustment needed.
Durability
I did manage to break a buckle on a cold morning at Jackson Hole Mountain Resort which luckily most snowboard shops are going to carry the buckle. So it wasn't the end of the world but after only 5 days on the bindings I would have expected better durability. Now your mileage may very and it the temperatures were hovering around 0F. So things can and do break in those temperatures.
So far after 20+ days on the replacement buckle there have been no issues with durability. And for the consumer Burton does warranty bindings for 1 year.
Overall Impression
If you look at what bindings people at your local resort ride that are charging hard top to bottom most likely you will see a a lot of the Burton Cartel X Bindings ($329.99). Especially for anyone over 40 that likes to ride camber, rides hard and knows just how good Burton Bindings are.
Bonus points if you're using these bindings in tandem with a pair of Burton Snowboard Boots as they really make a point to design the heal of their boots to match up with the healcups of their bindings.
Related Articles: