The C-9 Snowboard Bindings from Ride are hungry. And they have no dietary restrictions. Starved for anything and everything on the all-mountain menu, they are poised to devour whatever line you put in front of them. Tested at Whistler and Baker, there was no shortage of terrain served up to the Ride C-9 Bindings.
These Ride Snowboard Bindings gobbled down everything from pristine cord for breakfast, heavy powder for lunch, and even feasted on some tasty technical lines at two of the PNW's most excellent resorts before the chairs stopped spinning for the day.
Composite vs Aluminum
Ride created the C-9 bindings as a complement to their A-9 bindings. They have very similar feature sets, but the C-9 boasts a composite chassis rather than an aluminum one. So they are a little heavier than their A-9 counterpart, but there's a reason for that. The composite chassis provides enhanced durability and dampening properties. I noticed the composite material has a bonus portion of flexibility when compared to the more rigid aluminum model.
Ok, but what does all that mean on the mountain? When you mount up these C-9 bindings, your ride is going to be smoooooooooth. Board chatter is muted. Vibrations are seriously dampened. You can even charge the filthiest chunder and this set chomps through without transferring any of that buck and noise into your body. The cushy C-Series EVA basepad and urethane pods in the footbed also team up to purée bad vibes into a smoothie of a ride.
Stiffness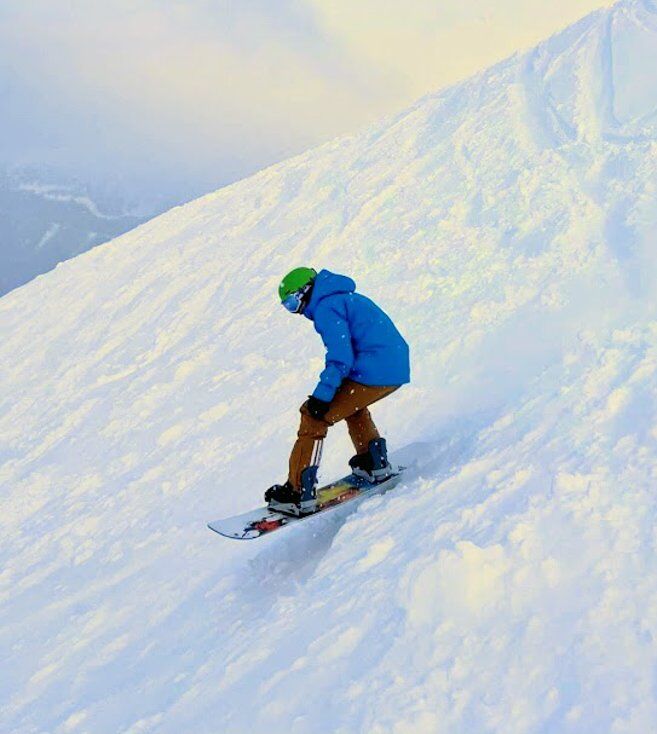 Even with all that smooth sailing, don't mistake the C-9s for anything less than an aggressive all-mountain binding. This pair of snowboard binders has a pretty stiff build that equips you with a whole lot of response. One of my favorite features is the ability to customize that stiffness a bit. The ankle straps have both a plastic section that is more rigid for that immediate responsiveness as well ast a softer urethane piece that keeps the strap comfortably in place. But here's the thing: you can choose which end is on top. Go plastic up high for maximum response, or flip them to put the urethane up top for a little more freestyle flexibility.
Rounding out the feature ingredients of the Ride C-9 bindings, the discs are compatible with all major binding mounting patterns, and a traditional nylon highback mixes a blend of comfort and response. The canted footbeds align your leg joints to keep you feeling fresher longer, plus their angle puts more pop in your pantry anytime you want to cook up an extra course of power.
Overall Impression
Overall, these snowboard bindings from Ride cater to aggressive freestyle riders that crave performance all over the hill. The Ride C-9 ($349.95) model offers a smooth, stable experience without sacrificing an ounce of response that lets you chew through chunky terrain. They fold in just enough flexibility options to let you butter that bread box or tweak out a stylish grab. If you're a hard charging advanced rider who knows their way around the kitchen, er mountain, you should consider putting the Ride C-9 bindings on your shopping list.
Related Articles: