Some of you may be in the same boat as me where you aren't backpacking quite as much as in your younger years. You may think a tent is a tent and why not just car camp in the backpacking tent that you already have? In that case, like me, you may also enjoy the Decathlon Forclaz Trek 500 Tent.
Tent Setup
Setting up the Decathlon Forclaz Trek 500 starts with inserting a pole into a tent sleeve and then repeating the process with the second pole into the other sleeve. The tent pops up as the pole ends are fit into their bases.
A small pole goes across the top of the tent to help with airflow. And there you go! The tent is ready to roll.
The rainfly is integrated and does not need to be added separately. There is space between the main tent and the rainfly as you would expect for ventilation.
Two of these velcro attachments provide extra venting between the main tent and rainfly.
I am accustomed to exterior tent poles with clips instead of interior poles. I made progress on my push technique instead of using a pull technique (as the later makes the tent poles pull apart). This was especially crucial during tent break down.
I like how the zippers are attached to the tent fabric so they take the fabric with them instead of letting it flap or drag on the ground when being unzipped.
There are thoughtful touches like ties to hold back both the exterior and interior doors.
Roomy for 2 People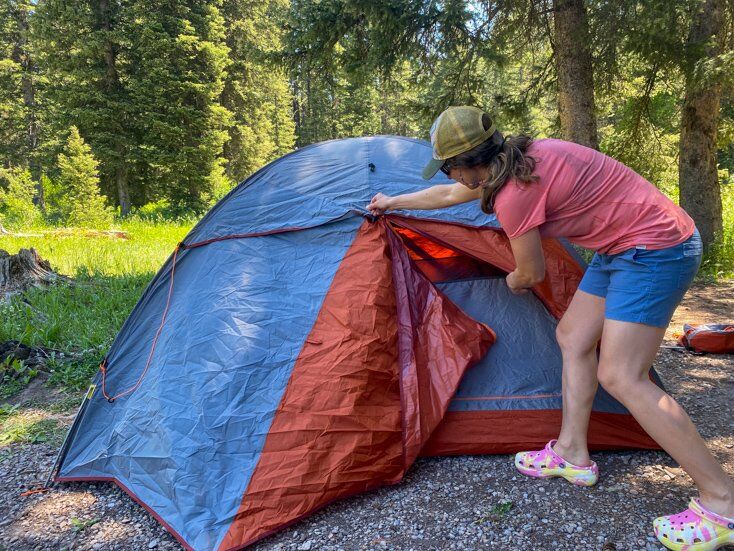 It's always great to gain a new perspective– especially when it comes to comfort in the great outdoors. It turns out that a 3-person tent is way more comfortable for two people than a 2-person backpacking tent! Plenty of space for two and nice head room when sitting up. Handy for changing clothes.
Extra Features
The integrated drying line is nice.
I love a couple of good tent pockets for my headlamp, phone, and car keys.
When packing up, I appreciated the wide stuff sack with a zipper as opposed to a traditional narrow, deep stuff sack.
Overall Impression
Overall, the Decathlon Forclaz Trek 500 Tent is a cozy, solid, roomy home away from home. It even has some eco features such non-anodized pegs and dyeing 1/2 threads to reduce the impact on the environment. This reduces water consumption and wastewater production.
The Decathlon Forclaz Trek 500 tent is easy to set up, spacious for hanging out, and comes in at a price point of $209 that does not break the bank. Some might even argue that it is light enough for backpacking (7.8 lbs). How light is light enough is debatable in the backpacking world!
Happy camping!
Related Articles: