The MSR Carbon Reflex 1 Person Backing Tent is the perfect addition to your ultralight quiver. Thanks to a somewhat roomy vestibule (for the size of this tent) the Carbon Reflex 1 offers an additional 2 feet of floor space that works perfectly for keeping gear out of the elements like shoes, stove and cooking stuff.
MSR Carbon Reflex 1 Review
The MSR Carbon Reflex 1 Tent remarkably weighs only 1 lb 7 oz, (.66 kg). Aside from sleeping on a tarp, this is one of the lightest tents for solo camping out there. And when I say solo, that's exactly what this tent is designed for. The inside of the Reflex 1 has just enough room for a sleeping pad and not much else. It's a great lightweight 1 man backpacking tent.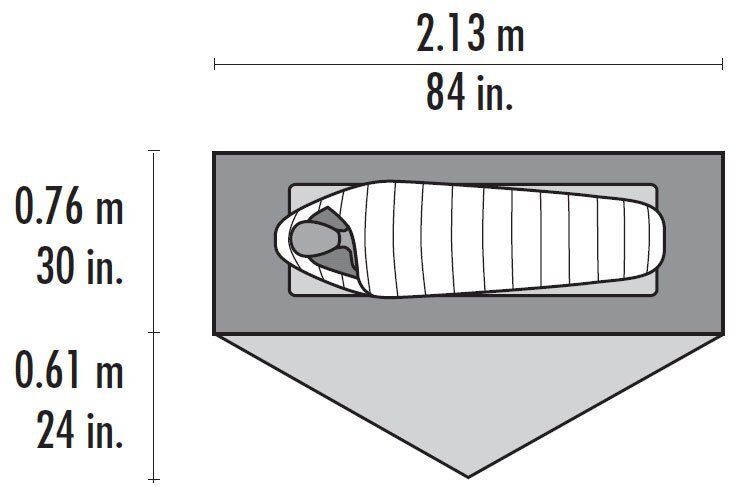 Camping space limited? This tent can be pitched just about anywhere with one caveat. MSR's Carbon Reflex 1 is a non-freestanding design tent. Once pitched the tent will fall over if not staked into the ground. For the most part, this had not been an issue, just make sure you camp someplace you can drive a stake into the ground. The plus side is the tents so narrow it can fit in just about any nook and cranny you can find.
What can be Improved?
When sitting inside the Carbon Reflex it was impossible for me to sit up straight without my head hitting the top of the tent. I'm 5'11 and I have a 3″ sleeping pad, which meant I had to crouch down a bit messing with my posture. If I was camping for a long period of time and planned to be inside my tent a lot this design could present an issue.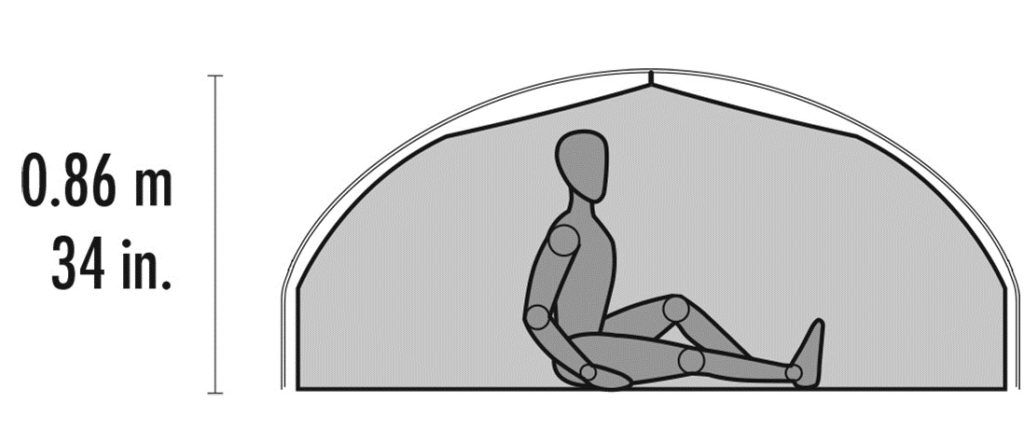 The main issue I have with this tent, which surely can be an easy fix is how darn hard it is to get the tent, poles, and stakes back into the stuff sack. Hopefully, you remember your Boy Scouts training here. My advice is to fold the tent and rain fly together really tight and then do your best to slide the poles and steaks in without ripping the tent. Be patient.
Rainstorm Ready
This double-walled solo tent is built to withstand the elements for 3 season camping. The Carbon Reflex 1 Tents rainfly and floor feature a DuraShield™ waterproof coating, combined with Micromesh canopy that allows for great ventilation without having to worry about moisture pooling inside the tent.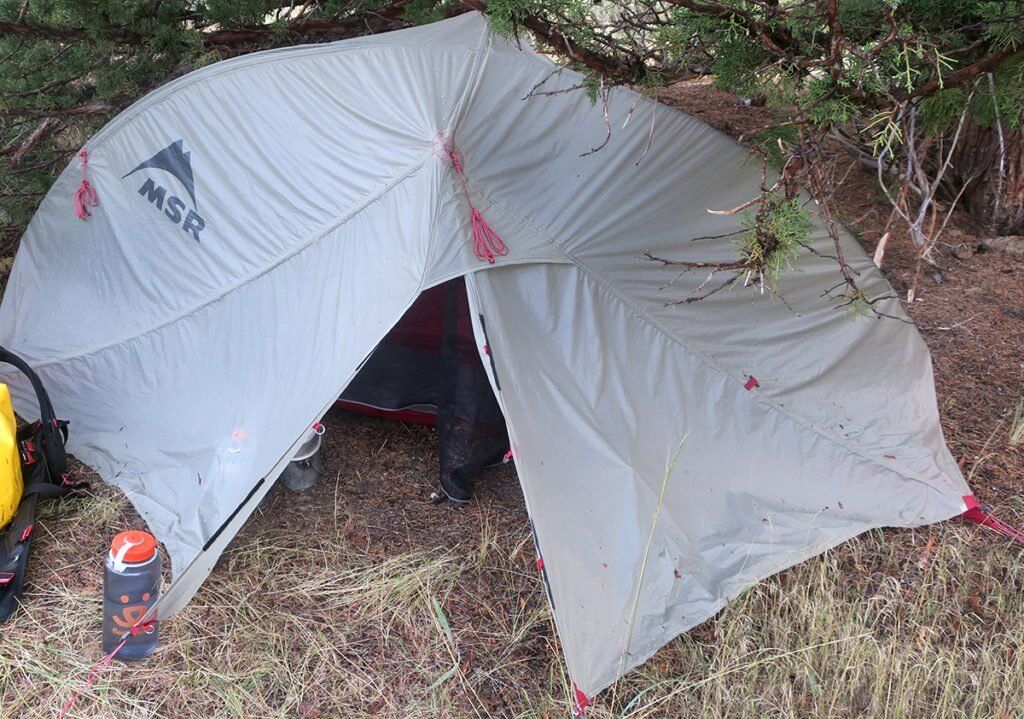 I slept through a few major rainstorms in this tent and awoke completely dry on the inside. The vestibule rain fly is a little different than others on the market, instead of zippers MSR uses a combo of Velcro and a fishing style hook loop to close off the tent. This may take a little bit of getting used to. One thing I like about this design is it seems more durable in the long run when compared to stretching out a vestibule zipper.
Overall Impression
Are you the sort of person that weights your camping gear in an effort to go light and fast?
If your next adventure happens to include backpacking, bikepacking, ultralight camping, running rivers or just getting outdoors and not wanting to lug a bunch of gear around with you the MSR Carbon Reflex 1 Tent ($449) will be a great addition to your kit. Just look at how small this tent is when compared to a computer keyboard.
You can truly take this MSR ultralight tent just about anywhere.
Related Articles: