Wanting an MTB-specific shoe with which didn't look overly out of place at the daycare pickup line, I recently ordered a pair of Five Ten Sleuth DLX's from the Adidas website. A long-time clipless convert, my riding days now often involve a short lunch errand by bike followed by the aforementioned daycare pickup and trail-session with my munchkin piloting the bike from her shotgun seat, both types of rides much more practical to undertake with no-click shoes and pedals.
Relatively stylish and only a few scuff marks after some hard (and lots of easy) riding, the Sleuth DLX are some cool kicks
Off the bike, these shoes get top marks. The core black colorway is understated, with the distinctive gum midsole and technicolor accents providing some serious pop. While more padded than my normal casual kicks, they don't have the overbuilt look of the Freerider or other aggressive MTB-specific models. I also found them both supportive and relatively comfortable wearing them around town.
Stealth Sole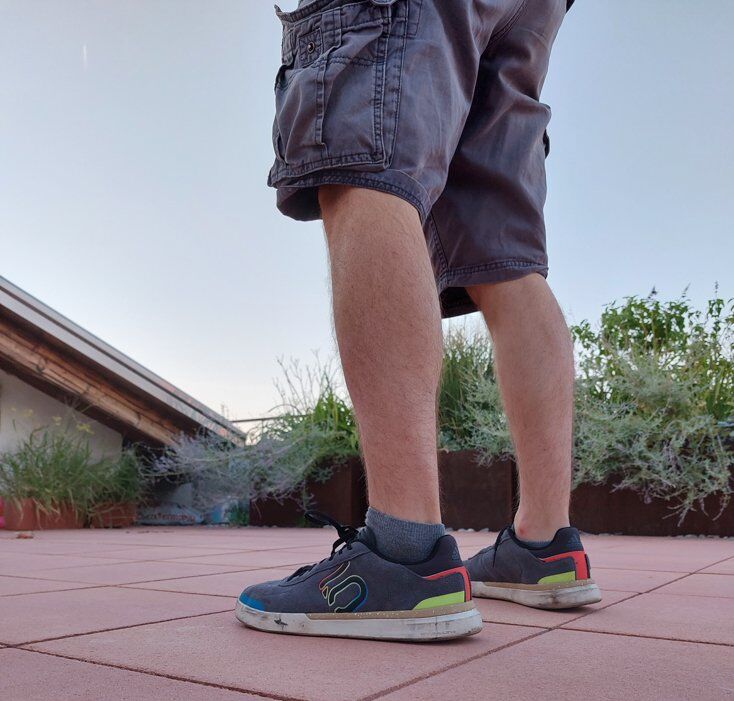 To test the Five Ten Sleuth DLX's on-pedal prowess, I used them mostly in combination with a pair of One Up composite pedals on a variety of rides – from the short local trail spin, more technical descents and jump lines, to an all-mountain ride with a few thousand feet of climbing. My first impression stamping on the pedals was the notable difference compared to a normal set of skate shoes; the stickiness of the outsole combined with the stiffness of the midsole ensure that your feet stick to the pedals and that a minimum amount of effort is wasted when pedaling. That said, these are not a performance-oriented shoe; if you are looking for footwear for serious riding, there are more dedicated shoes with even stiffer soles and more robust padding.
On a brief "hike-a-bike" over a steep, slabby section of trail, I found considerable comfort in how the sticky sole gripped the rock. On the flip side, the little dots found on the underside of the shoe are not immensely helpful on steep sections of loose dirt.
As a final note, I managed test the durability on at least one occasion, catching the shoe upper on a jagged rock at considerable speed. Despite the impact, only a scuff is evident from the impact. The shoes also seem robust enough to provide some protection from various strikes and hits which are common in gravity mountain biking.
Overall Impression
While I won't be permanently switching to flats for all-mountain and serious gravity riding, flats will continue to be part of my setup for short daily rides. Equally at home on short, casual rides and urban sidewalks, the Five Ten Sleuth DLX Mountain Bike Shoe ($120.00) delivers stylishly adequate performance – and that's not a bad thing.
Related Articles: