From the same company that introduced that beloved little red wagon over 100 years ago, the FLYER Cruiser is the newest way to get around town. The historic Radio Flyer brand has expanded into the electric bike world and we recently got our hands on their step-over cruiser model. Did it ride like a fast-paced ebike or more like its antique wagon predecessor? Keep reading this comprehensive review to find out!
About Radio Flyer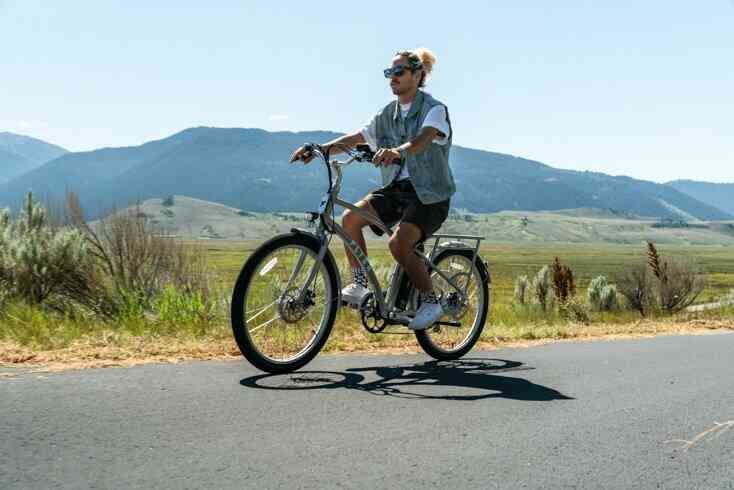 Although I'm technically part of Gen Z (more like a 'Zillenial' if you ask me), I remember the famed wagon design that made Radio Flyer a household name. By the early 2000s, I think mine was the plastic version instead of the classic metal one, but the recognizable red hue and logo were still front and center.
These days, the company still produces wagons and play items for kids but the biggest change has been the move to produce electric bikes. The FLYER™ ebike brand has a different logo and is largely a separate brand marketed to adult cyclists.
Cruiser Style E-Bike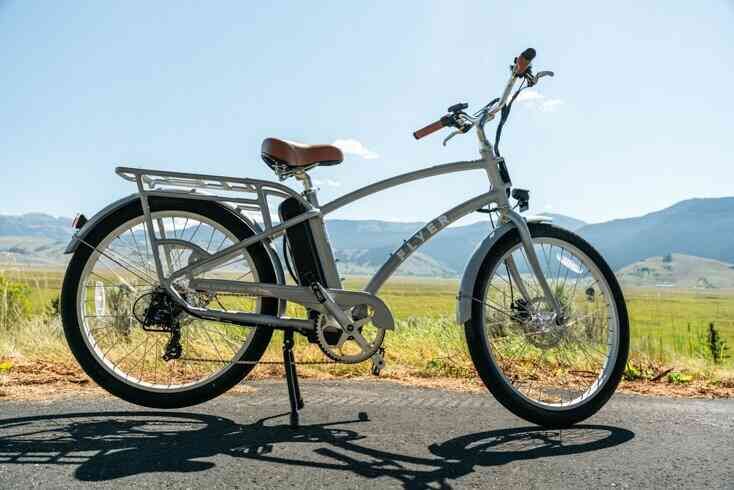 The Cruiser is part of FLYER's five-model fleet of electric bikes and is designed for laid-back recreational riding. The relaxed riding position and classic beach cruiser frame help riders enjoy the journey while looking good, too. Don't get me wrong, though— this chill cruiser delivers some serious speed. The 350W rear hub motor accelerates quickly for immediate fun around the city or local bike paths.
Frame Sizes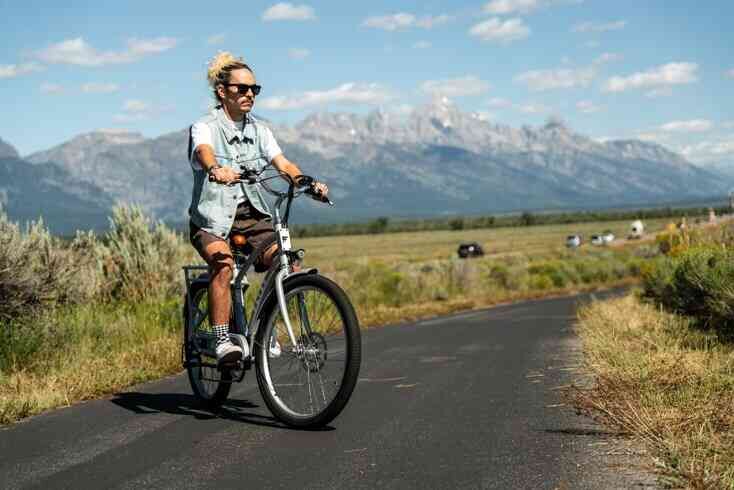 We tested the model in gray and it's also available in black. For riders who want a lower frame, FLYER offers the Cruiser Step-Thru in several more interesting color options. The brand recommends the Cruiser for riders between 5'2" and 6'3". It has an extended wheelbase that's typical for cruisers but seemed noticeably long to me.
That said, the low seat means it should fit smaller riders just fine. I'd say that the handlebars could be wider or more swept-back for that authentic beach cruiser vibe, but narrower bars are better for around town and navigating through traffic.
350W Motor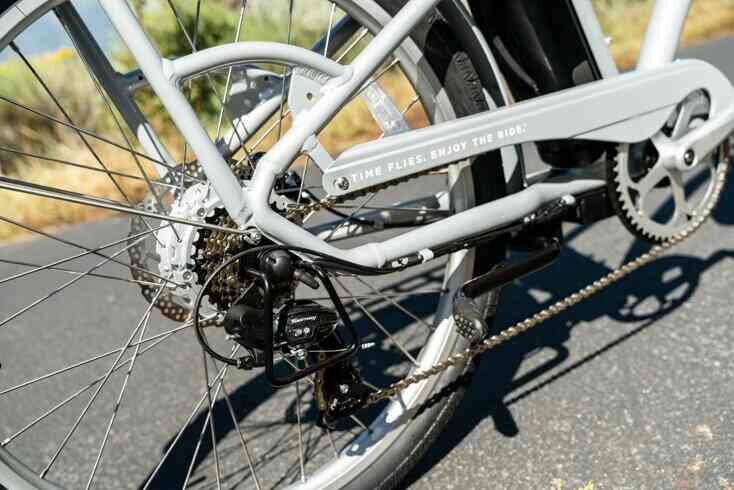 The FLYER Cruiser gets its pace from a 350W rear hub motor that's operable in throttle mode or across 5 pedal assist levels. During testing, it consistently reached 20 mph with the throttle. At Mountain Weekly News, we are big fans of the left-side thumb throttle design that avoids multi-tasking on an overcrowded right side of the handlebars with brakes, throttle, and shifters all in one place.
The Cruiser is impressively fast for such a large ebike and gets up to speed quickly without lurching during accelerations. The stable geometry always made the bike feel under control, even at higher speeds.
9.8Ah Battery
The 9.8Ah external removable battery is positioned directly behind the seat post. This placement is common across larger ebikes that have more space in and around the frame. Some riders prefer integrated batteries inside the downtube, but that can cause overrides or bloated tube shapes. On the Cruiser, I like how the external battery preserves the frame's elegant tubing and curves. Also, it's better balanced than a battery secured to the rear rack that would add too much weight on top of the rear wheel that's already weighed down by the hub motor.
The battery is rated for over 40 miles on a single charged has a useful handle to facilitate removal when necessary. An innovative feature that I missed on the first pass during testing was the hidden compartment for tracker tags— and I guess that secret placement is the point! It's a small spot that's only accessible when the battery is removed where you can place an Apple AirTag to track your bike in case of theft. I haven't seen that feature on any other bike and seems a bit more user-friendly than taping a tracker tag inside your seat tube.
Lights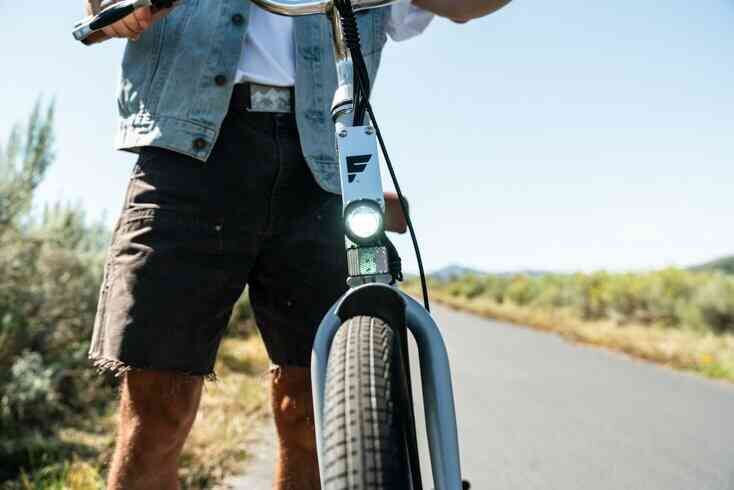 Built-in electronics that also run off of the battery include a bright front headlight and rear brake light. The rear red light automatically shines when riders hit the brakes for increased visibility and safety while riding at night. Another useful feature is the USB port included on the display unit on the handlebars. This way, you can charge your phone or additional rechargeable lights when needed.
26″ Wheels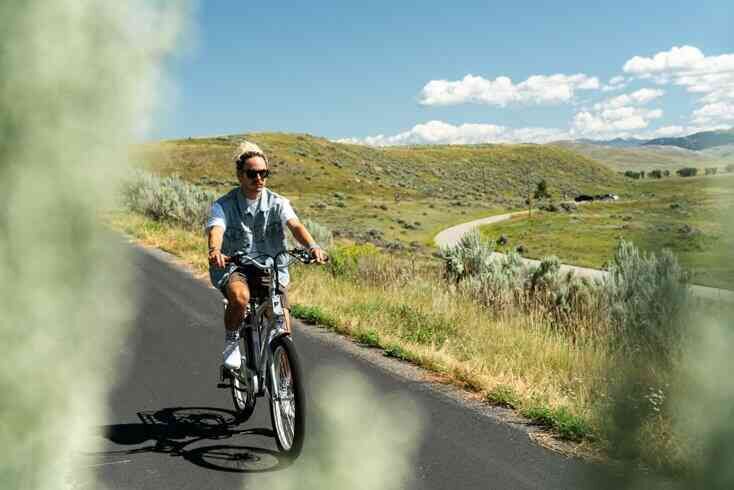 Like most old-school beach cruisers, this model has 26" wheels matched up to decently wide 2.2" tires. The mechanical disc brakes aren't anything special but feel solid and are a big step up from rim brakes. The Cruiser has a 7-speed drivetrain so you can always find the right cadence, but I didn't love the outdated SiS shifter. It's a ubiquitous choice among entry-level ebikes, however, I was hoping for something a bit nicer-feeling there.
Classic Look and Feel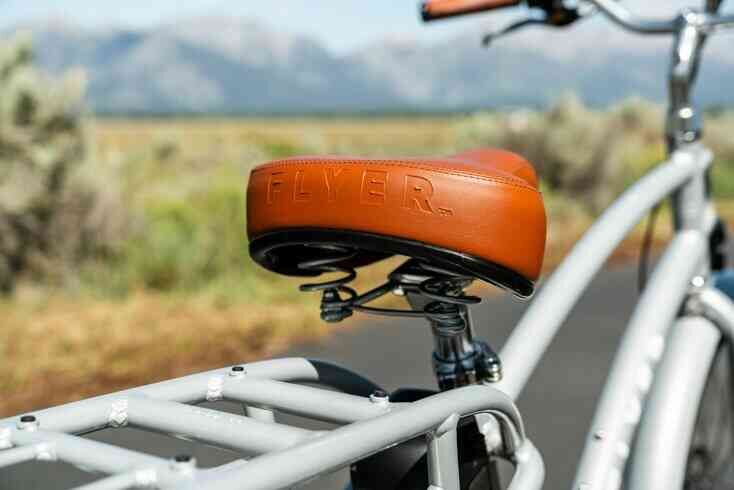 Regarding the smaller touches across the bike, I appreciate the throwback look of the matching faux-leather saddle and grips. It's a large, comfortable seat with a little bit of spring to it. The chain guard shows the phrase "Time flies, enjoy the ride" which is more endearing than it is cheesy— and it gets to the point of what this recreational bike is good for. Rather than a traditional side-mounted kickstand, the Cruiser has a center stand that's better suited to supporting such a hefty bike.
I also have to mention the behemoth rack that's integrated into the rear of the bike. FLYER say it's rated for up to 80 lbs. which is significantly more traditional installed racks. Riders could easily carry tons of gear, big bags, or install a child seat on the back. I reckon an adult passenger could sit there quite comfortably, but I probably can't officially recommend that. There's also a heavy-duty head plate on the front with larges bosses to mount a front rack or basket.
Overall Impression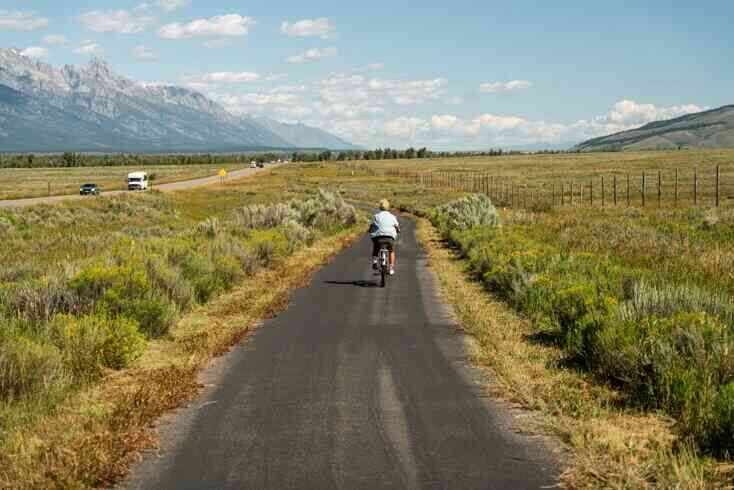 The FLYER Cruiser ($1,799.99) boasts a retro-inspired appearance while its ebike performance is firmly rooted in the 21st century. The powerful motor delivers a smooth boost to take you farther on daily rides or weekend outings, complete with a capable rear rack. For $1,799, the FLYER Cruiser is a competitive choice for recreational riders looking to get the most bang for their buck— so it looks like it's time to upgrade that red wagon to an electric bike!
Related Articles: