A beach cruiser is just a beach cruiser, right? The Electric Bike Company turns that on its head with its Model C E-Bike that's fully customizable so you can design your dream cruiser with a huge range of features and colors. We've recently tested one of the brand's top sellers, the Kong Red Model C, which blends style and comfort. Read our comprehensive review below to see how this model stacks up against the fierce competition among comfort-oriented e-bikes.
Electric Bike Company
Despite the brand's unimaginative name, the Electric Bike Company leads the field when it comes to customizability. Customers can choose from a wide range of features, colors, and accessories, and even design their own helmets. The Model C is the brand's dedicated beach cruiser e-bike and a blank canvas for riders who want to create their own cruiser.
The Kong Red Model C is a pre-made version with some included premium features, making it easy for riders to pick out an attractive e-bike without having to design it themselves. It costs $2,479 which is slightly higher than the Model C base price of $2,399, but it comes with small upgrades like the wood-grain chain guard and suspension fork. If you were to add those features while designing your own model, the price would be much higher.
Kong Red Frame
The modern e-bike is built around a traditional beach cruiser frame that's painted "Kong Red". If you're confused by that curious color name, you're not alone— however, you've probably seen it before. Kong® makes those classic, bright red dog toys that have been around since the 1970s. This model isn't an official collaboration with the brand and, perhaps because of that, the e-bike is a much darker, crimson shade of red.
The Model C is shipped on a pallet and arrives fully built so that you're ready to roll. The one-size frame is recommended for riders between 5'2" and 6'10" so almost any rider can fit comfortably on the bike. The 3-point adjustable stem helps riders customize their riding position. The maximum payload capacity including the rider is 420 lbs.
Motor
The Kong Red Model C's motor and battery are positioned at the back end of the bike. The Ncux rear hub motor provides plenty of pace and can reach a top speed of 28 mph. The Electric Bike Company Model C E-Bike ships with Class 2 factory settings that are limited to 20 mph, but can be programmed to be Class 3. There are 5 pedal assist levels and a throttle mode that's controlled by the right-side twist throttle.
During testing, we enjoyed the smooth ride and consistent performance of the e-bike's motor. It's not a powerhouse but, for the type of riding most people will be doing on this type of bike, huge torque or acceleration isn't necessary. The hub motor and rear-placed battery mean the Model C is back-heavy. The stable wheelbase and relaxed frame shape prevent it from doing wheelies, yet you can still expect the bike to be a bit awkward to move or lift.
Battery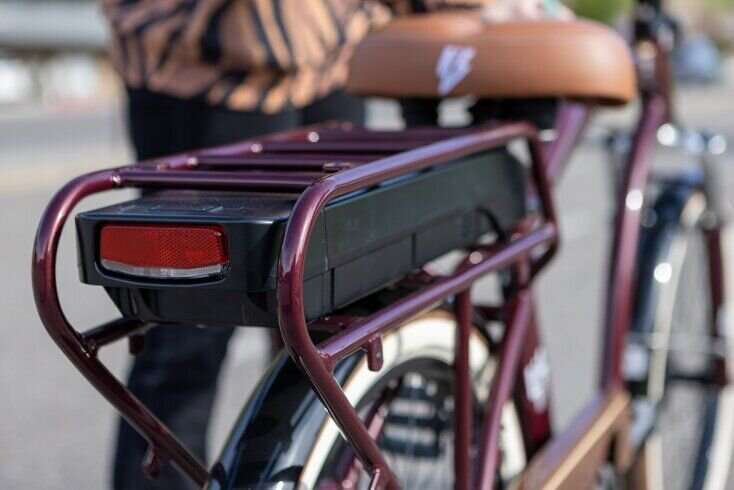 The Model C's battery is one of its most unique features. Its position on top of the integrated rear rack preserves the frame's clean and elegant look. The battery has a built-in, retractable charging cord so you can charge directly from the bike without having to fumble around with long cables. We really liked this innovative touch that incorporates the charger into the battery, leaving your garage floor or storage space free from messy electrical cords.
The standard battery option is 12Ah with Electric Bike Co. claiming it'll give you up to 60 miles on a single charge. I think that estimate is a bit generous and most rival e-bikes these days come with batteries approaching the 20Ah mark. Riders can purchase larger batteries from the brand if they need more range. We also saw that it's recommended to charge the battery every 1-2 months when not in use, in order to properly maintain the electronics and preserve its 10-year warranty. This will probably mean using a trickle charger during the winter months or setting reminders to add a bit of juice every once in a while.
Components
As a recreational cruiser, the bike's components are straightforward while being a touch more premium than other models. There is simple, single-speed gearing and quality Tektro Dorado 4-piston hydraulic disc brakes. I appreciate the powerful brakes that are much better than traditional mechanical disc brakes, especially for a hefty e-bike that weighs over 60 lbs.
The wooden chain guard is an eye-catching component on this bike and is made from actual wood (a mix of maple and walnut) at the brand's factory. Continuing with the vintage theme, there are brown whitewall tires that match the leather grips and huge, comfortable saddle. The tires are puncture resistant and have a reflective sidewall for increased lateral visibility at night.
This version also comes with black fenders to complement the other dark accents throughout the bike. Last but not least, the flat pedals have additional grippy bits that are great for summer riding in sandals and cruising down the boardwalk!
Included tech
The tech-savvy Model C E-Bike shows its smarts via several integrated features. The electronics are connected to an alarm system that chirps (loudly) when someone is tampering with the bike. The battery key also comes with a fob to control the alarm, similar to a car key. On the handlebars, the LCD color display shows tons of information and ride metrics like average speed, top speed, distance, and battery level.
The unit also tells the outside temperature and has a USB port to charge your phone or other small devices. We noted that the built-in LED headlight is piercingly bright (that's a good thing) and the rear brake light flashes automatically when the front headlight is on.
Overall Impression
The Electric Bike Co. Kong Red Model C E-Bike ($2,479.00) is a classic American beach cruiser that's designed and assembled in California. If you're looking for a relaxed and comfortable e-bike to ride this summer, the Kong Red Model C is an attractive e-bike that comes ready to roll straight out of the box. It's not the candy-red Ferrari of the e-bike world, but this stylish and laid-back ride is perfect for the boardwalk or local bike paths.
Related Articles: