The GoPro MAX unleashes so much creative potential from an action camera that has rarely been seen before. With proper dedication to editing footage, the possibilities in this camera are extensive. The GoPro MAX is an intuitive, very portable camera that comes with two primary camera modes: 360º footage at 24 and 30 frames per second, and regular, single-camera footage at 24, 30, and 60 frames per second, in either 1080p or 1440p resolution. While the regular shooting mode stands its ground, it doesn't provide anything revolutionary. The GoPro MAX is a super cool camera that has so much potential for creators and action sport enthusiasts alike, as long as you're willing to invest time in editing your footage.
GoPro MAX Skiing
Upon receiving this camera, I was super excited to get it out of the box and test out all that it had to offer. I had never used a 360º camera before, and I was eager to see how creative I could get with the footage. Little did I know, it would take me about two weeks to be able to use it to its full potential. I already had a GoPro selfie stick, but the MAX is incompatible with the stick that GoPro makes. I had to order a selfie stick from Insta 360 and buy a converter mount to be able to get the "invisible" stick look. This is where the selfie stick disappears from the footage and it looks like the camera is floating in front of you. There are a whole host of accessories–– from a selfie stick, to an extension "narwhal" helmet mount, to an extra battery–– that are necessary if you want to really extract all that the GoPro MAX has to offer. Remember, you'll also need to purchase a micro SD to use this camera.
GoPro MAX 360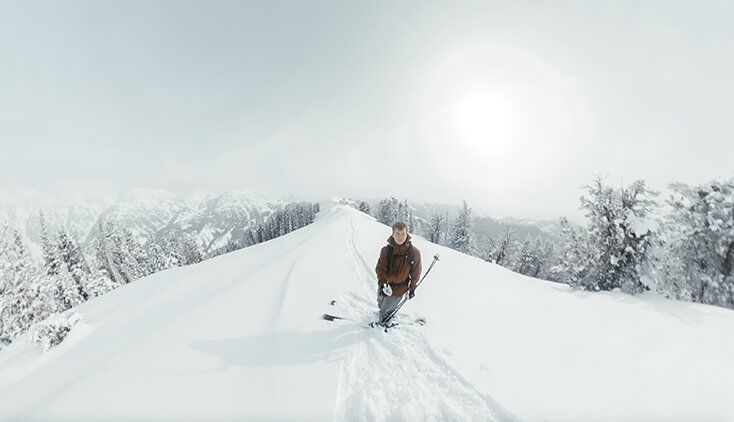 Once I had the necessary accessories, it was time to test out the GoPro MAX 360 capabilities. Firstly, I was extremely impressed with the auto stabilization in this camera. No matter how shaky the camera was while skiing or snowmobiling, the footage always turned out as smooth as could be. Another great feature of this camera is that it's really hard to "miss" a shot. Because it captures 360 degrees around the camera, even if the lens was pointed too far towards the ground, or too high towards the sky, you always have the ability to reposition and frame your desired shot. I also loved the unique style of the footage from the 360 mode. The footage in the 360º mode looked way better than I expected–– it appeared to look much more smooth, clear, and cinematic than I thought it would. Lastly, a great plus of the GoPro MAX 360 is that the camera itself is extremely intuitive and easy to use.
GoPro App
The GoPro software, especially on the smartphone GoPro App, makes it easy to export, edit, save your 360º footage to the device of your choice. A great feature of this app is the option to take screen grabs of your footage, so that you can record video but also get photos at the same time. This app includes the tools to add music, color and adjust the look of your footage, and add several clips together in a sequence to create a nice edit. However, if you're looking to get more out of your footage, you may want to consider editing your clips in a program like Adobe Premiere Pro or Final Cut Pro. If you choose to do this, you must be willing to spend a fair amount of time editing, as the 360º footage takes time to get it the way you want it in these programs. Either way, the ease of use of the GoPro app and software is really nice to get quick access to clips to show your friends, post on social media, or just admire your awesome shots!
Overall Impression
As someone who thrives on the ability to be creative with my footage, I really enjoyed using the GoPro MAX ($500). But, if you're looking for an action camera that's super easy to use and provides more options for regular (non 360º) footage, I would recommend taking a look at the GoPro Hero series. It offers much more flexibility in footage resolution and frame rates in a standard footage format. For an action camera, the MAX lacks the ability to record super slow mo footage. While it does have the ability to capture 60 frames per second, the GoPro MAX can't go beyond that to capture 120 and 240 frames per second like the Hero 9. I must add, however, that 60 frames per second is plenty slow enough for most people. If you use the 360º mode, you're also essentially working with 1080p footage once you scale into your desired shot and have no ability to capture footage at a higher resolution. However, the MAX's footage still looks really nice and can provide a super awesome, unique perspective to action sports footage.
Related Articles: