It's not every day that you find as capable a night vision camera as the SIONYX Aurora. Not only does it capture crisp and clear images in low light conditions, but it also offers color night vision technology, allowing users to see colors as they appear in natural light.
Plus, with its compact design and durable construction, the Aurora Pro Uncharted Kit is a great choice for activities like hunting or surveillance.
But beyond its robust technical features, the Aurora also offers unique benefits that are sure to impress even the most jaded night vision enthusiasts. One of these is its GPS tagging feature, which allows users to easily keep track of the location of their footage. It also has the ability to stream and record in HD, making it a great option for professional use.
With so much to offer, it's no wonder the SIONYX Aurora is a top choice among night vision camera users. But let's examine this hefty device a bit closer so that you can make an informed decision on whether it's the right fit for you.
Who's It For?
The Aurora's versatile capabilities make it a great choice for a variety of users, including hunters, security professionals, and even filmmakers. Its small size and tough exterior make it an optimal choice for outdoor activities, while its HD streaming and GPS tagging features also make it a viable option for more technical and professional use.
But in the time I spent with the Aurora, I found the SIONYX Night Visions especially useful to boaters. Sure, it has some clear applications for hunters, but let's not mince words here—not all states allow for night hunting in this capacity.
If your state does, great; I can see the Aurora providing valuable support in those situations. However, for the rest of us, the Aurora's true value shines when used on the water.
Whether it be for fishing or just leisurely nighttime boating, the Aurora's color night vision technology helps give users a clearer picture of their surroundings, allowing for easier navigation and potentially even better catches. And with its durable construction, it's sure to hold up in tough water conditions.
For starters, the Aurora itself features IP67 waterproofing, meaning it can withstand being submerged in up to one meter of water for 30 minutes. And that's just on the camera. If it's in the super-durable case that comes with this kit, you shouldn't have a worry one.
To give an idea about this case's construction, imagine a smartphone Otterbox® on steroids. Inside the case is lining that keeps out any trace of moisture, and its heavy-duty construction is sure to protect the camera from bumps, drops, and other potential hazards.
So whether you're on land or sea, the Aurora's waterproofing and durable case make it a solid choice for those looking to use their night vision camera in rugged environments.
What Sets It Apart?
One of the Aurora's standout features is its color night vision technology. While traditional night vision can only display footage in shades of green, or monochromatic, the Aurora's sensors allow it to accurately depict colors as they appear in natural light.
But it's not just a gimmick—this feature has actual practical value, particularly in water-based activities. When boating at night, being able to accurately see colors can make a difference in easily spotting obstacles or potential hazards. That's a deal-maker in itself. But when you factor in the rest of this kit's features, it's clear that the SIONYX offers a lot of bang for your buck.
I'm also a big fan of the remote viewing function, which allows users to view footage from their camera on a smartphone or tablet in real time. This feature allows for easy monitoring via wireless streaming, which makes it simple to share footage with friends or colleagues.
When Is the Best Time to Use It?
I found that pitch-black darkness tends to yield the best results with the Aurora, as it allows for its night vision technology to prove its worth. That said, it should be noted that the camera doesn't produce military-spec night vision, so expect some graininess in very low-light situations.
However, the Aurora can also hold its own during twilight or dawn, as its color night vision technology still proves valuable in accurately depicting colors and details in low light.
What's Included?
Now that I've covered the most essential aspects of the Aurora, let's dive into what comes with this kit.
In addition to the camera itself and its tough waterproof case, the kit includes a 32GB micro SD card, two batteries, and a micro-USB charging cable. But that's pretty standard fare for devices like this. Let's talk about what's really cool.
First off, the kit comes with Ram Mounts, allowing for easy and secure mounting on various surfaces, including boats and ATVs.
You also get a 940nm IR Illuminator. If you ever need a helping hand in low-light situations, this tool comes in handy for providing extra infrared lighting. It sports an adjustable focus so that you can customize the level of illumination for your specific needs.
All in all, the SIONYX Uncharted Aurora Kit delivers everything you could possibly want in a night vision camera package. I think camera enthusiasts will go wild for the Aurora's color night vision technology and durable construction. Everything else is icing on the cake.
Overall Impression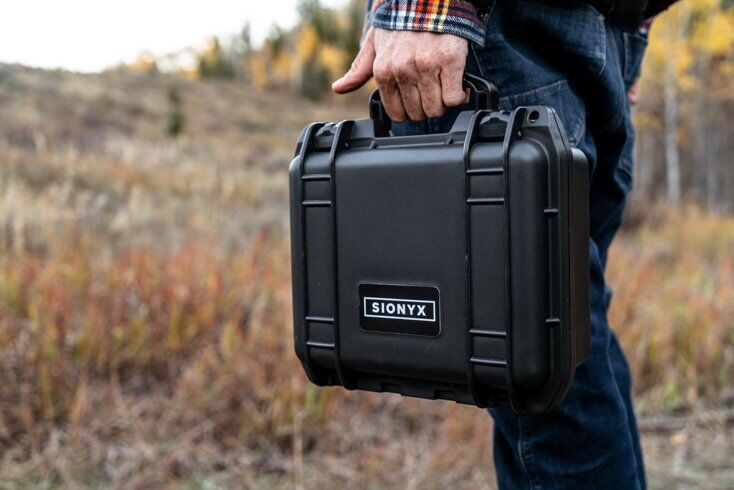 Ultimately, the Aurora's waterproofing and durable construction make it a great choice for those looking to use their night vision camera in rugged outdoor environments. And its long battery life and infrared capabilities provide clear images even in complete darkness, making it a reliable choice for a wide variety of uses.
While I found the Aurora to shine brightest on the water (figuratively and literally), it also impressed me with its quick set-up and ease of use. And I can certainly see consumers getting some unique uses out of this device.
Whether you're an experienced night vision camera user or just starting out, the SIONYX Aurora Pro Uncharted Kit ($1,099.99) offers a versatile and durable option for all your nighttime adventures. So go ahead; get out there and see the world in a whole new light.
Related Articles: