A recent addition to the fleet of electric fat bikes on the market this winter, the Haoqi Black Leopard stands out as a tough all-terrain machine that handles like a sports car. It's affordable price point and solid componentry are enough to convince riders to explore icy paths with wide tires and extra horsepower. And when the snow melts, this hefty model offers a surprisingly responsive ride feel to properly enjoy sandy paths and muddy trails.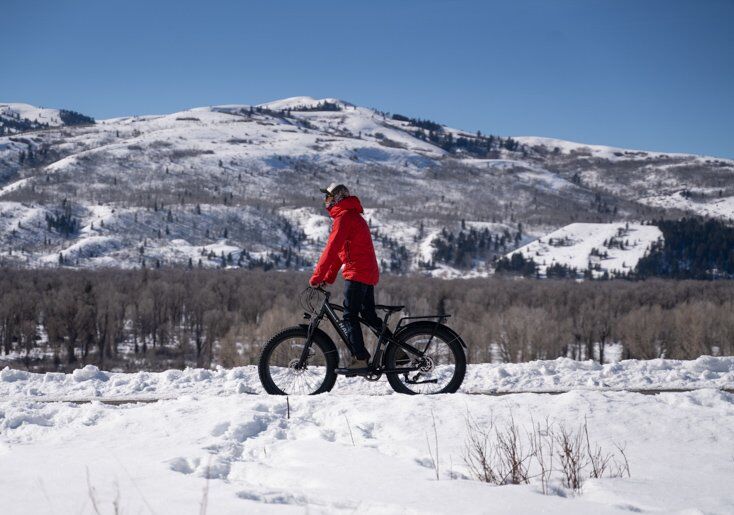 Haoqi started their domestic retail in 2020, so they are a relatively new player in the e-bike market, but they've quickly made their mark by selling electric fat bikes. The brand has three models to choose from, the Black Leopard being the snow-oriented option. All of their bikes come with a 2-year warranty, so customers can buy their new e-bike with confidence. The United States branch of Haoqi Bike is located in California which means the shipping (already free of charge) is faster than other e-bike brands with warehouses outside of the country.
A Fat Tire Snow Bike
The Haoqi Black Leopard is an electric fat bike rated for performance in the snow, but it can also handle tricky conditions like sand and mud. We've been testing this snow bike model in the Tetons of Wyoming to see how it holds up in the cold, ice, and snow given its beefy 4" tires and powerful motor. Riding over snow and ice takes confidence, and that's exactly what you get when you hop on the Haoqi Black Leopard Snow Fat Tire Electric Bike.
As spring approaches and brings snowmelt with it, the bike is plenty capable in muddy conditions and sunny trails, too. Hop on the Leopard for a casual ride or use it as a vehicle during backcountry adventures like hunting & fishing. Or even for camping as the bike has a total weight capacity of 350 lb. making it capable of carrying all your gear and some.
Sizing
Black Leopard – Recommended Rider Heights: 5.3" – 6.6"
White Leopard Step Through Version – Recommended Rider Heights: 5.3" – 6.6"
750W Fat Tire Electric Bike Test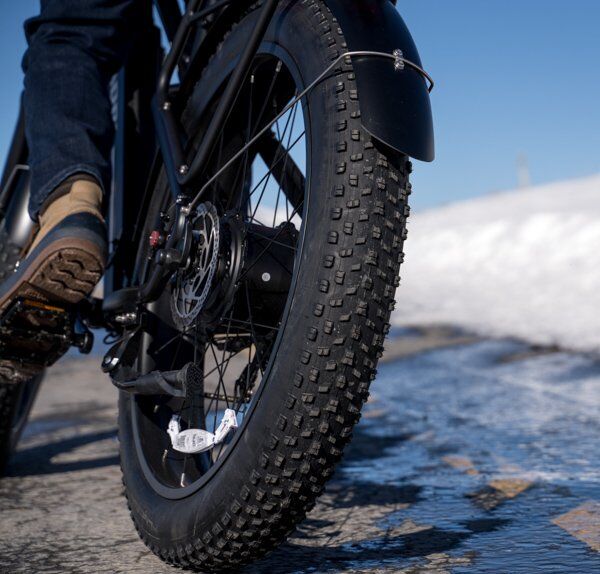 The 750W geared rear hub motor transforms this fat bike into an electric machine with plenty of power. The system can produce up to 80Nm of torque and that extra force helps out on steep climbs when the going gets tough. That much torque allows the bike to perform well when the motor is under strain riding in sticky mud or sand. The mighty ebike has three riding modes: pure electric; pedal-assist; and normal mode.
In terms of straight-up speed, we maxed out at 23mph during performance testing while going downhill. Although the throttle and pedal assist will stop functioning once you reach a top speed of 20mph. This top speed and inclusion of a throttle places the Leopard into Class 2 of e-bikes.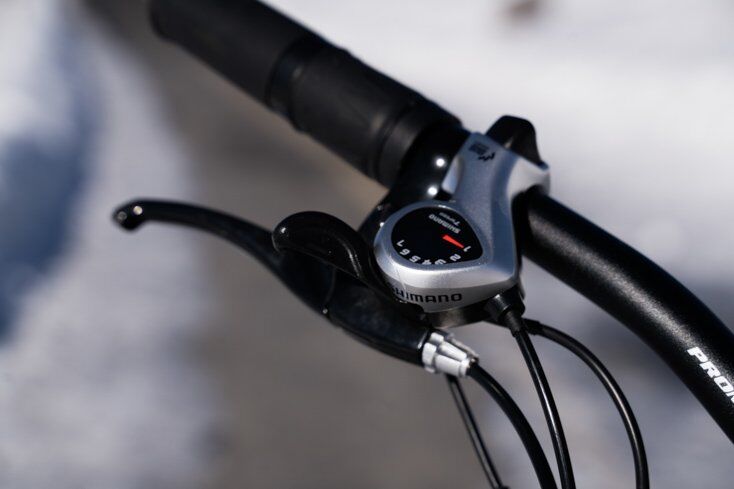 The bike features a half-twist throttle design so you don't accidently engage it. It's a relatively small throttle grip, giving it a kind of motorcycle feel.
In addition to the throttle mode, there are five levels of pedal assist riders can toggle through. Many e-bikes today only have three levels— which I think is plenty— but extra settings surely don't hurt. We found out in our testing that the bike turns on in Level 0, then Level 1 gives pedal assist and allows the throttle to work. So before you think the bike's not working, make sure you are in Level 1 when ready to ride.
For more pace, move up the levels. The bike accelerates well and has a faster pickup than other e-bikes we've been testing despite not including a torque or pedal sensor.
Battery Power & Range
All that electrical energy and pace is stored in a 48V 16Ah lithium battery that's easy to take on and off the frame. While the motor's capabilities are fairly standard, Haoqibike surpass the industry-standard 14Ah capacity and opt for a larger battery. This means you can ride harder for longer and won't have to worry about running out of juice. Haoqi rates the battery as having a charging range of 35-60 miles. It's a wide range and, based on our endurance tests, we figure you'll have no problem reaching the upper end of those numbers on normal rides. To our ears, the Leopard is very quiet for an e-bike.
An All Terrain Electric Bike
Despite its burly stature and wide fat tires, the Leopard has responsive handling and provides a natural ride feel. It offers a great turning radius for such a large bike so you can easily navigate technical trails or skinny paths. Some fat wheel electric bikes can be difficult to maneuver, especially for smaller riders, but the Leopard's handling almost made us forget it was a fat bike. When the throttle and pedal assist aren't engaged, the bike pedals smoothly.
The bike is predictably rear-heavy because of the hub motor so the center of gravity can feel odd compared to normal bikes. Mid-drive motors are mounted in the center of the bike, but are typically reserved for higher-end models. That said, a rear-placed motor can make the bike feel a bit more playful and fun, especially at high speeds. Just keep in mind this model isn't built for intense rides or mountain biking abuse. The 80 mm of front suspension travel and mechanical disc brakes aren't designed to withstand hard terrain and descents. Where this bike excels is on snow packed roads, gravel and especially on dirt. And clearly it handles the streets well with it's great turning for around the town rides.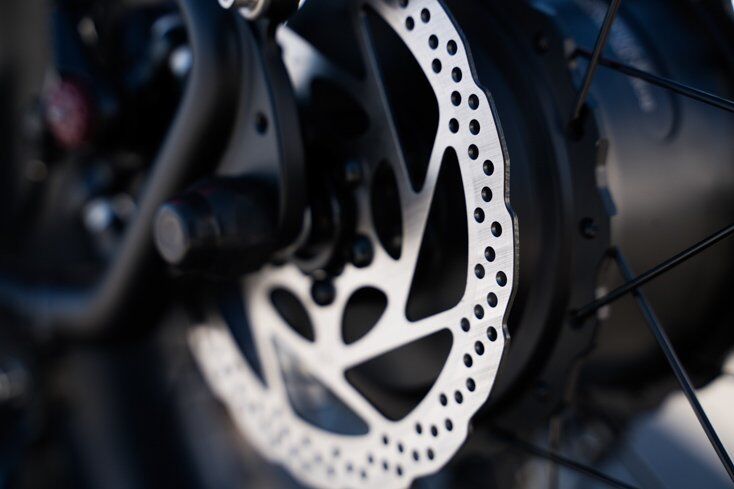 The Shimano 7 speed gear shift gearing provides enough of a range, but expects you to use pedal assist on hills. The Tektro Aries mechanical disc brakes work well but, for a bike that weighs a whopping 72 lbs., I'd like to see the hydraulic option. The alloy pedals offer a secure grip which is useful in snowy and icy conditions.
Bright LCD Display
The various accessories that outfit the Leopard bring a touch of luxury and extra capability to such an affordable fat bike. The unique and ultra-bright LCD display mounted on the handlebars shows all your most important metrics. Know your battery level, speed, distance traveled, and pedal assistance level at a glance.
The sturdy rear rack is perfect for running errands, and the integrated front light and rear light add great illumination for riding around town at night. There are a few things that could be upgraded on the bike. Personally, I would swap out the seat for something more comfortable. However, you'd lose the seat handle that helps lift or pivot the heavy bike. And the fendors are sort of flimsy, metal ones would make a huge difference.
No need to worry about all these parts when the bike gets delivered; they're all easy to install. The bike comes 85% assembled and there's a good video on the Haoqi site to guide you during the final steps. These bikes are easy to assemble at home and most brands including Haoqi offer free shipping to your front door. However we always recommend if installing an electric bicycle yourself to take to a local bike store, ideally one that works on e-bikes to have them give it a once over.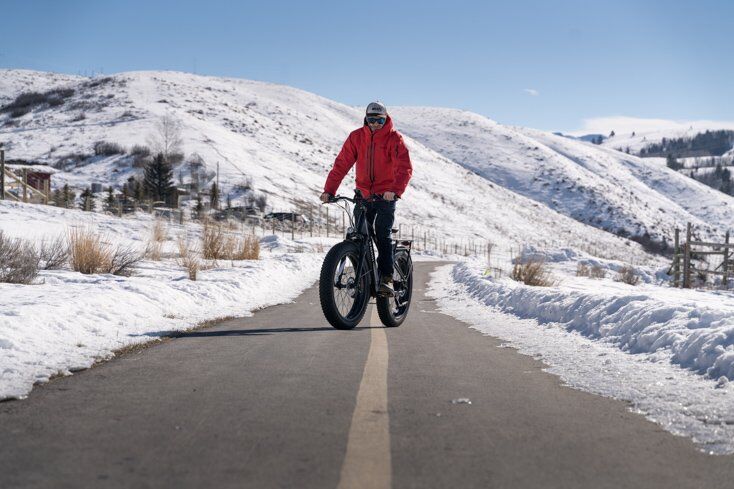 Every winter you get your skis or board tuned, and for mountain bikers and road bikers a seasonal bike tune keeps things running longer smoother and can find problems before they arise. So do the same with your electric bikes too. With proper maintenance and being mindful of the battery these bikes can last for a long time even with year round usage.
Overall Impression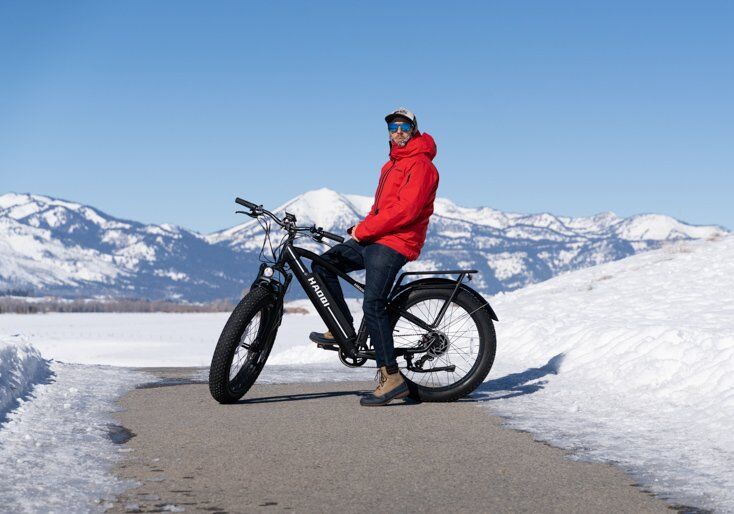 With such a competitive price tag of $1,699, the Haoqi Black Leopard Electric Bike is an impressive entry-level electric fat bike for sale. The fun of this bike is winter exploring with some extra horsepower! And heck come hunting season we plan to be out on dirt roads exploring as this bike is quite, easy to handle and we found could handle 45 miles easily on a full charge depending on terrain and headwinds.
Haoqi figured out the perfect blend in a fat bike for adventures while managing to keep the bike affordable, and offer a solid package that rivals any beginner fat bike out there. Compared to all the other fat bikes we tested this winter Haoqi Leopard offered the best handling and even when the motor wasn't on the bike was surprisingly easy to pedal!
Related Articles: