Folks who spend time working and playing outdoors in extreme winter conditions have trusted Sweden's famed Hestra gloves for over 80 years.  The Hestra Army Leather Heli 3 Finger Ski Glove is a very popular, time-tested 3-finger glove/mitten hybrid designed for deep snow days in the mountains.
Hestra Army Leather Heli Ski 3-Finger Benefits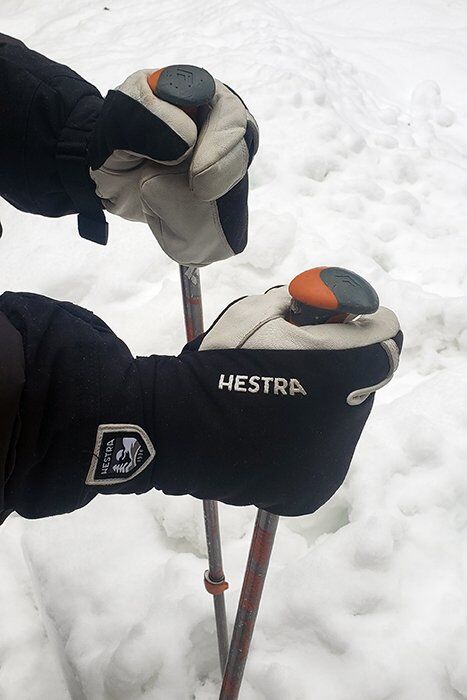 Recently I have been putting a pair through the ringer while backcountry skiing, snowmobiling, and shovelling way too much here in Alpine, Wyoming. I am very happy with how these gloves have performed, and they have become my go to glove for everyday adventures.
The 3-Finger design of the Hestra Army Heli Ski Glove gives me the dexterity of a glove and the warmth of a mitten.  I have found these gloves very functional while snowmobiling because I can always keep a finger on the brake without freezing my fingers.  While backcountry skiing I have had no trouble from these gloves while switching boots and bindings between walk/ski modes and fiddling with zippers, straps, buckles, etc.  I cannot say the same of mittens, and I cannot say the same of traditional 5-Finger gloves in cold conditions when my fingers inevitably freeze.
I have also found that when wearing these Hestra Heli Ski 3-Finger Gloves in extremely cold/windy conditions I can comfortably slide my pointer finger into the "mitteny" compartment — alongside the rest of my fingers — and thus avoid freezing that finger.  I'm not sure if Hestra intended that use, but it definitely works for me.
The velcro strap at the wrist guarantees a snug, secure fit, and the long cuff with elastic closure assures that no snow is going to find its way into these gloves or up my jacket sleeves.  Hestra's "handcuff" wrist strap system is well-designed to avoid losing a glove if you have to remove one to check your phone on the chairlift or while struggling with a stuck zipper on a windswept ridge.  These "handcuff" straps are also easily removed from the gloves if you find them unnecessary.
Removable Liners
Thanks to the removable liners these Hestra Army Leather Heli 3-Finger gloves are suitable for pretty much any temperature from well below 0*F to well above freezing.  With the glove liners installed I have snowmobiled and backcountry skied for hours at -10*F with no discomfort.  With the liners removed these gloves work great for spring skiing conditions as well.  The removable liners also make drying these gloves quick and easy.
Yesterday I got to test these gloves in some of the most heinous conditions I have ever snowmobiled and skied in: deep powder being rapidly affected by a freezing sleety mist plastered on everything by high gusty winds.  Within a matter of minutes my goggles were completely encrusted and worthless.  Within the hour my entire kit was covered with a thin layer of ice.  Due to the horrible visibility and impossibility of goggles, we got a snowmobile horribly stuck in a deep drift and spent an hour digging it out.  Then we skied down and skinned up a relatively protected slope for a few hours.
Waterproofing
Throughout the day my hands stayed warm, but I must admit that they got a little damp by the end of the day.  When properly treated with the included leather balm the Hestra Army Leather Heli Ski 3-Finger Glove is very water resistant but they are not 100% waterproof.
The treated leather itself is pretty much waterproof but the fabric is designed to be breathable.  As such you can expect a little moisture to sneak through if you're out for hours in a freezing rain storm.
That's the tradeoff of having a pair of gloves that effectively vents your sweat.  The Hestra Army Leather Heli Ski 3-Finger Gloves ($154.95) are worth the price.
Related Articles: