Why is it that experienced hikers and backpackers choose Hyperlite Mountain Gear? Well first off these packs are super lightweight.  I had the chance to test the Hyperlite Mountain Gear Porter 3400 Backpack in the Teton over the last few months and wanted to share my review below.
Hyperlite Mountain Gear Porter Weight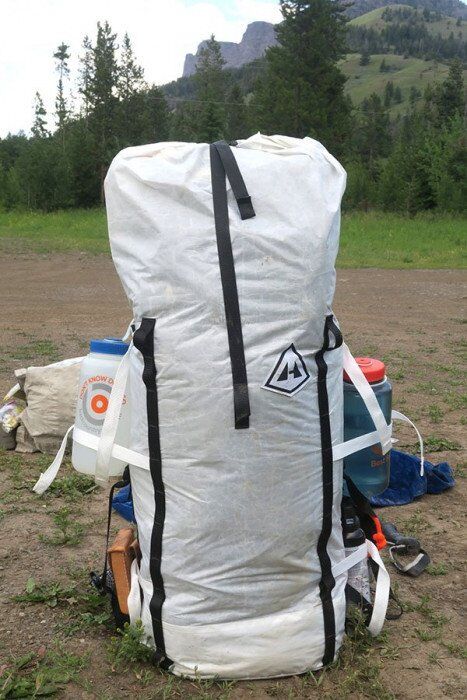 Weighing in at 2.07 lbs | 33.12 oz | 939g, Hyperlite Mountain Gear Porter 3400 Backpack fits nicely in the lightweight/ultralight backpacking category.
With 55l of storage, the Hyperlite Porter Backpack has a ton of room to stuff gear inside the pack which is easily accessible via a roll-top closure that even has additional Velcro to hold everything in place. The only downside to this roll-top design is if you need to grab something out of the bottom of the backpack, everything else will need to come out too.
Hyperlite Mountain Gear hand makes these backpacks in Maine, which can take time to make and deliver if looking for custom options (up to 3 weeks).
Pros: Lightweight carry
Cons: Backpack gets dirty quick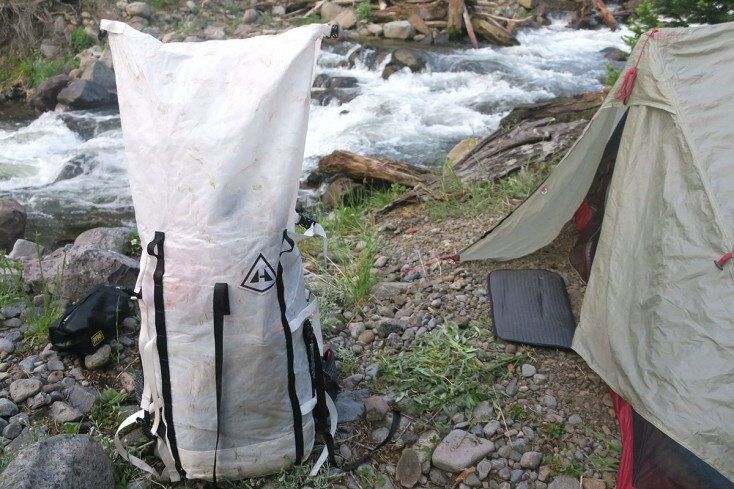 These backpacks are designed for people that like to travel light and fast, especially those of us that that recreate year-round in the mountains as these packs can easily be adapted for ski touring.
Hyperlite Mountain Gear has a load limit rating of 40 lbs on the Porter 3400 which works perfectly for lightweight/ultralight camping. Typically without food or water the following load limits apply to backpacking:
A lightweight backpacker = base weight under 20 pounds.
An ultralight backpacker = base weight under 10 pounds.
A super-ultralight backpacker = base weight under 5 pounds.
Dyneema Durability
Can these backpack rip?  Perhaps but it's going to be tough with the new Dyneema® Composite Fabric.  What makes Dyneema® unique is its ability to create a rip-stop laminate that's not only highly durable but actually flexes at pressure points against the pack.  Perhaps you need to stuff something inside your backpack that might have an abrasive edge.  Peace of mind is quickly found while using Hyperlite Mountain Gear.
For those of you planning to use this pack for ski touring or splitboaring Hyperlite Mountain Gear offers reinforced fully-woven Dyneema® side panels, bottom and ski holsters all for only an additional $100.
One of the cooler features of this pack was the depth and width of the pockets on the hip belt.  I was able to carry a small pair of binoculars and personal rescue beacon together on one side while the other side had plenty of room for snacks and even a small bottle of bug spray.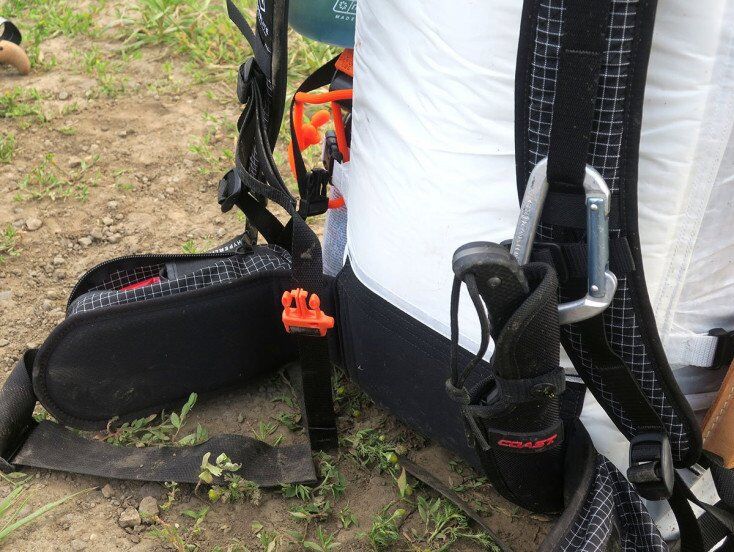 Some people don't like to have hip belt pockets as it can rub against you while hiking, however with no other real external pockets this was a great addition.
There are four additional daisy chains contact points on the front of the backpack that works for attaching other pieces of gear.  One of the more popular add-ons is the Porter Stuff Pocket, although I haven't had a chance to personally use it, the people I hike and tour with seem to use it often.
Overall Impression
As long as all the gear you load into your pack is under 40 lbs and ideally closer to 18-25 lbs or so, the Hyperlite Mountain Gear Porter 3400 Backpack is a great way to carry lightweight gear throughout the mountains.  Do keep in mind, If you try and load too much weight in the pack, being frame-less it won't feel very nice against your shoulders even with the with 3/8" closed cell foam for shoulder pads.
However, if you use this backpack as intended you will soon realize why so many people own these packs and will continue to support the Hyperlite Mountain Gear brand in a cult-like following.   So, what are you waiting for?  The Hyperlite Porter 3400 Backpack is available for $345.00
And last but not least, the packs are great for leaning on when you need to take a break on the trail, especially in the early morning hours.
Related Articles: