Before taking the Jones Stratos Split out into the mountains I had high hopes. With camber under foot with early rise and my magic number of 10mm of taper I knew this Jones Splitboard would not disappoint.
Also to note if the board looks as rad as it rides with the wood grain showing through the white top sheet.
Size and Shape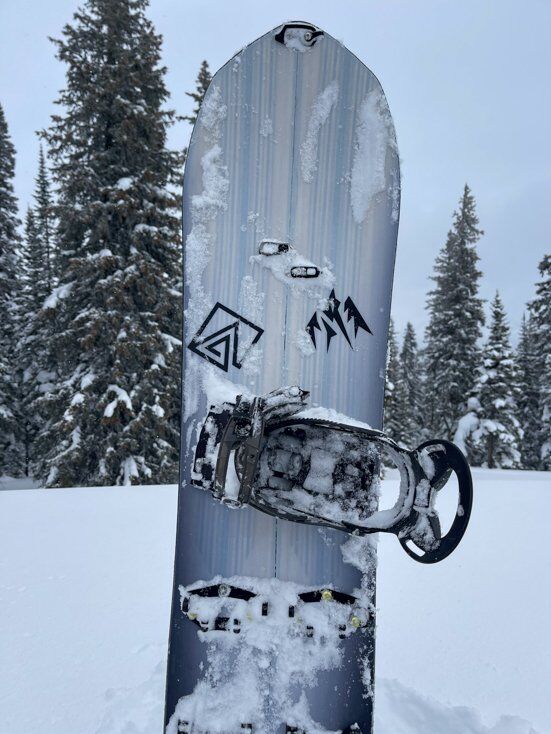 When picking up this board from the Mountain Weekly News office in downtown Jackson Hole I was told this board runs bigger than size. I never like hearing that as I like boards that feel true to size. However I was I surprised to find the Jones Startos rode true to size and I would plan accordingly.
The Jones Stratos Splitboard comes in 3 sizes 156, 159, & 161W. I really like the shape of this board and I tested the 159 mated with a pair of Spark Arc Bindings. Before taking off for my first tour one thing I noticed was was how tight the board construction was. Maybe this has to do with the inner/outer traction tech edges or the boltless bridge.
Touring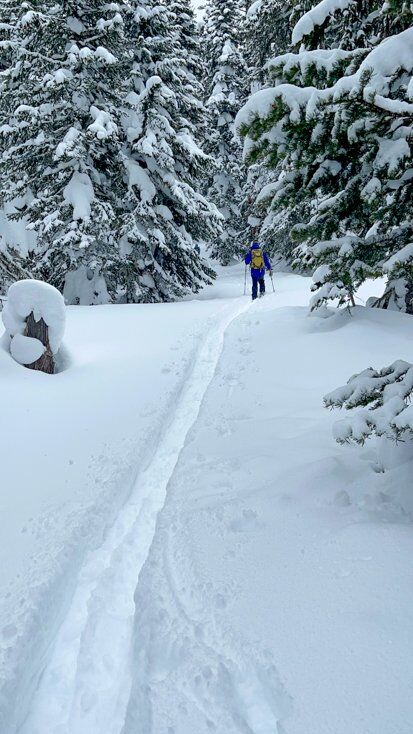 I don't believe any splitboard should ever have a full rocker profile and either does Jones. For anyone who has splitboarded or is getting into the sport do yourself a favor and always stick to camber dominant profiles. You will learn to love touring a lot more with camber under foot.
I am so happy that the pre cut skins are available for splitboards now and Jones did not disappoint as the pre cut Jones Nomad Splitboard Skins were as Jones put it laser cut. I do believe they figured out the perfect amount of edge that needs to be showing. The tail clips were a perfect fit out of the box and one of the easier brands I've used utilizing the pre cut tail notches.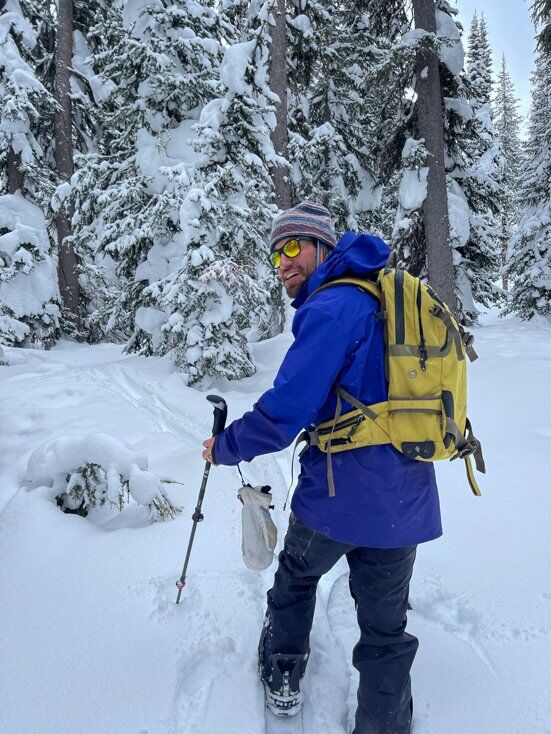 Overall the board performed strong on the up for the most part. There was a little slippage at times while touring on really steep icy side hills but that very easily corrected with a lil toe point toward the uphill and the issue all but disappeared. Minimal slippage was also helped by means of traction tech edges.
View this post on Instagram
Karakoram Connectors
When assembling the board, I noticed the Stratos is equipped with the Karakoram tip locks and the Karakoram Ultra Clips 2.0. Absolutely love these two features especially the tip & tail locks as I have had boards notoriously come apart on either the tip or tail without locking clips.
I'm a lil embarrassed but it took me a second to assemble the board each time as I had to figure out which way the lock went and getting the board together is easy but might want to practice a few times in your living room before being out in a blizzard in deep snow. My only comment is the Ultra Clips will need a lil adjustment on this particular board to get them perfect but totally useable out of the box.
How's the Board Ride?
Once dropping in I immediately felt at home and the deep untouched powder was easily slashed and slayed on the Jones Stratos Split. I went out searching for deep pillow lines, where I wanted to test the Stratos Splitoard and see if it could handle flat drops with an old fat guy attached. It did just that and more!  The rockered tip floats easily above the snow while the tail maintains the power to really drive this snowboard top to bottom.
The Jones Stratos Splitboard made me feel like I was ripping even harder than normal, regardless of the snow conditions. Once through all the soft snow the flat run out ending in a icy bank run in a drainage is where you can see how a split really shines. The edge hold and response was on point.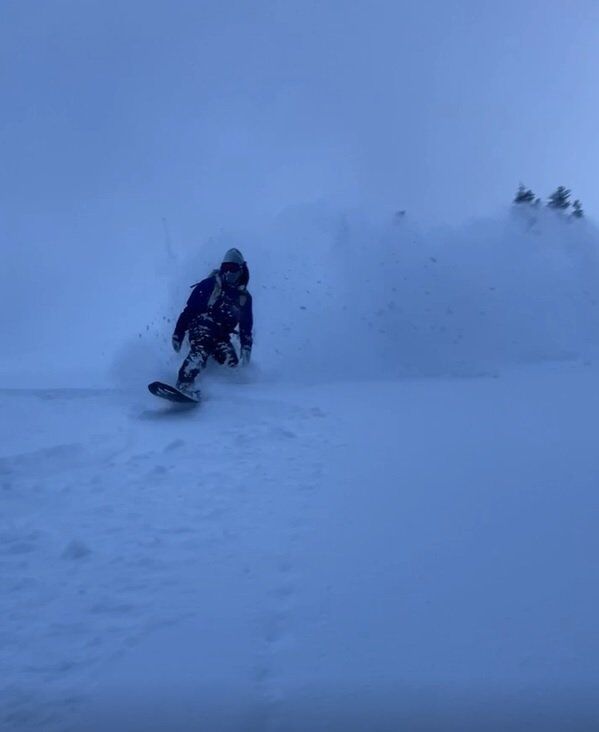 The Stratos did not disappoint and I can honestly say it felt like I was on a solid traditional snowboard going through the quick icy turns. This is where you feel like a lot of splits (in my experience) ride differently vs a solid board.  Luckily the Jones Stratos Splitboard did not feel dead to torsional flex like a lot of splits feel nor did its allow for chatter when riding out on rough stuff.
Overall Impression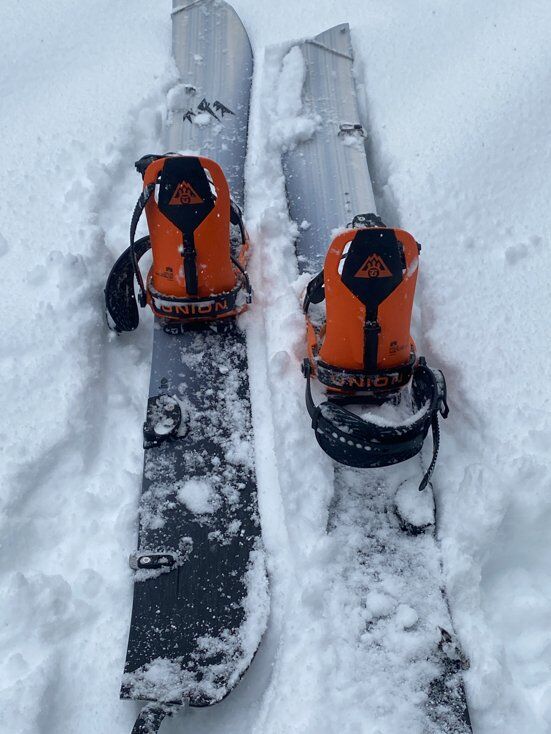 Closing Words- Don't walk but run and go get this board. The only disappointment is I don't own one in a solid. If you are looking for an all-around freestyle/all mtn splitboard the Jones Straros ($949.95) is it. It cures the itch without a doubt! Plenty of pop to double the lil rollers and the premium sintered base and factory tune kept me rolling through the flats with ease.
Related Articles: