The Kelty Cosmic 20 Sleeping Bag is described as a cold-weather backpacking bag. Which isn't wrong. At two pounds thirteen ounces (1.3kg), it's only marginally heavier than it's twin the Kelty Cosmic Down 20 which weighs two pounds seven (1.1kg). Just six ounces, about the weight of three tennis balls. Obviously not nothing, but it could be worth the weight if you prefer the wet-weather performance, lower price, or ethics of synthetic over down insulation.
Kelty Cosmic Size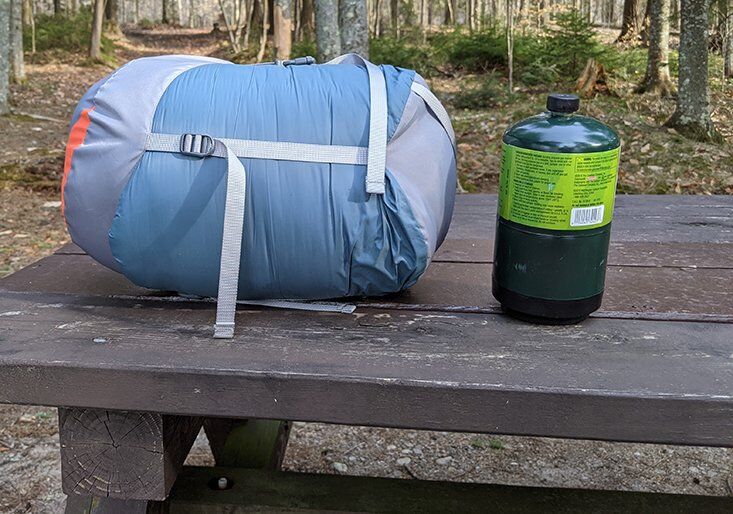 But the weight isn't what keeps this bag from really being a top backpacking pick. It's size. The most compact this bag can get, despite the well designed and made stuff sack it comes with, is 16" x 9.5" (41 x 24cm). That's a full litre of volume, a sizable bite out of your pack volume when you consider the other essentials you'll need to pack to enjoy the weather this bag is built for.
But that doesn't mean this bag doesn't do a few things very very well.
Kelty Cosmic Mummy Design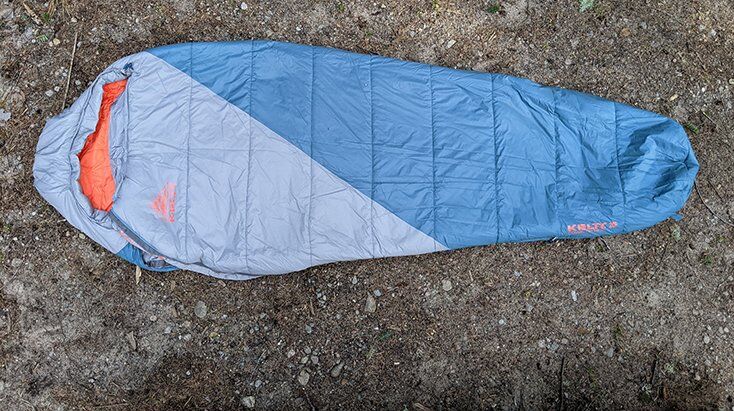 Once you start building a bag for colder temperatures, the roomy rectangular shape of the most comfortable bags stops being practical. Not only would it mean more material and more insulation, driving the weight and packed size up in a hurry, but it also makes a bag less warm overall. To put it simply- the more bag you have to heat, the less heat is left over for yourself.
Which is why the Kelty Cosmic Synthetic 20 uses a classic mummy shape- tight around the feet, with a hood up top keeping your valuable head-heat in. But unlike other mummies, the Kelty takes a more mellow taper from its widest point at your shoulders down to the narrow point at your feet.
As a result this bag feels roomier inside than a lot of similar bags, despite not being any wider at the maximum. That extra space around your torso may affect the absolute warmth the bag provides, but for side sleepers or larger people that extra space goes a long way in making it easy to find a comfortable position while sleeping.
Easy to Use
The other thing this bag does right is it doesn't waste your time (or money) on features you don't actually need. There is a single zipper on one side, a single draft guard on the top of the bag, one drawstring closure for the head opening, and a small accessory pocket that makes it easy to keep your phone or headlamp close at hand through the night.
But that's it. A simple bag to sleep in. Which may seem spartan when you're used to the feature-focused marketing most bags use to convince you their product is the best. But consider the sheets you sleep on at home, the experience every sleeping bag wants to emulate. Odds are your sheets don't have extra baffles providing debatable benefit. There are no extra zippers adding weight and reducing warmth in any bed you've ever slept in. Just simple sheets covering you and providing warmth. And that's exactly what the Kelty Cosmic Synthetic 20 sleeping bag replicates- a simple, relaxing sleep experience.
Who's This Sleeping Bag For?
As discussed at the start of this review, this bag is a serviceable, if bulky, option for backpacking. If you're looking for a dedicated backpacker who swears by their latest running-shoe-turned-hiking boots, and saws their toothbrushes in half to save weight, this isn't the bag for you. But odds are if you've read this much about this bag, you aren't that person in the first place. You're not looking for the lightest and fanciest thing on the market, you're looking for a way to enjoy your time outdoors without spending more than you need to. And the Kelty Cosmic Synthetic 20 does just that.
Overall Impression
With the comfortably roomy shape and simple no-nonsense design, the Kelty Cosmic 20 Synthetic Sleeping Ba ($114.95) is a great option for family camping, whether that's in your backyard or car camping at a local state park. But it's also up to the task for overlanding or adventurous hut trips when comfort takes priority. It can even serve perfectly well for one- or two-night weekend backpacking trips in shoulder season, when you need the warmth and pack space isn't at such a premium.
Related Articles: