I like to curl up on my side when I sleep, hands underneath my head.  The shape of traditional sleeping bags do not allow me to position myself in a way that feels natural to me, making it difficult to be comfortable enough to fall asleep in the outdoors. But the Selk'bag Nomad Pro solves that problem, giving you a sleeping bag with sleeves and legs so I'm free to move around and get comfortable when it's time for bed. I can even fold over the simple elastic cuff closures to keep my hands warm all night long.
Selk'bag Temperature Rating
The latest version of this idea, the Selk'bag Nomad, builds on that start by upgrading the insulation to Primaloft Black ThermoPlume, comparable to 550 fill down but with much better performance in damp environments. This gives the bag an impressive 35 degree (2C) rating, perfect for shoulder season though not quite up to the task if you're looking for a true winter sleeping bag.
Probably my favorite part about the Selk'bag Nomad is that it keeps my whole body consistently warm, extremities and core temp are the same. No more worrying about being too warm up top, but with chilly quads and feet or vice versa. The hood is big enough to easily stay in place, providing comfortable coverage when the weather isn't ideal.
More Than Just a Sleeping Bag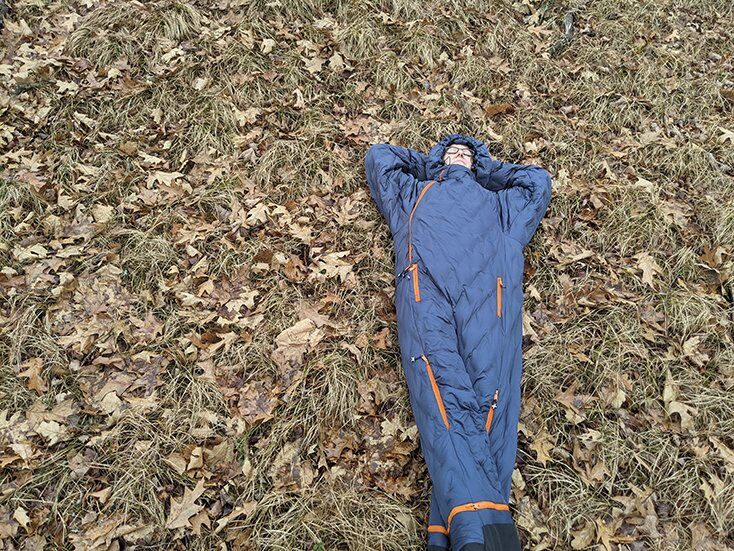 But thinking of the Selk'bag Nomad as just a sleeping bag might be missing the best part. I envision wearing it while sitting around a fire this winter, whether it's a socially-distanced backyard hang with friends or taking a break without going into the lodge at a local ski area. It's much warmer than "regular" winter clothes, and the arms and legs make it easy to move around and get comfortable. Wearing the bag also allows me to sit further away from the heat while staying warm, important when there are too many people for you to be able to get as close to the heat as you would like. Plus thanks to the DWR coating, it's weather resistant helping it shrug off snow and light rain and helping to block the wind when things get breezy.
While I do see myself using the Selk'bag Nomad a lot this winter, and even more come spring camping season, there are a few shortcomings I want to point out. Most importantly is the sizing. Selk claims my size large should fit people between 5'3" and 5'9", and up to 5'11" with the booties off. But I am 5'9" and the length is simply too short, even with the booties off. The bag pulls down at my shoulders, and the shortness could effect how often I choose to use it as a sleeping bag. Even with the booties off, movement is restricted, increasing the awkwardness of wearing the Selk'bag around.
What can be Improved?
And there are a few features that just aren't as good as they should be. Construction isn't robust, even by sleeping bag standards, with several seams coming loose after just a few wears. And the integrated face mask, while a good idea, lacks adjustability and therefore doesn't feel comfortable and is quite difficult to put on. Another poorly executed idea is the front kangaroo pocket. It could be useful, whether you're keeping your headlamp close overnight or just stashing your keys or wallet, but the positioning on the bag makes it too low to be comfortably accessed while wearing the bag.
Overall Impression
All told though, the Selk'bag Nomad Pro ($239.99) delivers on most of its promises. It's warm, and while the comfort isn't quite what I'd hoped it's unquestionably more comfortable than a traditional mummy bag.
Related Articles: