When I first saw someone sporting a Poler Napsack I remember thinking, "who'd want to wear that?!?" and now I know the answer: I do, and you probably do too even though you might not know that yet.
Like many people I initially wrote off Poler's Napsack as some "hipster BS" — straight out of Portland, no less! — but I was wrong.
The Poler Napsack Sleeping Bag is actually a very innovate and well-designed sleep system that is as useful deep in the backcountry as it is a few beers deep in the backyard.
Poler Napsack Wearble Sleeping Bag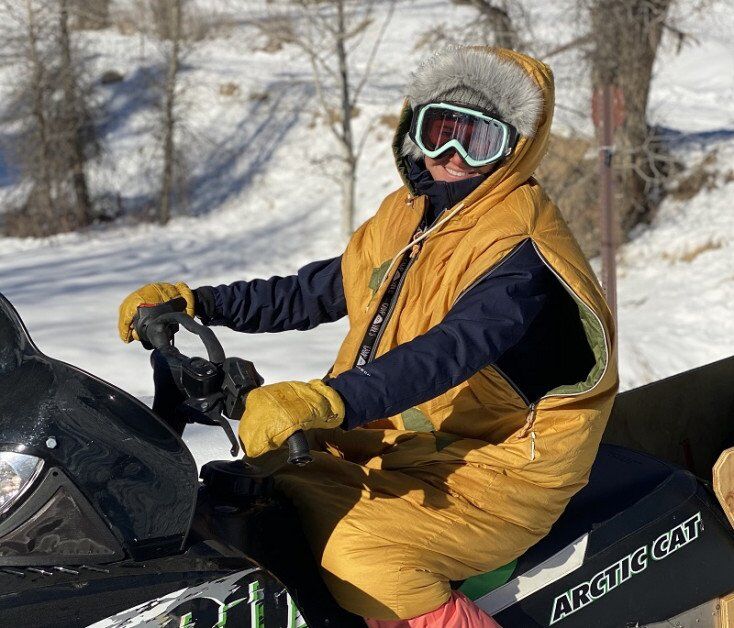 Wear the Napsack cinched up around your waist with the side zippers open and it serves as a spacious puffy hooded trenchcoat with ample thermal protection of your crotchular region. Zip the arm zippers up and cinch the bottom beneath your feet and it becomes a comfortable sleeping bag rated to 50*F. By layering up underneath or pairing your Napsack with a blanket, sleeping bag, or — dare I say — a second Napsack it can help keep you comfortably warm in even the coldest camping conditions.
The material is very smooth and comfortable against bare skin, but seems durable thanks to a ripstoppy weave. The insulation does not bunch up and dries out quickly. The fact that it is reversible — with 3 pockets inside and out — is incredible. The zippers are bomber, and the whole unit packs down to the size of a large puffy coat or light sleeping bag in the included stuff sack. At $130 it seems like a good deal to me for a wearable sleeping bag, it is well made, as stylish as a puffy smock can be, and pulls double duty as a sleeping bag.
Here are just a few of the situations where I've said to myself, "man, I sure am happy to be wearing a Napsack right now!"
*Lounging on the couch reading a book.
*Sitting on the front porch passing the spliff on a cool fall evening.
*Venturing out to warm up the truck on a midwinter morning.
*Brewing coffee predawn while climbing in the high alpine.
*Upon arrival at a cold truck in the deepening twilight after a long day on the slopes.
*Getting towed back to civilization by a snowmobile in the frigid dark after an epic ski tour.
*Staggering up to pee in the middle of the night while car camping.
*Swapping stories around the campfire with new friends.
*Hiking across a high alpine meadow in a midsummer wind storm.
*Struggling out of a frigid wetsuit after surfing the Oregon coast.
*Wrenching on an old van while laying on an icy driveway.
It's important to know that the Poler Napsack is not water resistant, so it wouldn't do very well in a rainstorm. That said, the Napsack is now my go to sleep/lounge system for spring/summer hiking trips and I always bring it with when car camping. I even pack it in a waterproof duffel strapped to the back of my snowmobile for bigger sled ski missions because its a great layer for the long ride home and would certainly come in handy if someone got seriously injured or we got benighted for some other reason.
Overall Impression
I could see the Napsack becoming very popular with competitive ski racers and swimmers. It's already quite popular with backcountry skiers, surfers, and van lifers. If the country locks down again there probably won't be much reason to ever change out of your Napsack.
With Christmas right around the corner, it's worth noting that a Poler Napsack ($129.99) could be the perfect gift for the vanlifer, skier, adventurous outdoorswoman, or the most tech addicted couch potato on your shopping list. But first, you should probably get one for yourself, so you know exactly what they'll be getting themselves into.
Related Articles: