One of the things I love about testing outdoor gear is actually getting into the outdoors and putting the equipment to a real life test. The sort of scenarios you might find yourself in while camping or backpacking.
So I drove up toward Glacier National Park to test out the Patagonia Fitz Roy Down 20F Sleeping Bag during a late May snowstorm.  I figured with 800 Fill and a comfort rating of 20F this would test the bag out to its fullest.
Comfort Rating
Most sleeping bag manufactures will list the comfort rating for their bags, in this case the Patagonia Fitz Roy 800 Fill Down Sleeping Bag has a comfort rating of 20F (-7C).  Traditionally comfort rating would be lowest temperature you would feel comfortable sleeping in, during the coldest part of the night or early morning.
A good rule of thumb is always make sure your bags comfort rating is at least 10 degrees cooler than the temperatures you plan to be camping in. It's much easier to dump heat by opening your bag if your too warm than it is to generate heat in a cold sleeping bag
For this test when the sun set the temperature dropped quickly getting down to below freezing. Which in turn would put the Fitz Roy 20F to within 10 degrees of it's comfort rating. I slept great most of the night, although during the early morning hours I could feel cold creeping in from the top of the bag. At this point the temperature was in the mid 20's.
Shape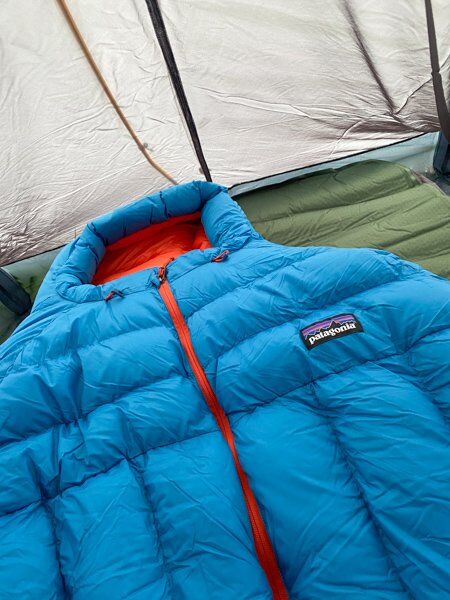 Patagonia's Fitz Roy Sleeping Bag offers a mummy style shape with a narrow toe box to maximize heat retention. I'm a side sleeper and was able to move my legs freely enough without having to open the sculpted toe box.  Once your inside this bag it feels like a cocoon.  Laying in the Fitz Roy Bag gives you the feeling that you've draped yourself in Patagonia's best down jacket from head to toe. So it should be no surprise this bag will offer the same look, comfort, feel and warmth that you have seen in Patagonia's down line over the years.
Ever wonder where your cell phone is in the morning while camping?  On the inside of this sleeping bag is a small pocket that can hold a phone or even headlamp for quick access.
Materials
Patagonia seems to be talking recycling again in their sustainability story.  So if you like green things you'll like the Fitz Roy Bag.  Patagonia used 100% recycled materials for this sleeping bag. Combined with 800 Fill GTD (Global Traced Down) which basically ensures the birds supplying the feathers are not force fed or live plucked, so the animals with goose down certification are treated as humanely as possible.
The Nylon Ripstop material on the outside of the bag looks like it can take some abrasion, and most likely won't leave feathers all over the place if you careful what you place your bag on.  And then when the bags not in use instead of stuffing it into it's tiny stuff sack, let the bag breath by putting it in the large mesh bag or even better hanging the sleeping bag in your closet when not in use. And if you find yourself in a damp environment the Patagonia Fitz Roy Down Sleeping bag is treated with DWR durable water repellent.
Sleeping Bag Size
Patagonia offers the Fitz Roy 20F Sleeping Bag in 3 sizes or lengths.  Short, Regular and Long.  The Fitz Roy Short Sleeping Bag works for sleepers up to 5'4 in height.  The Fitz Roy Regular Sleeping Bag was designed for for sleepers up to 6'0. While the Fitz Roy Large Sleeping Bag works for sleepers up to 6'6 in height.
Overall Impression
For camping above 30F I highly recommend this bag making it a great 3 season sleeping bag.  If your tough and it's not too cold you could also possibly winter camp in the Fitz Roy but bring a few extra layers to sleep in just in case if the temperatures are from 20F to 30F.  Anything below that go with a 0 Degree or -20F bag.
Who's this Patagonia Sleeping Bag best for?  I think the car camp, van life crowd that camps in the spring, summer and fall in the mountains will love this bag.  It might be a little bulky for long backpacking trips but can still pack down when needed.  If comfort is something you've been missing while camping outdoors, the Patagonia Fitz Roy Sleeping Bag ($499) will make you want to spend more nights sleeping under the stars.
Related Articles: