Kids Ride Shotgun is a New Zealand company which has been making mountain bikes seats and accessories for toddlers since 2017. I recently purchased the original Kids Ride Shotgun combo, which arrived at my front door in a neat little box along with a shotgun-branded mudguard and headset cap.
Installation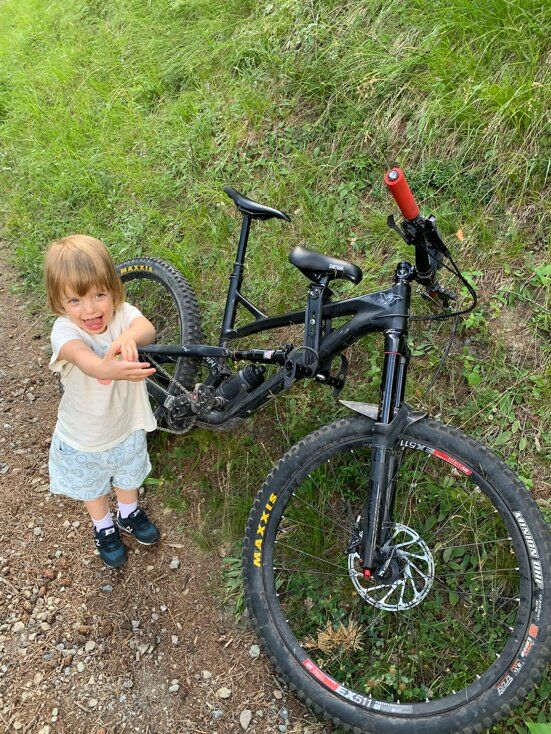 Shotgun says the seat is safe to install on alloy as well as carbon frames. After a few simple adjustments accounting for the tube width and seat angle, installation is simple, and requires utilizing foot pegs to tighten a clamping mechanism. The instructions provided demonstrate how to securely install the seat without damaging delicate carbon tubing. Indeed, I found that I can secure the seat tightly enough to prevent slippage, without excessive compression. Despite the rubber protection on the mechanism, some scuff marks are visible on my (already beat up) frame. Some strategically placed protection would easily remedy this.
While simple, the removal involves untwisting the foot pegs, winding the counter-bolts in the center of the axle, and unscrewing the mini-handlebars via hex key. While not a massive job, since becoming a parent I generally have precious little time for any faffing about. The "Pro" model has both a quick-release handlebar and seat, and additionally avoids all frame contact.
How's it Ride?
Once ready to ride, the shotgun seat is a blast. My daughter and I go for daily rides in the local park, which have us navigate down a relatively steep stream embankment, and along some smooth singletrack. We will usually ride for around 20 minutes to a playground, before remounting to ride back home.
For now, her preferred trails are smooth singletrack with some roots thrown in, as well as a forest road with some natural berms. While riding, we are in constant dialogue: I'll give her a heads-up before a downhill, a warning that the trails is getting bumpy, or get her feedback on line choices. We both hoot and holler, and the experience absolutely feels like "real" mountain biking.
Is it Safe?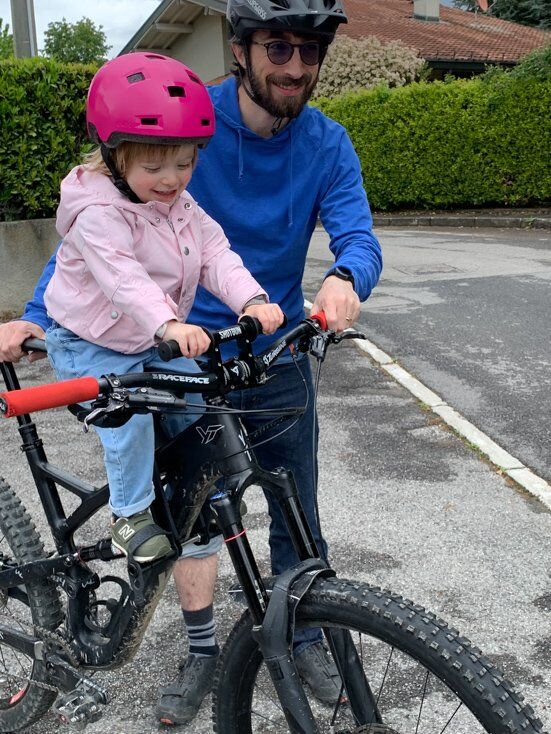 A note on safety: the stated age range is 2-5 years, and the seat requires the little MTBer hold on with their hands and balance on the seat, with no more than old-school style toe clips to help them stay attached to the foot pegs. I would highly recommended waiting until they have the requisite strength, motor skills and concentration before heading out on a family trail adventure.
The position, nestled between your arms, does provide a significant feeling of assurance. Also, while you can ride real trails, don't go overboard and ride well within your limits – surprisingly agile, there is still a considerable, additional weight on the bike, and while my little pilot is great at leaning into turns with me, an unexpected bird or bunny sighting can send an unexpected jolt through the cockpit.
Finally, with its central position on the top tube, the Shotgun seat benefits greatly from a mountain bike's suspension, both front and rear. I leave my suspension fully open, even on mellow trails, as we are generally both riding seated and typically aren't self-suspending with our legs (although she is starting to!).
Misses: Standard seat a bit awkward to install, requires installing protection to avoid scuffing paint job, and may not fit frame with varying top and bottom tube widths. Pro Seat ($250.00) should solve these problems but is considerably more expensive.
Overall Impression
Kids Ride Shotgun offers incredible family trail fun! Relatively simple installation with a solid design. The Kids Ride Shotgun Kids Bike Seat ($150.00) is a great way to spend time your little one outdoors.
Related Articles: