There is nothing more frustrating than skins that don't bite. The track gets slippery and steep and the switchbacks take twice as much effort. Especially true in spring when fighting your way up the hard-packed superhighway of Garnet Canyon, where I took these last year on a trip up to the Chouinard Couloir in the Middle Teton. The only thing is, these Kohla Peak Mixmohair Skins held on much longer than my partner's as he powered his skis uphill, from icy track all the way to tricky avy debris.
65% Mohair / 35% Synthetic
As they had the weekend before when I encountered basically every type of snow, from pow to ice to crust to crud to rot heading up Taylor. As they had on Mike's delicious pow fests earlier in the winter when he started touring on them. And they even held up on my June mission up Jackson peak, an approach that's just as mixed and dirty and melted out as you could imagine a June approach would be. Amazing. And that's why, from first wear, they immediately became my favorite skins.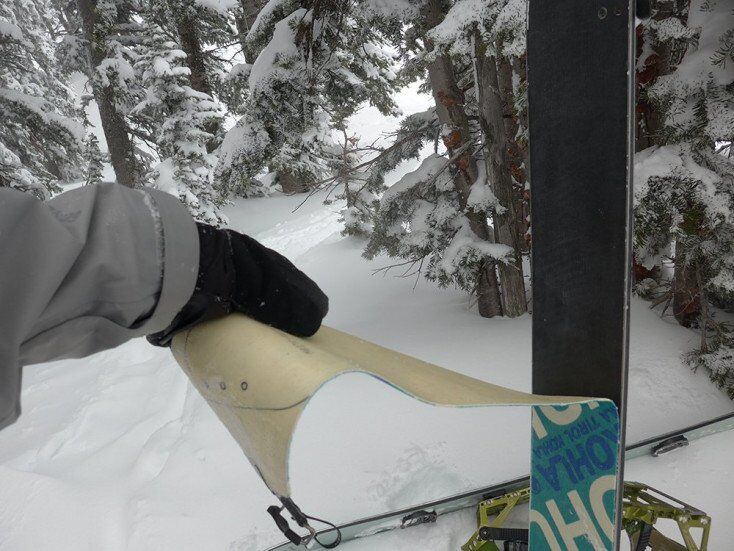 Science. That's what will make America great again — lots of science. Like these Kohlas, 65% mohair and 35% synthetic. See, skinning comes down to glide and traction. It's frustrating and energy-sapping to slip back; it's almost as energy-sapping and frustrating to not be able to glide forward.
Mohair is easier to glide but you sacrifice traction; synthetic fibers optimize traction but, as you can probably deduce from this little rundown, it's tougher to glide. With a mohair/synthetic mix, you get the best of both worlds and across the most variable conditions. And depending on the depth and mix of the fibers, the mix can actually become a stronger beast than either individually. Kohla's mix and length deliver just this and in spades.
How Compact Are the Skins?
They also use less material and less adhesive. This means your skins are easier to separate at those early morning trailheads. It also means they can roll up to smaller than a beer can and you can shove them into even the most-overfull backpacks because, hell, Backcountry 101 means you need to be prepared for every occasion and as you learn more about the what ifs, you realize you need more on your back.
What can be Improved?
Of course, there will be a few issues in technology so soon. That's science.
When Mike first took them out, he accidentally put them on backwards because there isn't much visual difference between tip and tail so make sure your practice a few times beforehand to figure them out and then maybe give a little marking so your sleep-deprived, half-frozen head doesn't forget at 5 AM in the parking lot.
Also, it has rubber connectors on the nose and tail clips. They had moved around a few times when I pulled them tight over my split until one time, a tail clasp just came off. So far, the metal end around the end works fine but we'll see down the line.
These skins require a bit more care than big synthetics with globs of adhesive. Sometimes I'll be lazy and stretch my skins on my split, then throw them in my truck for a long drive (or even overnight if it's a super-early start). Having done that before a recent tour, they did fine on the approach. However, after riding down and having to put them back on the splits, I had a glue fail. It was a bonehead mistake (and probably had at least a little to do with residual dirt on the skins from my trip up Jackson Peak). But something just to note. Big boy (or girl) skins require big boy (or girl) care.
Overall Impression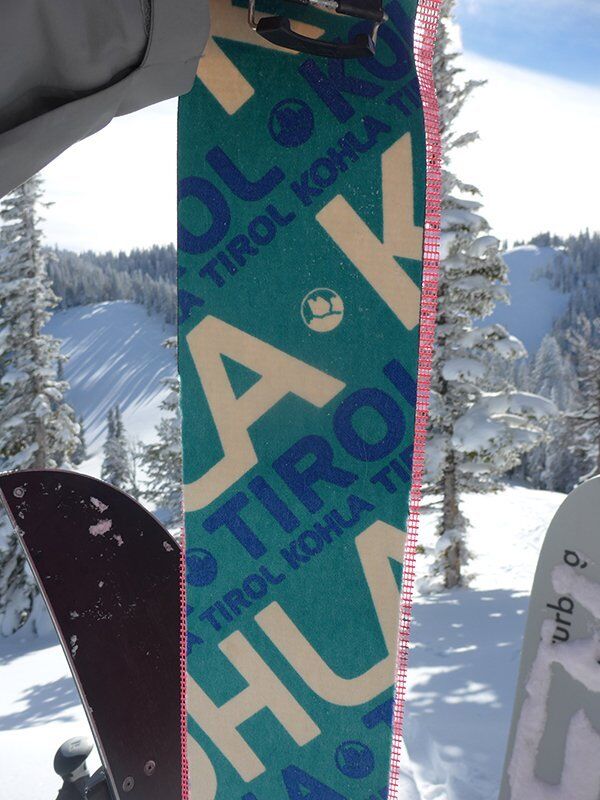 Those Europeans are years, if not a decade, ahead of us when it comes to ski and split mountaineering. It's a lifestyle out there and it's been so since we were mostly content to slip out of bounds and call it backcountry. There are ski-trading routes through the mountains, villages that for centuries were ski in/ski out. Ski mountaineering isn't a branch off what most of the people who live in the mountains do; it's what most of the people who live in the mountains do in general, period.
It would make sense, then, that after a split career of using (and, admittedly, being mostly happy with) American companies' skins, I would step onto a pair of Tirolean Tank Treads and fall in love. With superior grip and glide and decreased weight and bulk, Kohla's finally given uphill traffickers the future.
Do yourself or the one you love a favor this Christmas: Get the gift of bomber uphill travel. Because Kohla seems to understand better than any other company: You gotta get up quick to get down fast. The Kohla Mixmohair Skin ($149) is one of the best splitboard skins out there.
Related Articles: