LEKI has been crafting quality goods since 1948 and poles since 1960 but arguably none have been more impressive than their cutting-edge Sherpa FX Carbon Touring Poles. Their grips and lightness deliver unmatched comfort.
Even more importantly for a splitboard tourer, they employ a strong External Locking Device to hold the carbon shaft together but allow it to fold into 3 small components to easily fit into your pack for descent. This delivers an unbeatable partner for pushing up onto the highest peaks with easy adaptability for your return home.
Weight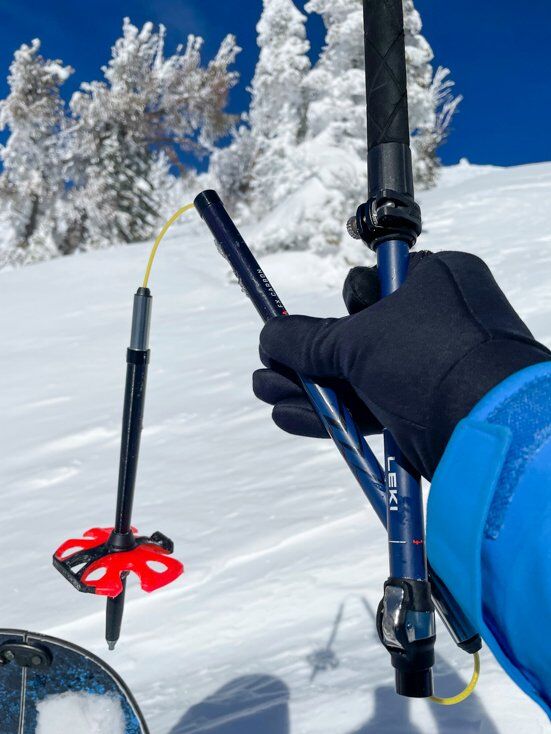 For something so simple as a pair of sticks that help propel you up the trail, there's a lot going on with Leki's Sherpa FX Carbon Touring poles. The Carbon PRC 1000 and Aluminum HTS 6.5 poles weighs only a little more than half a pound. The 1K foam Aergon Air grips are a part of that lightness, with a freakishly comfortable ergonomic shape.
The folding system has metal cords running through the carbon shafts with the ELD locking device to make it rigid and to pop apart easily to turn them into a 16-inch-tall folded pole. The Speed Lock 2 allows you to adjust the length of the poles, somewhat of a rarity in carbon poles with this folding system.
The Big Mountain Binding Basket. It has enough surface area to keep above the soft snow. Yet its unique shape has one side for adjusting bindings and a long edge fo scraping the ice off your skins. And the lycra nylon neoprene straps make them super comfortable to keep attached to your hands with a safety release to keep you from breaking your wrist.
All of these I felt in person as I tested it in the greater Yellowstone region.
Carbon Touring Poles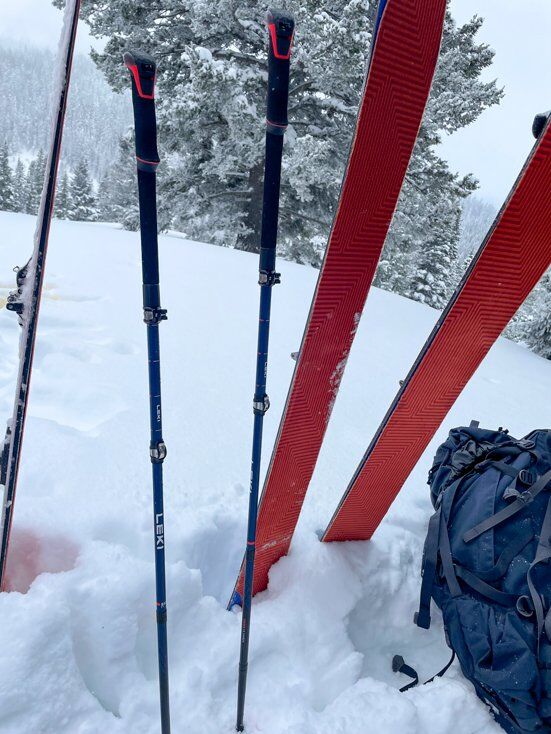 Along the continental divide in the Centennial Range that straddles the Idaho Montana border, there's a backcountry hut surrounded by wild, lightly-explored peaks. This was where I first tested the Leki Sherpa FX Carbon poles. We were touring from just after sunup to just after sundown in a land of frozen smoke. Deep snow and subzero temps combined to make for challenging but rewarding tours.
Carbon poles always feel too light to actually support me yet they never wavered, even as the temps dipped to the point of making metal brittle. My bindings at times got crusty and stubborn. Yet the ELD system never got stuck, refusing to fold. One time it had trouble clicking back but with a little muscle I got it back reinforced. And I swear as we went to headlamps, the plastic of the grips seemed to light up.
The Leki Sherpa FX later came with me up tall bootpacks in the Tetons where the poles felt so light that my arms never flagged. On the descent, the poles folded up easily and fit into my packs without popping out. My hands easily ran up and down the grip to the extension for all adjustment on the fly.
On the top of Mt. Taylor, it often gets windswept and packed. Skins slip, edges hardly break the surface, and your poles are exceedingly important. I've broken poles up there before. Dropping all my weight on the poles as I fought ever higher, they shook but gave no hint of flagging. In the end, these poles combined a lightness, strength, and versatility matched by no other pole I've ever used.
Overall Impression
The LEKI Sherpa FX Carbon Touring Pole ($259.95): A hi-tech tool you can lean on. Your poles are the keys to getting you to your objective. When your legs flag, when your skis and skins slip, your poles become a lifeline. You need something strong but not heavy. Something that can reach your hands while touring yet fit easily into or onto your pack.
You need technology reliable in all weather, and a couple extra features that help with your adventures. The LEKI Sherpa FX Carbon Touring Pole is just that magical tool that can aid you on your quests to your alpine dreams. For serious adventures, you need a serious adventure pole. You need the Sherpa FX.
Related Articles: