The Lib Tech Banana Magic Snowboard is an all-mountain freestyle powerhouse, the snowboard is built with one thing in mind: fun. TheBanana Magic is undoubtedly one of the most fun boards I've ridden in a long time, but its aggressive construction means you have to stay on your A-game at all times.
Banana Rocker Snowboard Technology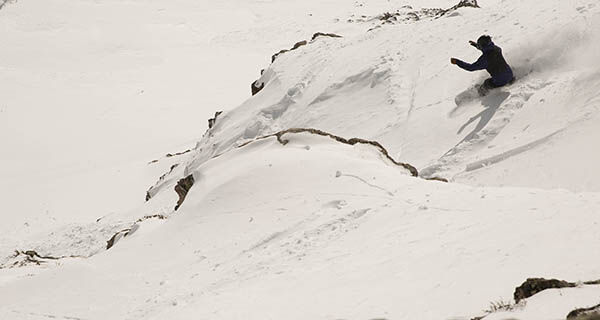 The Lib Tech Banana Magic Snowboard is funky, it features a unique hybrid rocker profile the company calls "enhanced banana." To be honest I have sworn off riding bananas ever since I first jumped on a Skate Banana way back when. Nicole from Lib Tech was incessant that I take this board for a lap during the SIA demo, I paused and said no then she literally put it in my hands, so I thought ok I will take one lap and return this board and switch over as fast as possible to something else. I was already "judging" this board without ever riding it, mistake #1.
According to Lib, this is a "magical dynamic blend of our highest Banana Tech rocker between your feet and a secret numerical formula of camber at contact points." This translates to a lot of rocker. Solid pressure between your feet with mellow, almost flat, camber at the tip and toe.
On Snow Notes
So how did the Banana Magic handle on the snow? I loved it chunder, steeps, deep pow, and cliffs. We especially loved it in powder. Where didn't we love it? It's a bit tough to handle on the hardpack (with the Magne-Traction hooking up) and isn't really made for buttering and jibbing (though it can be done). These days I spend all my time shredding powder in the backcountry, this is the board designed to slay real mountains!
Let's talk about powder for a second. The Banana Magic is incredibly floaty for a twin-shaped snowboard, thanks in large part to the mild tip pressure of the enhanced banana. It's the perfect board for those that like to switch up their stance in powder. Those that prefer a more set back stance might be better off with a different Lib Tech snowboard, ideally a directional board.
On top of powder, what I liked most about this snowboard was both its speed and pop. The fast base and aggressive flex equal a quick little ripper that keeps chatter to a surprising minimum. The profile and medium-stiff flex also equate loads of pop. Lib definitely has some poppier boards in their line up but, once again, the Banana Magic gets the job done without a second thought.
The only thing that was tricky to get used to turn initiation and edge control, especially in hardpack snow. It has a different type of Magne-Traction than other Lib Tech boards, causing it to hook up super tough in turns. The Magne-Traction features huge serrations between the feet and then barely anything at the tip and tail. It grips super well, especially in ice, but the aggressive Magne-Traction means you're going to have to work at it. It equates to a fun, lively, and predictable edge – just one that you have to stay focused on. But, in all honesty, who the heck is riding hardpack these days anyway?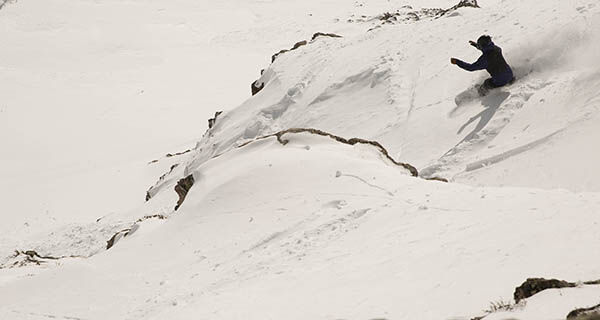 Lib Tech Manufacturing
As always, Lib Tech poured their heart and soul into the Banana Magic to make it both incredibly fun to ride and good for the enviroment . As Mike Olson's daily rider, it features the experiMENTAL Division's favorite high-performance mix of lightweight, strong, and environmentally materials. These include basalt glass in place of fiberglass, a Colombian gold core, and bio-beans top materials. And like all Mervin boards, the Banana Magic is handcrafted in the good old USA.
Overall Impression
The Lib Tech Banana Magic is a solid snowboard through and through. It's great in pow, chunder, steeps, and cliffs, but will be a little difficult for most riders on hardpack. It features one of the most aggressive sidecuts in Lib's lineup and incorporates a lot of our favorite Lib technologies into one design.
Throw on some sick artwork by Quincy Quigg, and here is a snowboard that both looks good and absolutely shreds.
Sound like a good deal to you? Then find out more about the Lib Tech Banana Magic ($749.95) and get ready to get your fix of pow-tassium!
Related Articles: