The Nitro Squash Splitboard is a ripping snowboard that does well at the resort, cat skiing and for the occasional day of splitboarding. I tested the Nitro Squash while splitboarding around the Tetons.
Nitro Squash Camber Profile
The Nitro Squash Splitboard with its camber profiles is super fun going downhill on.  It's effortless to ride even in heavy snow, making this a great board to take on cat trips. Splitboards are starting to adopt funky shapes from snowboarding and the Squash continues in that tradition.
The Nitro Squash is a Swallowtail splitboard with a Tapered build, meaning it's bigger in the nose than the tail. This all works incredible on traditional snowboards, especially powder boards but with splitboard it comes at a price.
Essentially what you have here is a great snowboard shape that should most likely have stayed as a solid in the Nitro Quiver line.  Why?  Well for starters when the board is in splitmode both tails click while walking over each other.
We spend the majority of our day splitboarding on the way up, so anything that's less than efficient sucks.  As was the case when touring on this setup.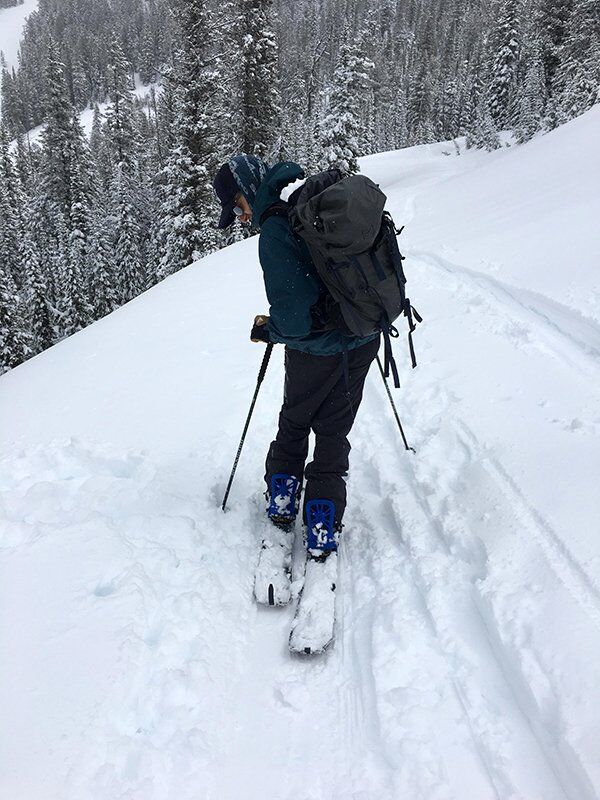 This made for a long and awkward day of touring, of constantly stepping on the tails of my own splitboard.
Nitro Squash Union Expedition Compatibility
The Nitro Squash Splitboard paired with the Union Expedition Bindings is a ripping setup for powder days.  I would have zero hesitation taking this splitboard to the resort on the deepest of days, cat skiing and even for a few heli laps.  The hiccup though is the rear hole patterns on the Nitro Squash Splitboard are not compatible with the Union Expedition Bindings.  Why do you ask?
There is only 2″ of clearance between the touring brackets and rear hole pattern. Other boards, I passed on reviewing ran into this same issue. This does not allow enough room for the bindings to go on in ride mode as they hit the touring brackets and are not able to be mounted as such.
It's a major bummer and one that will only get addressed when the industry starts working together on splitboarding.
So if you run the Expedition Bindings, you won't be able to fully use this board in the backseat.  It's a cambered directional board, just lean back.
Last but not least, Nitro if your listening the board is missing a crucial clip at the tail. Unless the brand is going for the split tail feel on the way down.
Overall Impression
Did I enjoy riding this splitboard?  You better believe it.  Did I enjoy touring on this splitboard, No.  With that being said the Nitro Squash Splitboard ($599.99) is a great board for powder riding and the occasional day of splitboarding.
If your new to splitboarding this might actually be perfect as touring is going to be awkward as heck, to begin with anyway.
Related Articles: