A lot of watches made for outdoor life are very similar—they've failed to break the mold and deliver something truly unique for some time now. Nixon evidently took notice of this trend and decided it was time for change.
At first glance, the Nixon Regulus Expedition looks like your typical plastic timepiece. But once you get your hands on it, you quickly realize that this is not just another run-of-the-mill watch. Plastic? Not a chance. The Regulus Expedition is a highly sophisticated piece of engineering designed with the outdoorsman in mind.
Whether it's fishing off the coast of Florida or ripping powder in Colorado, this Nixon Expedition Watch is designed to keep up with your active lifestyle. The watch features several advanced features, such as a rugged TR-90 case and ultra-durable silicone, so it can withstand anything you put it through.
The Regulus Expedition offers an array of useful functions for any adventurer, so let's jump right in and see what it can do for you.
Who Is This Watch For?
The Nixon Regulus Expedition Watch was designed for those who are looking for a rugged and dependable timepiece to keep up with their active lifestyle. Whether it's fishing, snowboarding, hiking, or camping, the Regulus is built to last and features all of the necessary features you may need while out in the wild.
From its highly protected case to its textured silicone band, this Regulus model is crafted for the outdoors and built to stand up to any elements. Its scratch-resistant mineral crystal face also features a screw-down crown for extra protection and water resistance.
What's to Like?
From the moment you put on the Nixon Regulus Expedition Watch, you'll appreciate the quality craftsmanship and attention to detail. Sure, it's a little plain looking at the outset, but its durability and functionality will be evident in no time.
Besides, its simplicity is part of what makes this piece so appealing. It's not pretty by any means, but it's designed to get the job done in a masculine yet accessible fashion.
Display
Next, there's the MLCD display. Straightforward in its presentation, Nixon delivers easy-to-read information at a glance. The MLCD looks absolutely brilliant, with clean lines and a strong contrast against the black face.
Moreover, the contrasting black and white display makes it easy to tell what you're looking at. Numbers and letters are super crisp, thanks in large part to the MLCD display.
And speaking of the display, there's a built-in backlight that comes on at the press of a button (more on those later). The backlight provides a quick three seconds of blue-tinted light so that you can check the time (or date) when it's too dark to see the screen.
It would have been nice if Nixon included a setting so that you could adjust the delay, but three seconds is all you get. I found myself having to press the light button again to double-check that I got the time right. It's a minor gripe, but it needs to be said.
In addition to that, it's also worth mentioning that there is no standalone backlight function—only the temporary light is here. So if you need to use the watch in the dead of night, you'll have to get used to relying on the light button quite frequently.
Out of the box, the menus and other areas of the watch display a black background with white letters and numbers. However, Nixon included a setting that allows you to swap the background and foreground colors.
The change can be done in a few simple steps, and it's nice to have the option if you want a more vivid display. So if you find the stock setting too dull or hard to read, you can easily change it up without much fuss.
Altimeter and Barometer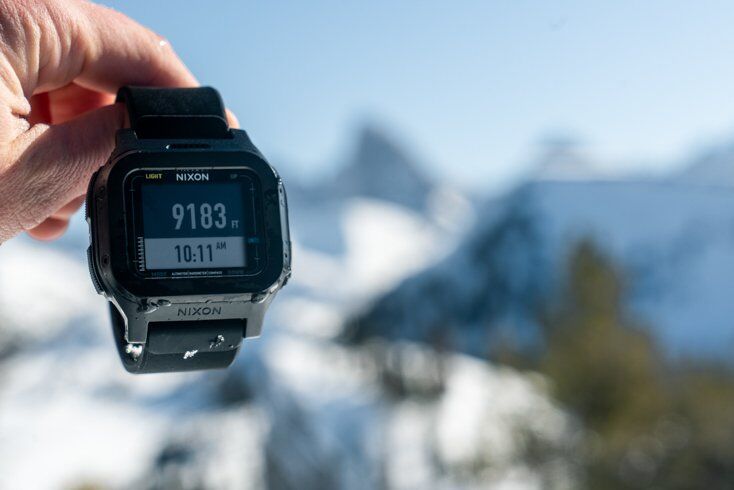 Nixon has included a built-in altimeter and barometer so that you can measure the altitude and atmospheric pressure, respectively. It's not something I plan on using all that often, but it is a nice addition to have for those occasions when you need to know.
The readings displayed on this watch seemed accurate enough for my purposes, but I'd imagine that more experienced users would be able to tell the difference in precision. That being said, it's a useful tool for those who like to keep track of their activities while outdoors.
Chronograph
This is a neat feature for those who enjoy tracking the time when doing outdoor activities or sporting events. Overall, the chronograph works well, and it's surprisingly easy to use. You can start/stop and reset the timer with ease, and I found it quite helpful for tracking my time when running or doing other activities.
Japanese quartz is responsible for the timekeeping, and it's quite precise. Everything is displayed digitally on the main face, so there's no need to fumble around with tiny dials or anything like that.
The Expedition is clearly a watch made for the outdoors, and it definitely lives up to its name. Its rugged construction and reliable performance make it the perfect companion for all of your outdoor activities. Whether you're a weekend warrior or an everyday explorer, the Nixon Regulus Expedition is sure to meet your needs.
Alerts
Here's where things get really cool. Included in the Regulus Expedition is Camp Mode, which features weather alerts. These keep you informed of changes in the atmosphere, such as changes in air pressure or temperature. It's a great way to stay prepared for whatever Mother Nature throws at you.
There's even a built-in compass, which is handy for those times when you need to read a map or find your way back to civilization. The compass is easy to understand and use, with the directions clearly indicated on the display.
Finally, there's also an alarm that you can set if you need to be woken up at a certain time (or reminded of something). It's not the most sophisticated alarm, but it gets the job done.
I really appreciate being able to tell what the weather is like (or going to be like) at a glance. Even if you're off-grid, you can trust that the Expedition will deliver updated weather alerts to you, allowing you to plan accordingly if there's inclement weather in your area.
The alerts, compass, and alarms all make this watch more feature-rich than many of its competitors. But Nixon isn't finished yet—there are even more features to like about this unit.
Battery
It's clear that Nixon well understands the life of the typical outdoorsman. That's why the Regulus Expedition comes with a battery that will last for up to two years. That's pretty impressive, and it means that you don't have to worry about swapping out the battery all the time just to use the watch.
As people who love and appreciate the outdoors, we generally have other pressing matters on our minds than watch batteries. So being able to count on the Expedition for up to two years is a huge plus.
Durability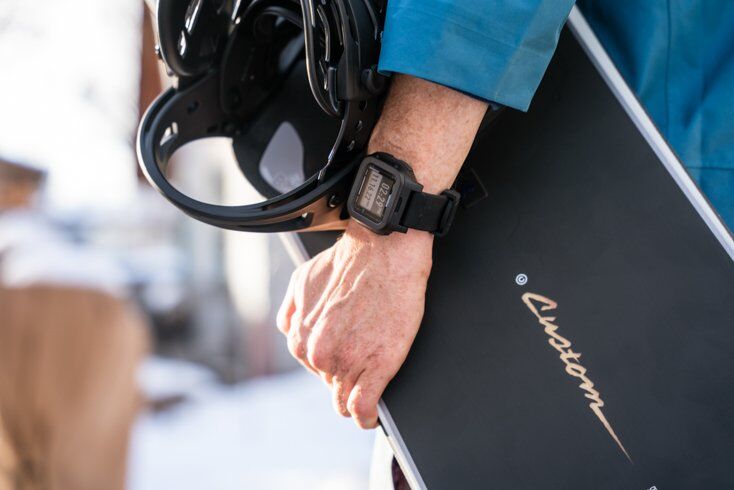 No true outdoor watch is complete without the necessary durability to survive extended use in harsh conditions. Thankfully, the Regulus Expedition does not disappoint on this count. The injection-molded TR-90 case is incredibly durable and can withstand a fair amount of abuse.
The integrated stainless steel bezel adds a nice touch of aesthetics while providing additional protection from scratches and other minor damage.
And with a water rating of 100M/10ATM, you can trust that the watch will stay safe even when submerged. Getting caught in a downpour is no longer a worry with the Regulus Expedition.
Interface
The Expedition also features a user-friendly interface that makes it easy to adjust settings and access the various modes. The display is well-designed, with clear digits for timekeeping and alerts. Words are equally easy to read and understand.
While there aren't any touchscreen functions, operating the piece is just as easy and straightforward. On either side of the face are two buttons, each with its own function.
On the left side, you can activate the three-second backlight function or alternate the modes. And on the right side, there's a button for up and a button for down. These are what enable you to cycle through the menus, making adjustments as needed.
Overall, I'm confident in saying that the Nixon Regulus Expedition watch is a great choice for those who need a reliable and durable timepiece for their outdoor adventures. The combination of features, durability, and battery life makes this one of the best watches on the market—one that you can rely on for years to come.
So if you're looking for a rugged timepiece that will stand up to any elements, then the Regulus Expedition is definitely worth considering. Its features make it an ideal companion for anyone who loves the outdoors—and it looks tough, too.
How's It Feel?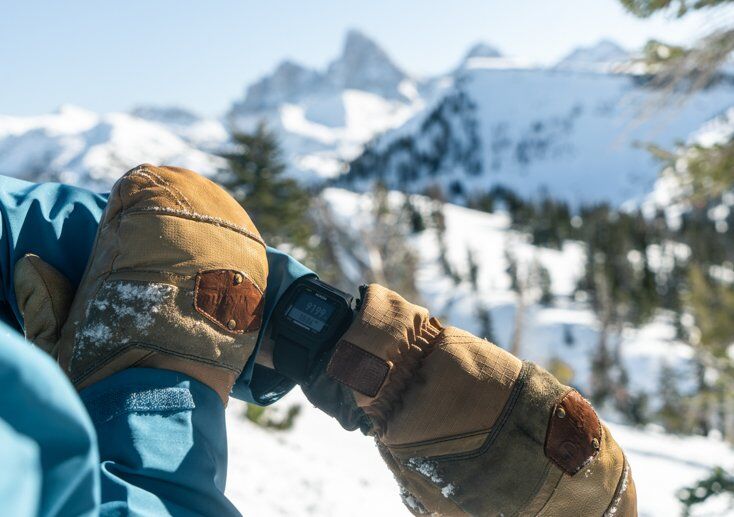 The Nixon Regulus Expedition Watch is light and comfortable, weighing just a few ounces. The face of the unit is made of sturdy stainless steel that feels nice on the skin. And the textured silicone band gives it added comfort and grip, so you won't have to worry about it slipping off your wrist during any outdoor activity.
It also doesn't have the common problem that many other watches have—pinching your skin and pulling arm hair. The design is elegant, with the straps and bezel fitting together seamlessly. All of these things lend the watch to being such a comfort to wear.
The watch sits well on the wrist and doesn't feel bulky or heavy. It has a modern look that pairs well with any outdoor gear, if you're worried about that sort of thing. And the smooth bezel gives it an extra touch of style and ruggedness.
Overall, I think Nixon did an excellent job designing this watch. It looks great and feels even better. It's the perfect timepiece for anyone who needs a reliable companion for their next outdoor adventure.
When to Use It?
Maybe the question should be "When not to use it." The Nixon Regulus Expedition watch is a great choice for any outdoor activity, from camping and hiking to snowboarding and skiing—it's an ideal watch made for the adventurous.
It's also a great everyday watch for the office, the gym, or a night out. The Regulus Expedition is designed to be your daily companion, and its features will help you make it through any expedition you embark on.
Snowboarding
Given the Expedition's 100M/10ATM rating, it's no surprise that this watch is ideal for snowboarding trips. Thanks to the straps and locking looper, you won't have to worry about the watch slipping off your wrist while you're hitting the slopes. And the rugged casing will keep your timepiece safe from any bumps or drops as you ski down the mountain.
Camping
The Regulus Expedition is also perfect for camping trips. Since the battery will last up to two years, you don't have to worry about it dying during your outing. The light and comfortable design won't get in the way or weigh you down as you're hiking or setting up camp, making it ideal for outdoor activities.
Hunting
If you're a hunter, then the Nixon Regulus Expedition watch is a great choice for your next outing. The rugged design and 100M/10ATM rating make it an ideal companion in any environment, while its light weight won't get in your way as you stalk game.
Plus, the three-second backlight activation allows you to quickly check the time without disrupting your concentration.
Overall, the Nixon Regulus Expedition watch is an excellent choice for any outdoor activity or everyday use. Whether you're fishing or going for a run, this watch has the features and durability to keep you on time and prepared for anything.
Overall Impression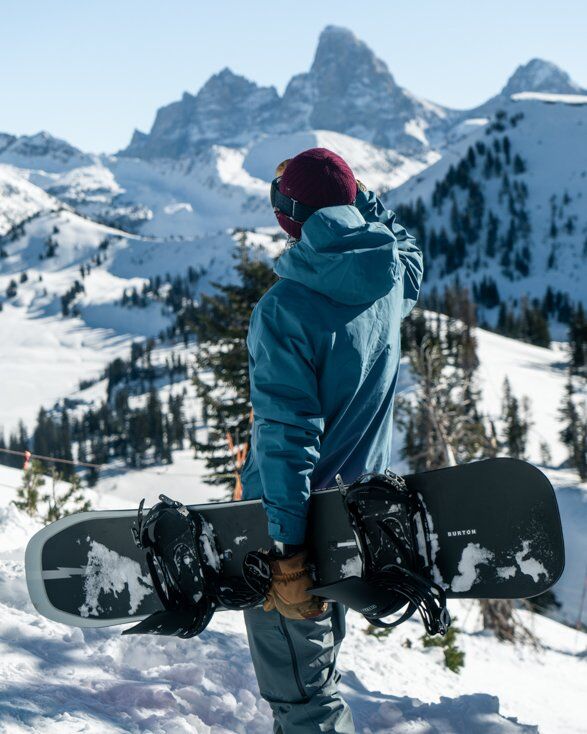 The Nixon Regulus Expedition Watch ($250.00) really is the perfect addition to your outdoor gear. With its durable casing and tough, useful features, it can handle anything the outdoors throws at you. Whether you love the outdoors or just need a reliable timekeeper, the Nixon Regulus Expedition Watch is an excellent choice.
Related Articles: