The 71 liter North Face Base Camp Duffel medium is my go to bag for airline travel and for organizing sport specific gear while vanlifing. The Base Camp duffel is compact enough that I have never gotten hassled about using it as carry on luggage, but big enough to carry everything I need for a two week trip.
Overheard at the airport:

"Hey bro, are you flying out to meet Jimmy and Tommy for some obscure 1st ascent?"

'Nope. Just headed home for the holiday to see my folks and catch up with the crew from high school. Why do you ask?

"That bag bro. It screams serious business."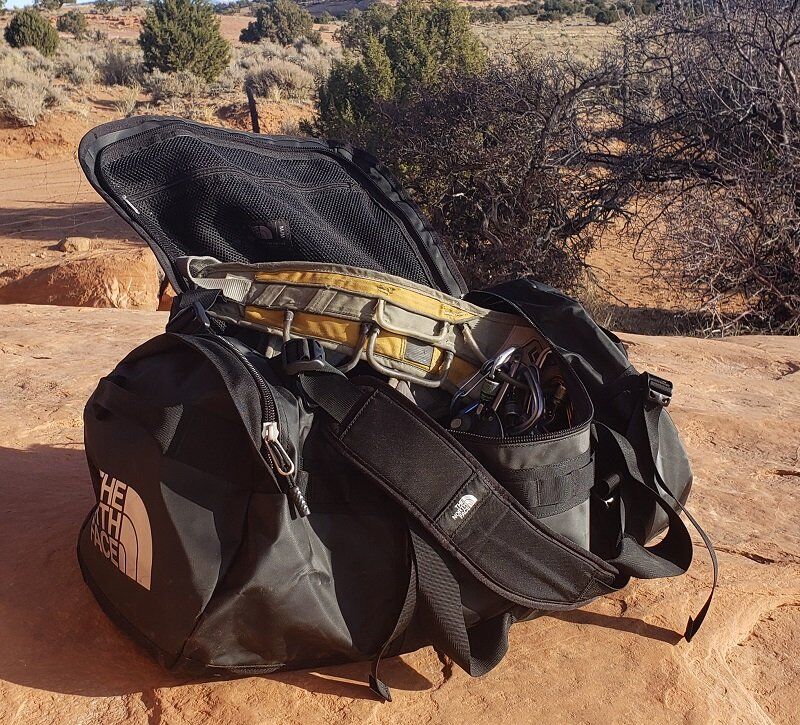 While vanlifing I have found these North Face Duffels useful for keeping my gear organized. I use one to store all my climbing gear and one to store all my mountain bike gear. The big U shaped zipper makes it easy to load up and to dig through while searching for that missing glove or loose caribiner. The side pocket is great for storing shoes or wet items separately, and the low profile zippered pocket built into the top is great for keeping small items like headlamps and cell phones handy.
The North Face Base Camp Duffel Backpack
The shoulder straps are easy to attach and make The North Face Base Camp Duffel surprisingly comfortable to carry as a backpack. Four compression straps on the sides help assure a secure load when approaching the crag with a lighter load. I wouldn't want to summit peaks or do serious backpacking with it but it would work for those purposes in a pinch.
The Base Camp duffle is made of a durable, waterproof material and the heavy duty zippers are shielded with a flap of the same material making the total package pretty darn water resistant. I think the North Face Base Camp is more durable and water resistant than the similar Black Hole duffels made by Patagonia, and the NF option is slightly more affordable as well.
If I had one complaint its that the zippers can be a little stubborn when the bag is brand new. I guess that's too he expected from a durable rubber bag with a heavy duty zipper.
The North Face Base Camp Duffel Sizes
The North Face Base Camp Duffel size is available in a 6 sizes and a variety of colors depending on what your adventure needs are.
Overall Impression
All in all it's a great duffel bag, and I think its durability, functionality as a back pack, stylishness' and water resistance make it well worth the price. As an added bonus the zippered mesh bag that The North Face Base Camp Duffel ($139.99) comes in is a perfect socks and underwear tote as well. It will serve you well whether you're striving to keep your vehicle organized, flying home to see your folks, or headed out on a truly epic adventure.
Related Articles: