When Patagonia came up with their Black Hole duffel, it was like they knew I was going to head back to my gypsy ways. When my house burnt down, I found myself living out of a bag, going back and forth between living with the parents and living in friends' houses and when that happened, the Patagonia Black Hole 55L Duffel became my favorite bit of gear.
It's efficient; it's tough; it's beautiful; it's versatile; in a word, it's Patagonia.
Patagonia Black Hole Duffel Sizing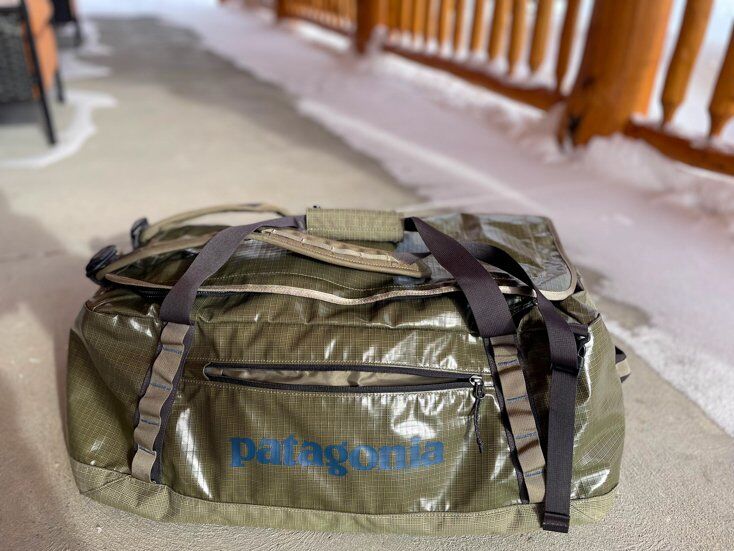 This Black Hole Duffel is 55L, but it's also available in a backpack-sized 40L, a 70L and a luggage-worthy 100L. Which makes it the perfect bag for anything you need. But its build is what sets the Black Hole apart.
Let's start with the 100% recycled polyester ripstop TPU-film laminate, making it look and feel sturdier than any other baggage you'll see on the plane, or the road. Plus it has daisy chains sewn into the side, making it not only stronger but also giving you extra options for latching gear on. The main compartment is huge with a full opening to load in every inch of the bag.
The top has a zippered mesh pocket to organize your snacks, your underwear, or your toiletries. Then there's the side pocket. It can be accessed from the outside or from the inside, but if you undo both zippers you can actually reach the inside stuff from the side.
The padded base is extra burly so you can put it on snow, concrete, wood, drag it along floors and drop it hard on wood. Nothing will scratch. Then there are the straps. Sure, it's a standard duffel with those hand carry straps but where Patagonia again shows there smarts is in the straps that allow you to turn it into a backpack.
All of which I've noticed in my current gypsy lifestyle.
Gear Hauler
My friend has a reputation for being an international man of mystery; his love life is more James Bond than ski bum, yet he's been known to ski bum with the best of them (and he still dates beautiful women from all over the world). And his whole luggage collection is Patagonia Black Hole duffels.
I love the Patagonia Black Hole Duffel Bag. It's beautiful. When I load my gear in, I feel secure and I feel like my gear's protected.
On top of the fact that I'm currently between homes, as it were, I broke my ankle this winter. So carrying bags the normal way is tough. Which is why being able to turn this duffel into a backpack is huge.
I've worn it more than I've lifted it. I've carried it on my back every time I've left my parents' house for some space. Though I've also lifted it, and carried it and thrown it around and it still looks completely new. My friend's bags also always look new. It's the beauty of Patagonia's Black Hole Duffels – they always look new.
Overall Impression
Patagonia's Black Hole 55L Duffel ($169.99) is the bag for adventure. If a person wants to live a life of adventure, Patagonia's Black Hole Duffel is made for that. There's some next-level durability, some indelible style, and ample storage options. This is a bag for the international adventurer, especially one who loves the mountains. And steeze. If you love outdoor exploration, you can't do better than the Patagonia Black Hole. A collapsing star makes for one of the last unknowns.
Related Articles: