Uncharted Supply Co. is a company that produces high-quality survival gear, and the Seventy2 Pro Survival Backpack is one of their most popular products. This backpack is designed to help you survive in any situation, whether you're lost in the wilderness or caught in an urban disaster.
The Uncharted Supply Co. Seventy2 Pro Survival System is packed with features that will help you survive in any situation. It comes with things like a water filtration system, a crank charger radio, a first aid kit, and even emergency blankets. The backpack also has a lot of compartments and pockets, so you can easily organize your gear.
Is this the ultimate survival backpack for your needs? Let's find out.
Survival Meets Style
The first thing you'll notice about the Seventy2 Pro Survival Backpack is that it looks good. It's available in four colors: black, olive, orange, and red. The backpack is made from high-quality materials to withstand plenty of abuse.
The overall aesthetics of this pack are right on the money. It looks modern and stylish while still having an aggressive and rugged feel. Other survival backpacks I've used ended up becoming a mess by the end of my testing. But the Seventy2 Pro is designed for optimal organization.
Uncharted Supply Co went out of its way to ensure that everything is nestled neatly where it belongs, making it easy for the user to access what they need without unnecessary hassle. At no point did I feel like I was wrestling with my gear—precisely what every adventurer wants in a survival backpack.
It's clear that this backpack was designed as a labor of love and respect for survival scenarios. And in looking into the Seventy2 Pro's backstory, that's precisely what this pack is.
Rather than bet on traditional construction, Uncharted Supply Co worked with world-class designers to produce a professional-grade backpack that's loaded with the highest-quality tools and materials. The end product speaks for itself, as it delivers an expert-level experience for even the harshest conditions.
The Seventy2 Pro Survival Backpack has a lot of features that make it stand out from other packs on the market. It not only looks the part but is also chock-full of useful compartments and pockets.
Dry Bag Backpack
The main compartment is a cavernous dry bag, measuring 20" x 13" x 8". This gives you plenty of room to store all the essential survival gear you might need in an emergency situation. And because Uncharted Supply Co includes so many useful items, you get an excellent starting point for building your own customized survival pack.
That's because the backpack is packed with features. The water filtration system is top-notch, and the fire-starting kit will help you get a fire going in no time. The pack also has a built-in rain cover and an integrated hydration bladder sleeve.
If you can think of a survival scenario, the Seventy2 Pro Survival Backpack has you covered. It's an excellent choice for both novice and experienced survivalists. And to ensure you're prepared for any situation, Uncharted Supply Co includes everything from protection to food.
The Datrex rations provide a boost of calories to give you the sustenance and energy needed to keep on trekking. And the 48-ounce metal water bottle provides ample hydration when you need it most.
The Ultimate in Comfort and Durability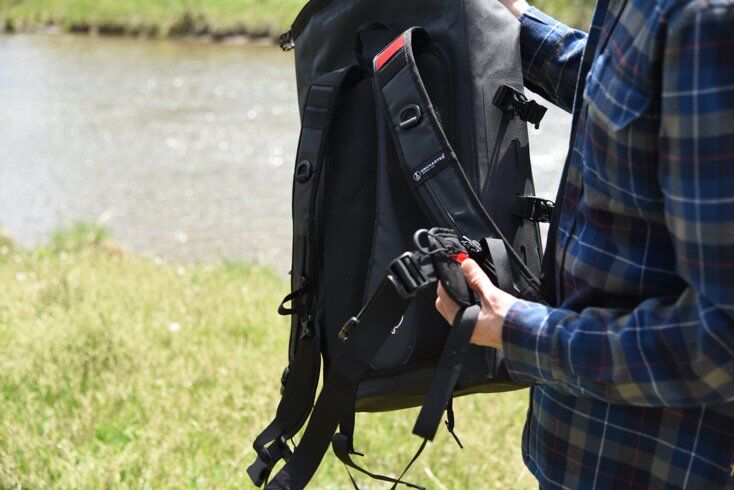 Oftentimes, a comfortable backpack equates to substandard materials that aren't made to stand the test of time. Conversely, durable backpacks are often stiff and uncomfortable. Uncharted Supply Co found the perfect balance of comfort and durability with the Seventy2 Pro. It's made with water-resistant 600D tarpaulin, has a cushioned back panel, and comes with a removable rainfly.
The Seventy2 Pro also features comfortable, adjustable straps and an internal frame that provides structure and support without adding unnecessary bulk. This is the kind of backpack you'll want to take on your next big adventure—or any adventure, for that matter.
Accessibility is another key selling point, which I was surprised to see in a backpack this durable. Every item is easy to get to without compromising comfort. The clever fold-out design gives you an overview of what's inside. And all the included items are neatly "filed" into compartments, each of which is labeled, so you know exactly where everything is.
Survival Gear
If you find yourself in a survival situation, the Seventy2 Pro has you covered with its comprehensive survival kit.
I really appreciate the addition of the built-in survival guide, too. You get handy instructions printed right onto the pack, so it's ever-present in the event that you find yourself in need of guidance and direction.
Suppose you get your clothes wet while crossing a river. No problem—the Seventy2 Pro has direct instructions that tell you how to dry your clothing. Need to start a fire in a pinch? It's all right there on the backpack to walk you through the process.
You'll learn how to make a shelter, administer first aid for various situations, what to eat and how much, and more. It's the kind of instructions you probably already know but could easily forget in a high-stress situation.
It's nice to know that these survival tips are always with you, as it lends some additional peace of mind when you're far from home.
The Seventy2 Pro is also great for everyday use, with plenty of compartments and organizational pockets to keep your belongings tidy and accessible. I really like the side water bottle pocket, which makes it easy to grab a drink without having to take off the pack.
If all of this sounds great, it gets better. Uncharted Supply Co designed the Seventy2 Pro to accommodate two people. There are two sets of insulated waterproof gloves, two ballistic goggles, two chem lights, two 1200-calorie survival bars, two air filtration masks, and more. Even the included survival tent fits two people.
Overall Impression
I like survival backpacks to make me feel safer when I am out and about in the wilderness, and the Uncharted Supply co. Seventy2 Pro ($589.99) does that for me. It has a lot of features that I like, such as the comfortable straps, the water-resistant materials, and the fact that it is big enough to accommodate two people.
If I have one concern, it would be the limited rations. There's only enough here for one survival scenario. But I suppose the idea is for you to pack the food you'll think you need when planning outdoor adventures.
Aside from that, this is a pack that everyone should have in their vehicle at all times. Once you know it's there and the protective/preventive features it provides, you'll wonder why you ever went without it.
Related Articles: