PARKIT has gone out and made the coolest beach chair imaginable. Now typically the word cool and foldable beach chairs were never in the same sentence, that is until the PARKIT Voyager Chair hit the market.
The Voyager Chair Simplicity
There's something about PARKIT chairs that instantly takes me back to the 1980's watching precision marching lawn chair brigades during holiday parades. You know where the guys would open and close folding lawn chairs in unison. Now thanks to PARKIT for bringing back a legend, a staple in the camp accessories category, a foldable beach chair.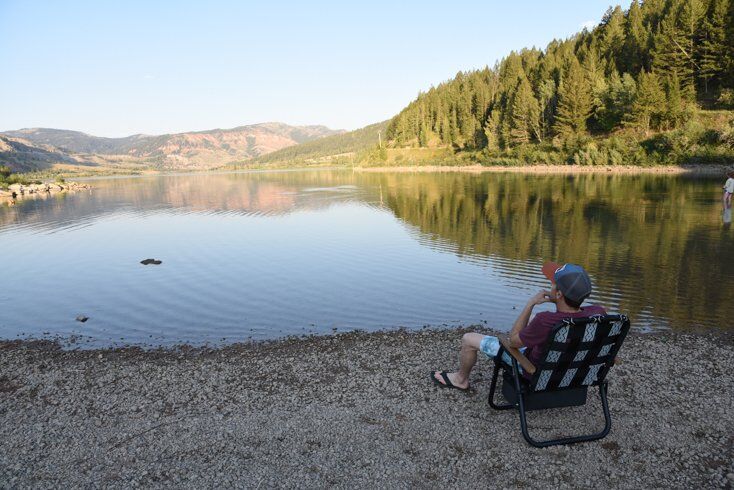 Upon first look it's apparent this isn't your normal lawn chair. The PARKIT Voyage Chair is built with a woven polyester backing which really allows your body to sink comfortably into the chair. And it can withstand up to 350 lbs.
Weight
The PARKIT Voyage Chair and Cooler weigh in at 12 lbs. total. This lightweight chair is easy to move around thanks to it's aluminum rust free frame. Everyone in your family will be able to enjoy this chair for years to come. Pro tip: Buy multiple chairs as anyone sitting in a non PARKIT chair will be bummed.
Height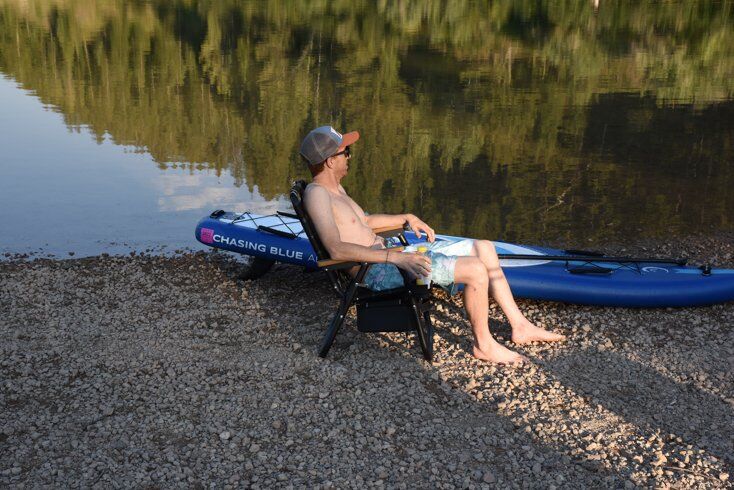 PARKIT built the Voyager Chair to sit 16″ off the ground, which the brand has found to be the sweet spot for lounging, it's like the 3 little bears. These chairs don't sit to low, and they don't sit too high. This is one of the reasons your entire family will enjoy the 16″ height off the ground.
The PARKIT Voyager chairs are really easy to get in and out of. You won't have to work hard to sit down and you can even go from sitting to standing without having to use your arms. Which is great for anyone with stuff in the hands, think a baby, cell phone or beer.
Chair Color's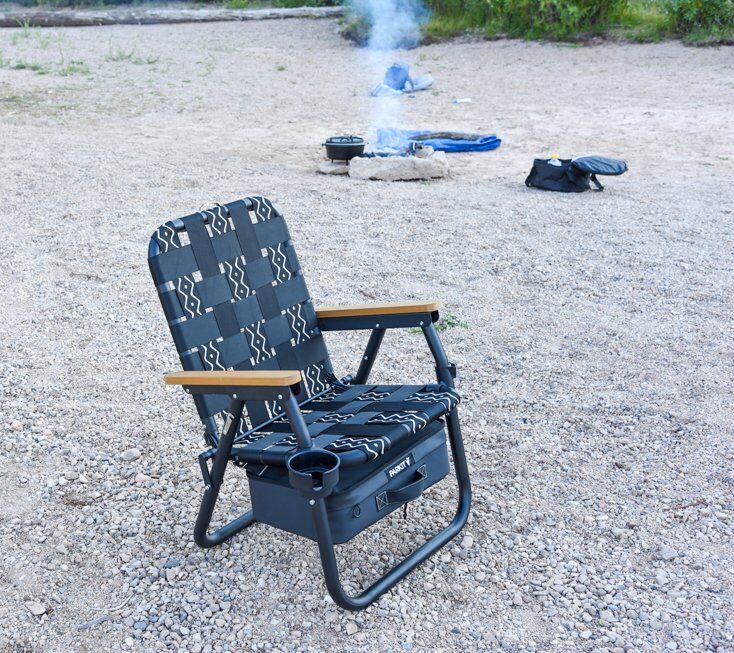 PARKIT'S Voyager Chair is available in 5 unique colorways. The chair I tested was the color Slate which offered a nice checkered black and white pattern. Also available are the Classic Blue which has a very inviting look to it, along with Calico, Tropic and Glacier. If you want to have fun and like colors and patterns while outdoors, these chairs are a must have.
Drinking & Cooling
The PARKIT Voyager Chair comes with a removable interchangeable cup holder that easily slides onto either side of the chair to hold your favorite camp beverage. What's cool about the cup holder is it has a few different depths, so you can hold a can of beer just as secure as your full size Nalgene.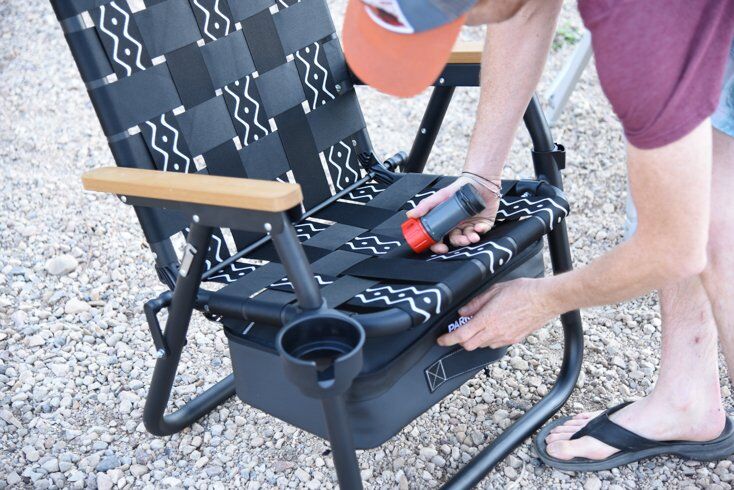 Under the chair PARKIT has a built in cooler that can keep beverages cold for up to 8 hours. We actually used the cooler more often to store small gear like keys and cell phones while out paddle boarding as there are 2 zippered pockets under the cooler.
Overall Impression
This classic yet simple and elegant design for a beach chair is tried and true. We love seeing folding beach chairs come back and even more so with the look and feel that PARKIT Voyager Chair ($224.99) offers. PARKIT knows that these chairs will be popular, especially within your own group so they are offering a deal when buying more than 1 chair. CODE: VOYAGER-COMBO which gets you 25% off a second chair.
One thing to note is the beach chair does take up more space when folded up for storage vs chairs that come in bags. So you'll want to be mindful of that when packing your gear.
Related Articles: