There's a new trend in the food industry and one specifically geared towards peoples like you and I that appreciate fresh, healthy and delicious foods. Enter Patagonia Provisions.
By now you should be aware that Patagonia's selling food under the Patagonia Provisions umbrella. However, how does Patagonia food compare to their legendary outwear? And more importantly will Provisions be able to stay in line with Patagonia's message about saving the outdoors and our planet?
Patagonia Provisions Salmon Review
Call me a salmon snob, especially for my favorite, Copper River Salmon that's served seasonally in restaurants up and down the west coast in the early summer months. When salmon is in season and it's fresh, the taste is incredible. That being said when salmon is not fresh, its a smell and taste quickly become unpalatable.
So when I found out Patagonia was going to be selling salmon I was excited and very skeptical at the same time. Especially knowing the fish would not be frozen? And had a shelf life of 5 years?
Well I'm pleased to say Patagonia absolutely nailed the taste and flavor of wild fresh caught salmon. The Provisions line is actually selling a few different types of salmon including: wild pink salmon, wild sockeye salmon and a tasty lemon peppered wild sockeye.
So how does Patagonia do it?
Our wild pink salmon is harvested from abundant, sustainable runs off Lummi Island, Washington, using reef-nets, an ancient selective-harvest technique. Our sourcing on Lummi is a collaboration between Provisions, Lummi Island Wild, and the Wild Fish Conservancy.
Salmon in a Pouch? Water about the fish smell?
This salmon is caught and packaged at the source which means you can actually open up the pouch, put your salmon on a plate and serve. without even heating it up or seasoning the salmon. (as shown in the photo above)
It's perfect right out of the box, or in this case, the pouch.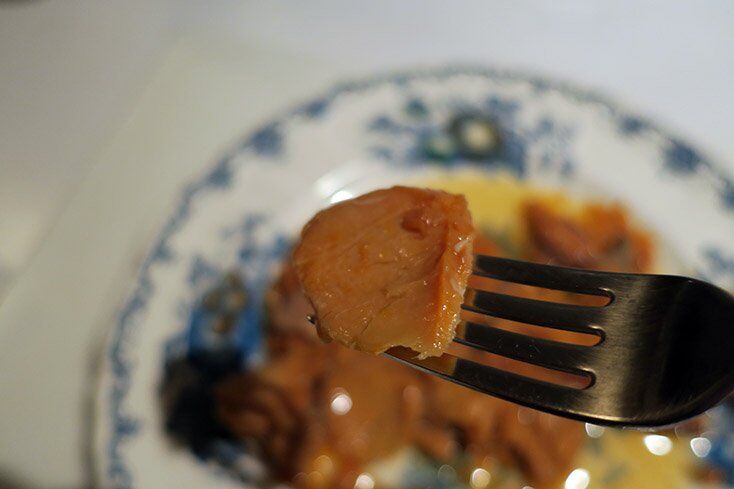 Salmon pouched are available starting at $12.00, my personal favorite is the WILD LUMMI ISLAND PINK SALMON, BLACK PEPPER (6 POUCHES) for $35.00.
Patagonia Provisions is also making soups, snack bars, along with gift boxes and surely more delicious, socially and environmentally conscious foods.
Are you passionate about the outdoors? Then you should also be passionate about your food. Did you know that your diet directly impacts the climate? The rain? The snow? The ecosystems. Currently, the planet around you can be considered "in crisis" as modern technology bleeds into the food industry leaving our food supply nearly unrecognizable as food!
The groundwater is poisoned, the air is polluted, there are toxic chemicals in almost every product you can buy off the shelves, the livestock is loaded with antibiotics, and fossil fuel is almost a thing of the past… the list goes on.
Do you believe that sustainably grown, harvested and transported food can help restore our land, water and wildlife? Patagonia does. The clothing/outdoor gear company founded by Yvon Chouinard – rock climber, falconer, surfer, and otherwise outdoorsman, released a new film called Unbroken Ground. From Patagonia Provisions, directed by Chris Mallow, the full-length film explores how responsible agriculture can help turn back the clock on climate change.
4 ways to approach the environmental crisis through food:
1. Regenerative Farming. How building back topsoil is one of the most important tasks in agriculture. And how to do it.
2. Regenerative Grazing. Utilizing different sources of meat, for example buffalo as it promotes diversity on grazing lands. And reduces harm to soil degradation.
3. Diversified Crop Development. Supports local farmers in order to maintain seed diversity and reduce the reliance on pesticides.
4. Restorative Fishing. A catch & release style that returns threatened species of fish back into the water unharmed. Includes handling of fish by individual employees to also honor our spiritual connection to such a valued food source.
Join Patagonia in their mission to maintain diverse wildlife, plant life and our oceans through making the right, sustainable choices. It matters now, more than ever, HOW we do things.