There's something primal in fire, life-affirming, intense, powerful; it's why Pit Command's Commander is a necessary tool for not just your backyard bonfires but for your very humanity. We're talking a medieval-looking, axe/hook/spike mini halberd supertool thing for controlling the raging conflagrations in your fire pit.
There are a lot of pieces of outdoor gear that I find super useful. The Pit Command COMMANDER is not only useful, it's damn cool.
Carbon
The Pit Commander looks at first glance like a combo ice axe, wood axe, and stabbing weapon. The carbon steel construction ensures it's light but tough, and that the fire won't melt it or heat it too much. Though there's also the custom molded grips for easy handling so you don't burn your palms, (I'd still probably use gloves).
Weight
At less than 2.5 pounds, you can swing it around like a Viking MC hosting a bonfire comedy hour. And at almost 3 feet in length, you're sure to keep far away enough from even the most epic bonfires that your eyebrows don't burn off.
Commanding the Pit
I love bonfires. Nothing bring together humanity of all lifestyles and from all places like a big, outdoor fire. Pit Command, though, knows the difference between a night to remember and a night quickly forgotten is a well-managed fire pit. I took the Pit COMMANDER out for our Winter Solstice party, a night where the temps quickly dropped from 10 around 3PM to -10 by 11PM. It was not only important to make a big fire but also tom keep it going long and strong. As temps dropped far below freezing. A perfect test for my commander.
"That's not a fire tool, it's a poleaxe," the kid told me.
"Actually it's more like a halberd, though there's a lot of crossover between the two" I corrected him. "But this is much thinner." That didn't stop me from splitting small pieces of wood with the axe. The fluke on the back proved super handy for grabbing wood in the crook and rearranging it; it also worked damn well to spike into a piece of wood and move it around. Same with the spike on the top.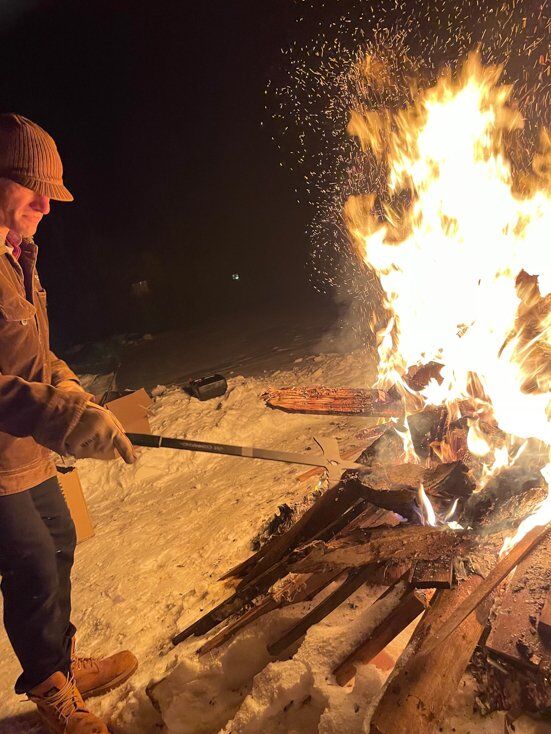 We started the fire around 6 and it was going on well into midnight. Some of the pieces burnt easily; others had to be re-shifted. I had large logs, some which used to be log siding for my house, which had to burn in the middle before they could be rearranged to not overlap the edges. All night long I was playing with my axe like a fire-worshiping outdoorsman, ever happy keeping the party going, answering the regular compliments on the Pit Command COMMANDER with a smile and a brandishing of the sharp parts.
Overall Impression
Pit Command COMMANDER: For the Viking Fire MC. Hosting a backyard bonfire is a big, noble responsibility, and needs to be taken seriously. With the Pit Commander, you'll feel like a great Nordic chieftain, using sharp metal to tame fire.
It's just as useful as it is elegant, just as elegant as it is badass, just as badass as it is rugged. If big outdoor fires with friends and family is a part of your life, you need the Pit Command COMMANDER ($149.99).
Related Articles: