The team at Readywise obviously knows how it is to survive in the backcountry. Weight is king. And their meals are made so you don't have to bring plates and bowls to eat from. All you need is a stove and something to boil water in and bam, you have a ridiculously good backcountry meal you eat right out of the bag. And it's easy enough to use even my 7-year-old could figure it out.
Readywise Flavors
Readywise is a food company that specializes in food kits. They make home food supply kits so that you can build up your stockpile for whatever the next emergency or pandemic or whatever. But their backcountry, or "Adventure" meals are really the bomb. From Old Country Pasta Alfredo with Chicken to Backcountry Wild Rice Risotto to Still Lake Lasagna with Sausage to simple Golden Fields Mac and Cheese, you got dinner covered. There's breakfast (e.g. Sunrise Strawberry Granola Crunch), desserts (e.g. Trail Treats Mango Sticky Rice),  and even special things like vegan or gluten-free (Treeline Teriyaki Chicken & Rice). They all taste better than any also-rand freeze-dried meal and definitely better than that bag of rice I usually carry).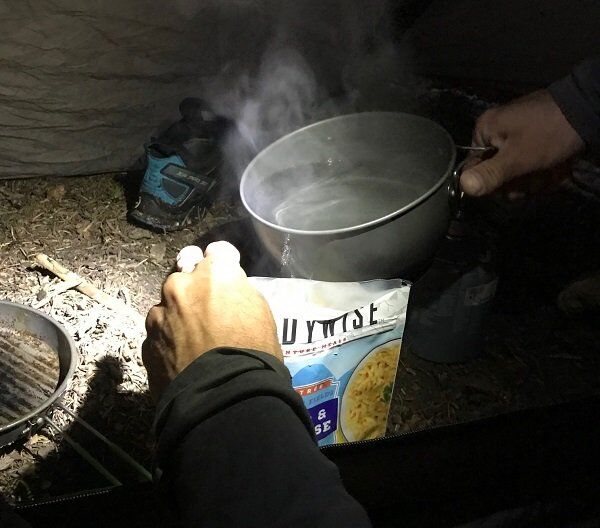 Readywise Backpacking
I took my son up for a late September backpack. After running up the mountain and into a cave, we just barely got our tent set up before the grapple-into-snow storm started. I heated up water inn the vestibule of our tent and poured it into our packets. The directions then are simple: close the bag, shake it up good (make sure the bag is closed), then leave it to "cook" in the boiling water. This was clutch since we had to do all our cooking and eating in the tent as the storm raged on outside. I had the wild rice risotto, he had the mac and cheese. It was one of our better backcountry meals and had definitely been our lightest to carry up. We opened them up, dug in, and laughed at the storm slamming the world outside the safe confines of our tent. In the morning, we had the strawberry granola crunch. Well-fed and happy, we started back out in the thin layer of snow blanketing the world around us.
Overall Impression
Readywise lets you skimp on weight with their fully self-contained meals. No plates or bowls necessary, no mess, easy cook and cleanup. With enough delicious options to satisfy every palate and 3-step-prep, Readywise is an essential companion on your next big backcountry trip. Checkout the Readywise Mango Stick Rice 6 Pack ($45.99)
Related Articles: