Sushi is a delicious dead fish. And delicious dead fish float deliciously. So it makes sense that the Rossignol Sushi Splitboard, their newest pow split is a flotation master, starving for deep, fluffy white stuff to roar through. This may not be the most versatile split in your quiver — but when the conditions are right, Rossi's 145cm wonder is the one most likely to make you feel like you're flying.
Fish Style Design
This is Xavier de le Rue's brainchild and that brings some serious pedigree to the table. At first, I thought "Xavier the big mountain conqueror straightlining rowdy steep hardpack lines, then charging back up the skintrack at superhuman speed." That is not this board. For one, skinning with the Sushi is unlike skinning with any other board I've ridden.
The Rossignol Sushi Shape is based on the super floaty fish design that took over the surf world (and subsequently started the pow board revolution) decades ago so the nose is SUPER fat.
How Does it Skin?
That means that when skinning, your tips will be slamming into each other if you're following in a skin track. And breaking trail is an exercise and a half, again due to the fact that each split ski is about the same size as the width of a touring ski pair in total so you're having to displace a lot of snow with each step. Rossignol makes custom POMOCA splitboard skins for Rossignol Sushi Split.
At the same time, the super short tail means your heel digs in while your fat nose is popped up. Long story short, it'll take some getting used to. I wouldn't recommend it for big, steep tours or long (8 hours+) days. But for your pow hot laps when you're not looking for high-danger super-committing tours, it's the split most likely to spread that shred-smile across your face.
Splitboard Float
Like most of my generation, I got into snowboarding from surfing. I wanted to recreate on snow that sensation I got on the waves. So ask me how the Sushi flies through a white alpine ocean. Ask me about laying in a deep carve, sending an ivory barrel over my head. Ask me about that mini-spine I hit at full speed, snapping a super-aggressive off-the-lip completely behind me before straightening out for the tight shot down between rocky spine and trees.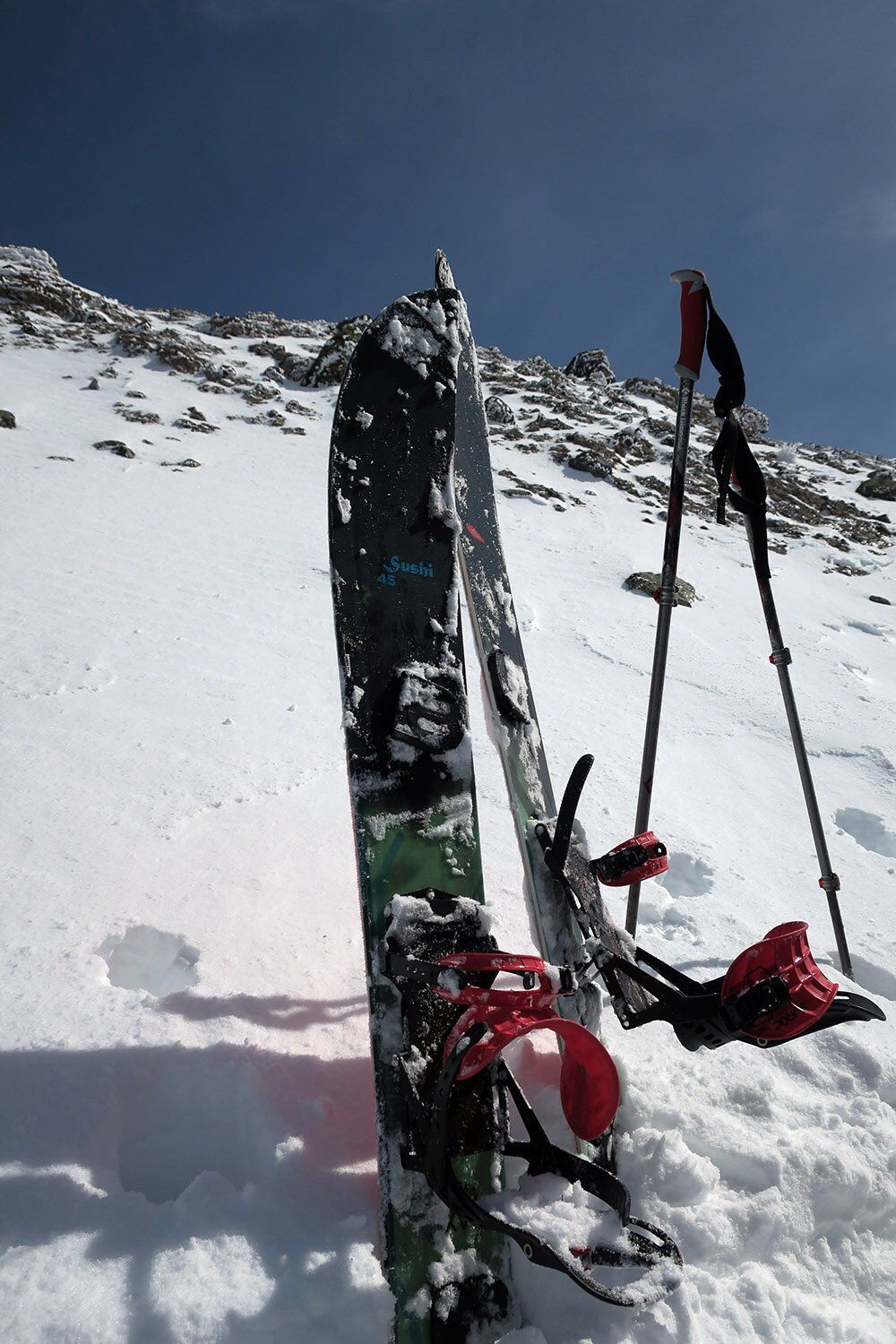 But also ask me about how the XV Magtek held edge and speed on the hardpack. Ask me about how the cambered bottom made this a pow board that still turns, that doesn't crap out like other rockered soft-specific planks.
Sure, I had some questions about stompability considering the practically-non-existent tail (certainly wouldn't want to land flat on questionable snow because shock absorption here will be minimal). And when the snow went from fluffy continental pow to sticky sierra cement halfway down our first gully, the fat nose stopped like a bug on flypaper and I scorpioned.
But at 145 cm, this board is almost a foot shorter than my current pow board so for it to even function was an eye-opener, much less for it to rip like it does. And when opening it up on the deep and fluffy, I was transported to snowsurf Valhalla.
Overall Impression
Right now in the Tetons, the snow down low is melting at tear-inducing speed. But up high, and especially on north-northwest facing aspects it's still winter; still deep and delicious. It's the time of year when you need to swim upstream to find the stashes. The gonzo taper and short tail make a statement that this won't be your board for that rowdy split-mountaineer objective. But when you need a vehicle to get you to the sacred shred grounds and enjoy the tasty fruits of that labor, the Sushi split is that board. And I've heard the thing can even trench groomers if you're into that thing.
For me, the Rossi Sushi Split ($549.95) is the only choice for days of snorkel-deep bliss. Because obviously, even mountaineers like Xavi need the bottomless to get right with their souls.
The sushi split even made our list of the best splitboards of the year.
Related Articles: