On a last minute late summer camping trip to Utah's High Uinta Wilderness, I tested out the Salewa Mountain Trainer Lite Mid GORE-TEX hiking boot on a few hiking trails. When I first slid the boot on I could instantly get a sense of the type of ankle support this boot would provide while hiking in the rocky trails of the Uintas.
After 3 trails here are my takeaways on the Salewa hiking boot.
Ankle Support
As I moved along the trails I could notice the stability and support around my ankles that the 3F System, which connects the instep, sole and heel in the Mountain Trainer Lite Mid, was providing. The difference I found in this mid-cut boot was the flexibility in the 3F ankle flex collar. The collar allows for more range of motion while still providing the support needed to ensure a stable ankle while stepping on the wide range of rocks along the trail.
The added range of motion definitely makes this Salewa Hiking Boot stand out amongst other hiking boots I have worn that restrict movement of the ankle.
Added Rubber
After several miles on the trails I found myself more than thankful for the added rubber toe cap. The amount of times I was thanking Salewa for adding this feature was way too many to remember. This along with the POMOCA S Path outsoles and deep lugged treads allowed for a confident step each and every time I hit the trail.
Once reaching destination #1 I loosened the extra precision climbing laced long round laces as I felt that my wide feet were a bit too snug and warm after 6 miles. While the Mountain Trainer Lite Mid is a lightweight 3-season alpine hiking boot I found it to be a bit too warm for these late summer Utah hikes and could see myself using these for a snow packed terrain.
Being late summer the trails and streams were severely dry so I didn't have the opportunity to test out the GORE-TEX Extended Comfort Lining, but I was impressed with how flexible the boots still were over the stiffness I have experienced with other GORE-TEX included hiking boots.
Sizing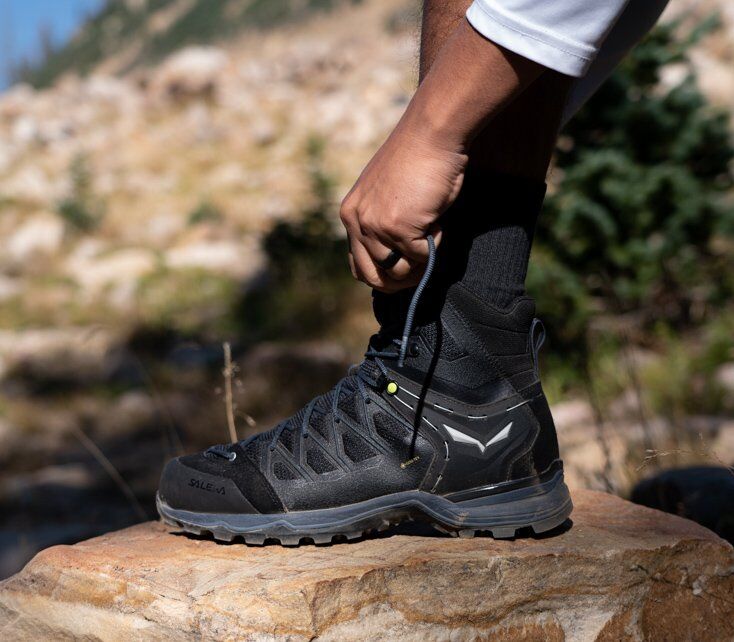 Since I have wide feet I felt the Salewa Mountain Trainer Lite Mid were a bit on the narrow side for my feet. I would also recommend wearing thinner socks or going a at least a half size bigger as I found myself wanting a bit of extra room with a thinner hiking sock.
The boot size issue could play a factor into having to loosen the laces as well, but the laces could also use some extra length to ensure a comfortable and breathable fit all around without having to worry about untied laces. The 3F System ankle support and flexibility in these boots definitely are a big design plus and makes these boots stand out amongst others.
Overall Impression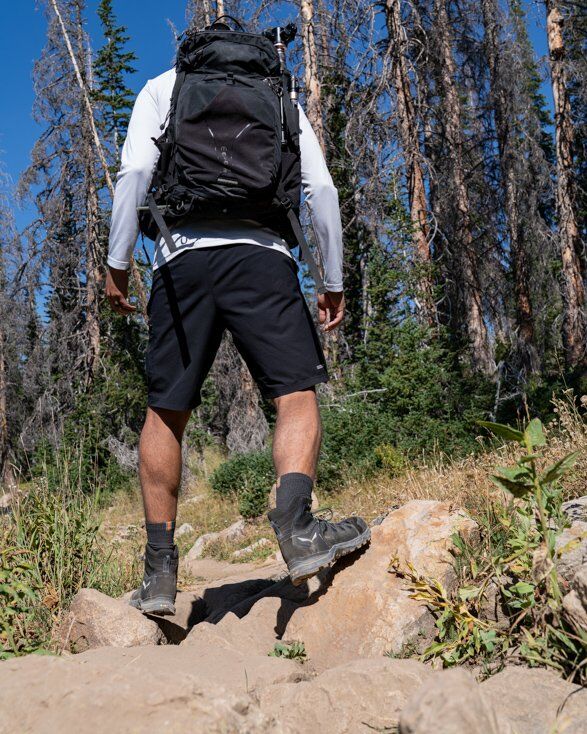 For those of you who have narrow and high arch feet the Salewa Mountain Trainer Lite Mid Boots ($199.99) would be great for you. I would also recommend this boot for anyone who is looking for a boot with ankle and heel support and stability without losing the range of motion in your ankle.
The Salewa Mountain Trainer Lite Mid hiking boot may not be a great fit for anyone with wide feet, but can be an excellent choice for anyone with narrow feet or anyone looking to transition away from high to mid-top boots into low top hiking shoes while strengthening up their ankles.
Related Articles: