The North Face Breithorn 50/50 Hoodie is an ultralight, high performance, insulating down layer that also provides exceptional ventilation due to its unique design. Unlike most other down layers The North Face Breithorn has 50/50 ProDown: throughout the hoodie, horizontal baffles of 800 fill down alternate with sections of thin, breathable material.
It's half puffy coat, half technical, ripstop t-shirt and all good as a versatile component of your cold weather layering system for high intensity activities.
Baffle Distribution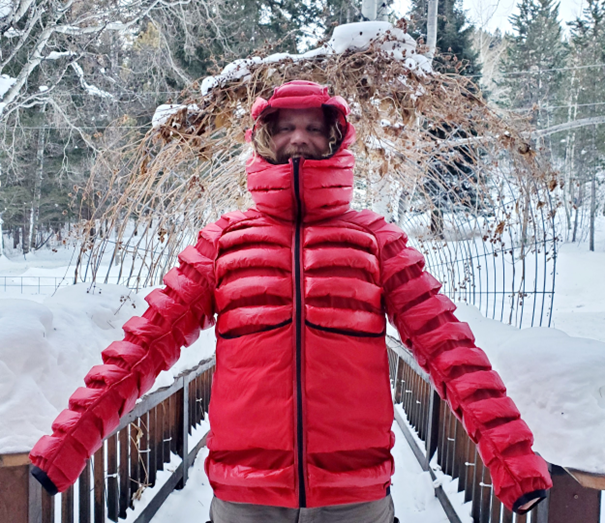 This photo of what it looks like when worn inside out is probably the best way to show you the unique construction of this down hoodie from The North Face's top of the line Summit Series. The whole hoodie is made out of ripstop fabric, but only half of it has down baffles. You'll also notice the two large interior mesh pockets that are great for storing goggles, gloves, skins and anything else you want to keep warm and dry.
At first I was skeptical, but now I see the utility and versatility of this unique hoodie for backcountry skiing, snowmobiling, XC skiing, snow removal, mountaineering, and all other sweat generating cold weather activities. I have been experimenting with it in the mountains of Wyoming amidst a wide assortment of wintery conditions along with a variety of other layering system components.
For example, on a recent bitter cold, windy day spent ski touring in the Tetons I wore a lightweight wool base layer and brought along my Breithorn Hoodie and two wind and water resistant shell jackets. Historically, on a day like this I would have worn a shell from the trailhead for the ascent and stowed a big, bulky puffy coat to throw on over it for the descent.
Wearing Over Shell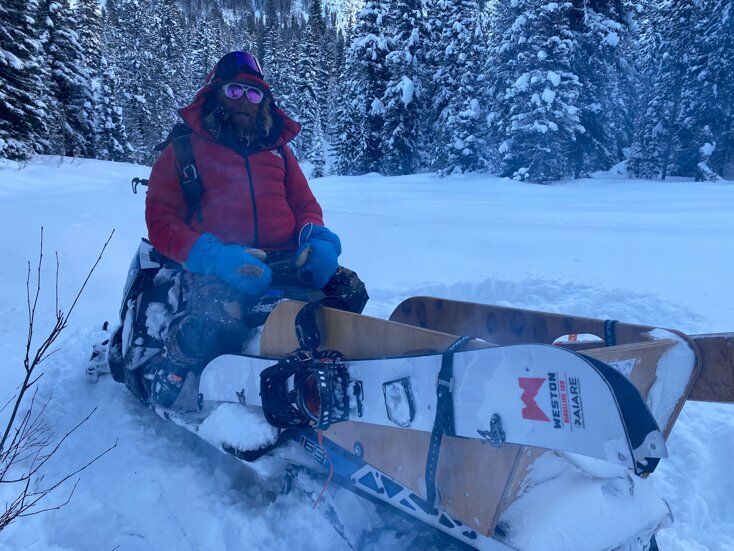 During the blustery ascent I enjoyed exceptionally dry, comfortable conditions by wearing the Breithorn 50/50 hoodie over my lighter shell: the shell kept the wind off me and wearing the Breithorn Hoodie over the top of that kept my shell from freezing up with accumulated sweat while allowing enough wind penetration to wick away my moisture. I also experimented with wearing the Breithorn 50/50 underneath my shell while ascending in those conditions, but got too warm in that configuration, so I switched back to wearing the Breithorn over my shell.
When we ascended through a wind-protected forest I felt myself starting to overheat so I simply stuffed the Breithorn into my pack and kept cruising along in a shell/baselayer combo. Just below the summit ridge the wind picked up again so I put the Breithorn back on over my shell and could feel my shell start warming up and drying out almost instantly. At the summit where weather conditions were legitimately heinous, I simply added my second shell over the top of what I already had on and during the descent I felt as warm and protected as I would have wearing a traditional bulky down jacket over a shell.
Wearing as Stand Alone Piece
When worn alone in cold, calm conditions the North Face Breithorn 50/50 Hoodie provides the lofty warmth of down coupled with the ventilation of a light, breathable layer. In cold, windy conditions when worn over a windproof shell the Breithorn hoodie provides a good balance between insulation and ventilation while the shell keeps the wind off of you. When worn beneath a wind and water resistant shell the 50/50 hoodie has helped me stay warm and dry when windy/snowy conditions prevail, and on crazy cold, heinously windy days when worn between two shells it provides the insulating loft of down without the bulk and weight of a traditional puffy coat.
The Breithorn 50/50 has worked well as part of a layering system in all conditions I have encountered so far this winter, and I am sure I will enjoy wearing it while belaying in the high peaks mid-summer, just as I have found it a nice addition to my winter adventure arsenal.
Super Packable
One of my favorite things about the Breithorn 50/50 Hoodie is how small it packs up into the included ultralight stuff sack, and how easy it is to slide into my already bulging backpack because it takes up less than half the space of a traditional down coat. If I know I'll be wearing it again soon I personally prefer to just fold it up on itself a few times and cram it into the most convenient crevice in my pack. Even on warm, calm days when I probably won't need a down layer, it's nice to know I have it stashed away in its stuff sack at the bottom of my pack in case of an emergency or sudden shift in the weather.
I am also really enjoying the spacious, stretchy hood and the comfortable, high zip collar: it easily fits over the top of my helmet without restricting head movement and provides a nice layer of breathable, lofted protection for my lips and nose. The pocket configurations are perfect: two spacious exterior zip pockets above the waist, and two open-topped interior mesh pouches. I also appreciate that this hoodie has minimal danglers off of it: a low-profile mechanism can be used to cinch up the hood, and the slightly-stretchy, and slightly tapering waist opening does not have any unnecessary mechanism dangling from it. Nice!
There are two things you should know about this hoodie before pulling the trigger.
Wearing in the Wind
First, it is not designed to be wind or water resistant: if you wear it alone on a windy day you will feel the wind flowing through the thin, breathable spaces between the down baffles. If you wear it alone during a snowstorm you will probably get wet, as I discovered while testing it out snow blowing in the midst of a warm November storm. Second, the thin ripstop fabric zones are so lightweight that the colors of whatever you're wearing beneath it can be seen bleeding through the Breithorn 50/50 Hooded Jacket. This is not a big deal for me – and it can actually provide a pretty cool effect – but if you plan on wearing it over a neon yellow dress while walking the streets of NYC you might not get the sort of attention you're looking for.
Of course, The North Face Summit Series 50/50 ProDown Breithorn hoodie is not designed for the streets of NYC: it's designed to help keep us warm and dry while out exploring amidst the ever changing weather conditions we encounter in the mountains.
Overall Impression
I've found The North Face Breighton 50/50 Hoodie ($639.99) to be a welcome addition to my kit, and you probably will too. It comes in two colors: red and black. If you're looking for a more traditional down jacket with a shinier look and more color options, the North Face Summit Series also offers an 800 fill ProDown Breithorn hoodie without the 50/50 option.
Related Articles: