Being a boot brand first and foremost has allowed ThirtyTwo to focus on doing one thing in an effort to do that thing better. And whether you're looking at their absolutely stacked pro roster or the footwear in any liftline, it's pretty clear they're succeeding in that goal. Their boots are everywhere, and we do mean everywhere.
Freestyle innovators like JP Walker and Scott Stevens trust them to deliver a durable boot that still allows them the flexibility they need to do the mind-bending work they do in non-traditional environments. No one would ever call Halldór Helgason a "traditionalist", but ThirtyTwo is able to stand up to his go-big-or-go-home style in a way that says good things for how they'll work for more "normal" resort riders.
But one of the biggest names on their roster, Jeremy Jones, is the godfather of a different paradigm. His emphasis on human-powered backcountry snowboarding has changed the way people look at the discipline, and despite his high-budget film trilogy showcasing exotic locales he's inspired a lot of people to explore closer to home with the resources already available to them, as opposed to the old helicopter and snowmobile model.
To that end, ThirtyTwo has collaborated with Jones to build the ThirtyTwo TM-2 Jones Snowboard Boot specifically with splitboarding in mind. The difference between a snowboard boot and a splitboard boot is nuanced, some would even say it's a made up distinction. But while the changes may not be absolutely essential they certainly make the boot more comfortable on your uphill. And none of them compromise the downhill performance that's essential whether you're skinning to the top of a high-consequence line or using a resort day to keep your skills honed.
The "other" Jones Snowboard Boot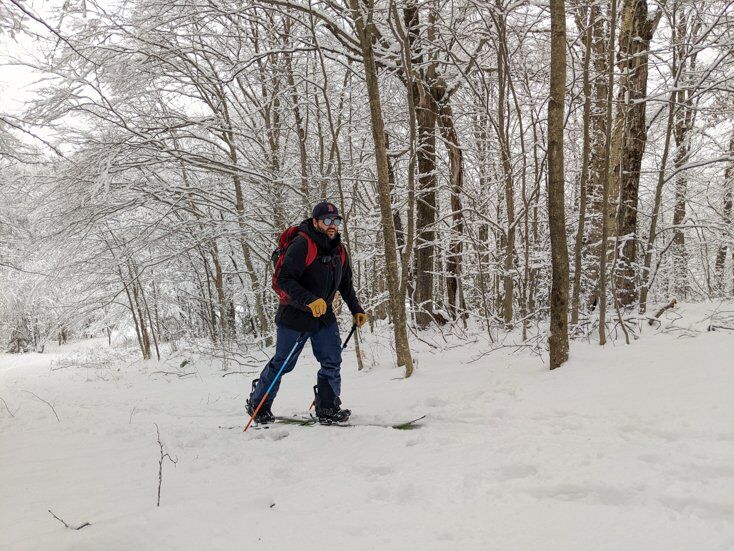 Of course, these aren't the only "Jones" boots ThirtyTwo makes. There's the big daddy, the OG boot that launched the idea of a backcountry-specific boot, the ThirtyTwo Jones MTB. It shares some features with the TM-2 version, like lugs for auto crampons, a zip-up gaiter sealing out snow, and a shared unique colorway.
But you'd never mistake the Jones MTB for the TM-2 Jones. Most notably the TM-2 lacks the trick BOA "walk mode", where the MTB opens wide at the calf to allow for more efficient strides in the backcountry. Instead you get a panel at the rear secured with elastic, similar to the automatic calf adjustment found on many women's snowboard boots. It's not quite as nice as the BOA version, but on-snow there's no denying that it works and allows for more comfortable skinning.
Progress Isn't Always Linear
The difference is those "adjustable rear spoilers" on some women's boots are intended for static use, adapting to the shape of calf muscles when the boots are put on, and more or less staying in the same place until the boot is taken off again. The elastic panels holding up the upper calf on the ThirtyTwo TM-2 Jones Snowboard Boots is being used dynamically, stretching in every stride as you head uphill. It does that job, but as elastic has a limited lifespan it's worth wondering how long that performance will last. All snowboard boots wear out eventually, and it may be the case that the liner will pack out before the elastic fails. But until we have a few years of use on this thing there will be no way to tell.
However it's also possible that the "loss" of support at the upper calf of this boot doesn't really matter. In fact, this boot seems to be questioning the entire premise of upper support. The upper liner is secured only with velcro wings that join the upper tongue to the shaft, with a traditional pull-tight lacing system only securing to above the ankle. Even on the outside the flex on the back is matched by a traditional lacing system that only goes halfway up the tongue. And that lacing decision raises questions of it's own.
Having the laces tie and your instep rather than up top puts the knot right under your binding's ankle strap. In theory this would put a bit of cushion between thinner, lighter splitboard binding straps, but in practice it really just creates a pressure point that requires a few re-dos before you learn where and how to tie your boots. And even then there's still more bulk at your instep than there usually is, so it will almost certainly be necessary to adjust your straps even if you're moving from a previous model of the same boot like I was.
Taken together this boot feels looser around your shin and calf. To be perfectly clear, the heel and forefoot hold are every bit as secure as any ThirtyTwo, but above the ankle you have an extended range of motion compared to most "aggressive" backcountry boots. Of course this pays dividends on the uphill, but the relatively uncompromised downhill performance has us wondering if ANY boot really needs all the support we build into the upper sections of "regular" snowboard boots. Could low-top snowboard boots be an idea in the future?
Built for Backcountry
Ultimately, most of these changes to turn a "regular" TM-2 into the TM-2 Jones are minor. Small differences like the gaiter or crampon lugs that are nice but far from essential. No one would give up their "regular" snowboard boots for backcountry boots if they didn't do the job of snowboarding at least as well.
Luckily for Jeremey Jones and Thirty Two, their boots do exactly that.
Surprisingly the looser feel around the calf, as described above, compliments the stiffer more secure lower foot. One feels confident and planted on their board while still feeling free to move in whatever ways terrain or expression require. Heel hold is secure without restricting comfort (or blood flow) in the toes.
Overall Impression
Even though they've got the name of a legend on the heelstay, the ThirtyTwo TM-2 Jones Snowboard Boots ($424.99) are built for the backcountry most of us ride. They're comfortable for skinning, bootpacking, and even just standing around enjoying the view at the summit. Then they're capable of performing confidently on the downhill so you can transition back to do it all over again.
Related Articles: