This roundup of the best splitboard boots was originally published at the end of the 2021 season. All of the splitboard boots for 2022 have carried over from prior season with a few new colorways on a handful of boots.
Do keep in mind – Supply chain issues are making it really hard to find boots in standard sizing. Our picks for the best snowboard boots for splitboarding are below.
Best Splitboard Boots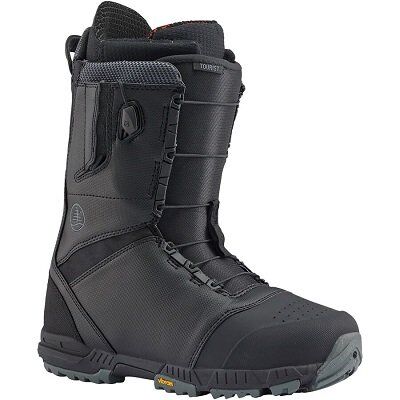 When your splitboard boots are built to work in collaboration with the #1 splitboard binding company in the world, you should take note as in the case of the Burton Tourist Boot. Burton and Spark R&D have worked together for years. Spark rocks Burton ratchets and Burton hired Spark R&D to build their Hitchhiker Binding. So why is this important? This Burton Splitboard Boots fits perfectly into the heel cup of Spark bindings. There is no better connection between Burton Boots and Bindings, and now Burton has brought the same tech to work with Spark R&D.
With a burly Vibram soul, extra stride length on the skin track and the comfort known to Burton Snowboard Boots ,you really can't go wrong with the Hitchhiker especially for fans of Spark R&D. This is the boot Spark's founder rocks, regardless of your riding style you're going to love the Tourist, it's easily one of the best boots for splitboarding that's been designed to date.
Lacing: Burton Speed Zone Lacing
Soul: Vibram
Crampon Compatible Heel Cup – Yes
Price: $549.99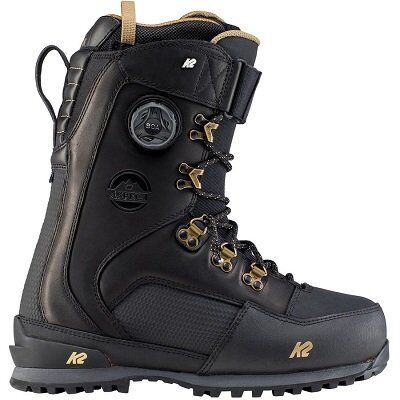 The K2 Aspect Splitboard Boot designed in collaboration with professional snowboarder Lucas Debari, a boot that seems to be the heir apparent to the legendary big mountain boot K2 T1. Just like the Vans Infuse, this boot offers up a ton of customizations. BOA, Laces and a Powerstrap make tightening this boot down easy. One thing to note about this K2 Splitboarding Boot is it's super stiff, so it's great on the up, perfect for long days touring but just may be a little more boot than you're used to. Think splitboarding in mountaineering boots and you'll get a feel for what the Aspects are all about. If you've been thinking about making the switch to hardboots, perhaps try this splitboard boot first.
With foil inserts, these K2 Splitboard Boots will keep your feet warm throughout the day, heck they were built with a Mt. Baker rider in mind. Toss in burly Vibram Mountaineering soles and these boots will take you anywhere you want to go, maybe even places you don't.
Lacing: BOA, Laces, Powerstrap
Soul: Vibram
Crampon Compatible Heel Cup – Yes
Price: $499.95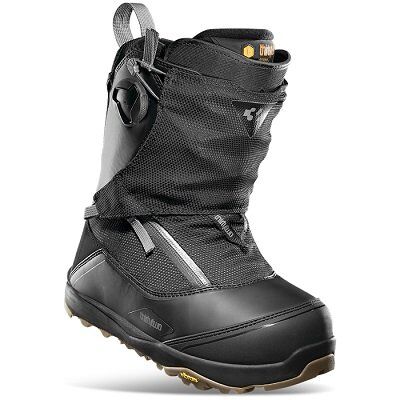 Another dedicated splitboard boot is the Jones ThirtyTwo Boot which is now discontinued. If you can find an older pair grab em. Developed to meet the needs of Jeremy Jones of Jones Snowboards, the ThirtyTwo Jones MTB Boot has a ton of splitboard-friendly tech. These boots offer great lock-down from conventional lacing and the brilliant use of "walk-mode" BOA makes it easy to tighten things on the up, and back off on the down. Or as skiers sometimes do it in reverse.
You'll be sure to dig the way these ThirtyTwo Splitboard Boots feel from the first time you put them on all the way throughout the day until you go to take them off. Built to keep snow out, keep your feet that much warmer, give you that little bit of extra stride length and great support touring and riding. This is why the ThirtyTwo Jones MTB is pretty much impossible to beat in terms of the amount of tech and performance wrapped into one. If you're looking for a pair of boots for splitboarding in big mountain terrain, you found them with the ThirtyTwo Jones MTB's.
Lacing: BOA, Laces
Soul: Vibram
Crampon Compatible Heel Cup – Yes
Price: $699.95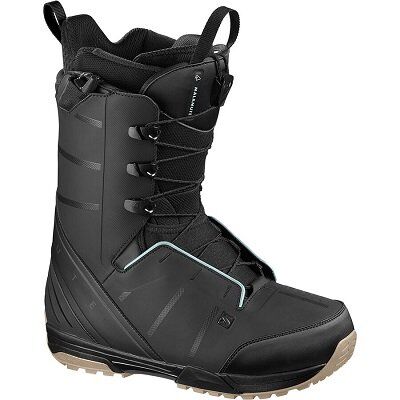 Salomon Malamute Snowboard Boots are one of the best-selling snowboard boots that can easily be used for resort riding and splitboarding without having to switch up boots. These splitboard snowboard boots can do it all from park, to pipe, deep powder and most importantly perform on the skin track. The stiffness on this boot is what makes it suitable, and even excellent at times, while touring. The Salomon Malamute Boots are one of the stiffer traditional snowboard boots on the market for people that ride super hard and like that little bit of extra support in their boots.
Salomon's Powerlock Lacing System is easy to use, fast to get in and out. A nice alternative to BOA if you're not ready to go that route. Toss in heat moldable liners and you have a snowboard boot built to last for many seasons, even while splitboarding. Although the Malamutes were not designed with splitboarding in mind, they are one of best snowboard boots you can rock for splitboarding.
Lacing: Salomon Powerlock Speed Lacing
Soul: Trek EC+
Crampon Compatible Heel Cup – No
Price: $399.95
While not technically a "splitboarding boot", the Vans Infuse Snowboard Boot is the best snowboard boot for splitboarding I tested. These Vans Snowboard Boots designed for backcountry snowboarding can do it all. It's the sort of boot professional snowboarder Pat Moore needed. From big booters to long snowmobile rides, deep snow, park, street all of it.
Why does this boot work? It's the most customizable snowboard boot in the world. With a combination of BOA, laces, a power strap and tongue stiffeners the Vans Infuse Boot is a staff favorite hands down. Want a soft boot to tour in, undo the BOA or the power strap for longer stride lengths. Get to the top and want a stiff boot for the way down, do the opposite and tighten the BOA and Power Cuff Strap.
Lacing: BOA, Laces, Powerstrap
Soul: Vans UltraCush Waffle Pattern
Crampon Compatible Heel Cup – No
Price: $419.99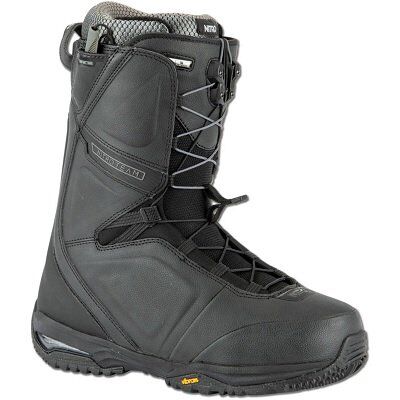 The snowboard boot that introduced me to Nitro Snowboards (cheers to the Nitro team), the Nitro Team TLS Boot just felt right out of the box. There was no break-in period and after 20+ days of touring the boots offer the same stability they did on day 1. What makes the Nitro Team TLS Snowboard Boots special are their internal and external lacing systems. Yank up on the system and feel the boot wrap around the areas that need lateral and torsional support. Once locked, the laces won't move throughout the day unless you want them to.
For someone that likes softer boots on the way up or down, or stiffer, this lacing system makes it incredibly quick to adjust on the fly. I would encourage anyone looking for a splitboarding boot with support to seriously check out these Nitro Splitboard Boots.
Lacing: Nitro TLS Speed Lacing
Soul: Vibram
Crampon Compatible Heel Cup – Yes
Price: $389.95
Rounding out our list, almost a hardboot, yet still in the soft boot category is Fitwell Boots. The Fitwell Backcountry Boot is not for the faint of heart, these were one of the first dedicated splitboard boots ever built. They're stiff, burly and offer the most support of any boot on this list. Some of you are probably frothing at the mouth over this boot while others have stopped reading. It's the sort of boot you'll want to try on before buying and will take some time to "break in" if that's even possible. But for the dedicated big mountain splitboarding crowd that likes to ride where climbing and crampons are involved, Fitwell should be at the top of your list.
Handmade in Italy the Fitwell Backcountry Snowboard Boots are made for riding in terrain that requires crampons and ice axes. If that's your deal, you will enjoy the reliability of these boots. But don't be too bummed if your feet hurt after a long tour, as some of the new AT ski boots are more comfortable to wear than Fitwells.
Lacing: Laces, Powerstrap
Soul: Vibram
Crampon Compatible Heel Cup – Yes
Price: $459.00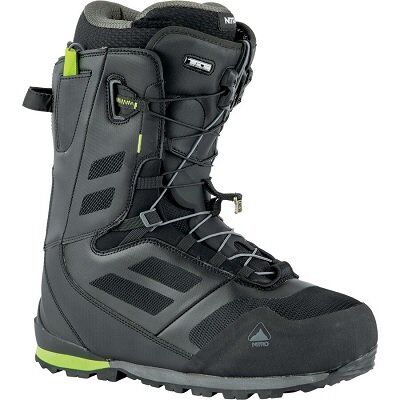 Nitro, the high performance snowboard boots that perform like ski boots. Over and over again that's the only thing I can think when I put my feet into Nitro Snowboard Boots. Don't let the ski boot part fool you, this splitboard boots is super comfortable yet has the support and stability one needs for touring. With the Nitro Incline TLS and Team boot mentioned below you can literally stand on your toes for steep inclines. If you haven't tried that technique or the Nitro Incline Boot before, you're missing out.
Nitro's Speed Lacing system rocks, start with the liner, pull up cross the laces and your liner will stay in place for the day. For the outside of the boot it's even easier, pull up and the laces auto lock into place. To loosen, pull towards your toes, or any direction but up. A great splitboard boot with easy in and easy out.
Lacing: Nitro TLS Speed Lacing
Soul: Vibram
Crampon Compatible Heel Cup – Yes
Price: $339.95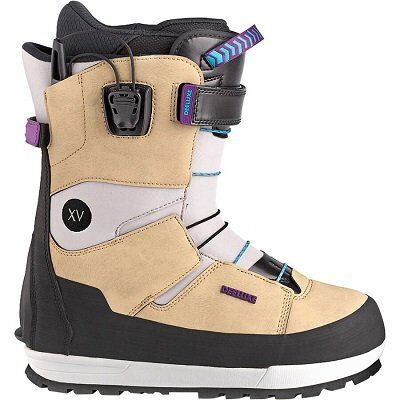 One of the first dedicated splitboard boots, the Deeluxe Spark XV Splitboard Boot. These Deeluxe Splitboard Boots have been around for over 5 years now, crampon ready and comfortable to wear on the up and down. I spent a few seasons rocking this Deeluxe Snowboard Boot and was super impressed from the first time I slipped my foot inside.
The Deeluxe XV Speedlace Splitboard Boot was designed by Xavier de la Rue, need we say more? Great for touring with extra long stride length available. One hand pulls to tighten, a great all-around splitboarding boot from Deeluxe.
Lacing: Deeluxe LC Speed Lacing, Powerstrap
Soul: Vibram
Crampon Compatible Heel Cup – Yes
Price: $328.95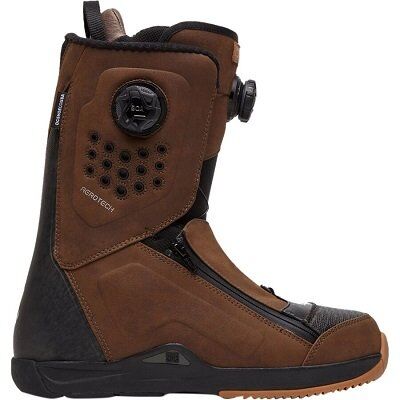 One of the first things you'll notice with the DC Travis Rice Snowboard Boots is the similarity to the boot Jeremy Jones uses, especially the snow protector on the front of the boot. Travis Rice spends lots of time in deep snow, not as much time splitboarding but he needs a boot with support, which is why the DC Travis Rice Boot performs well on the skin track.
Need to stay warm in the backcountry? The DC Travis Rice Boots are super toasty as they include 3M insulation, the same stuff you see in houses. If your focus is strictly on the down, consider this performance snowboard boot as the asymmetrical sole (only one on this list) gives you less toe and heel drag on the descent.
Lacing: Double BOA
Soul: Asymmetrical ANTI DRAG Outsole
Crampon Compatible Heel Cup – No
Price: $419.95
Related Articles: