Quality shades are a mountain sport essential, and we ask a lot of them: clear optics, comfortable fit, protection from sun and debris, all without fogging up during a muggy ride or hike. With a low MSRP of $79.99 the Tifosi Kilo sunglasses tick all the boxes with aplomb.
Lenses
The shape of the glasses is something like an angular parallelogram, which seemed both slick and modern, and each lens had two small notches. I first thought this was an aesthetic consideration – little did I know this feature had a massive functional advantage.
The Kilo's came with three lenses – black, red, and clear, rated at 3, 2, and 0, respectively. I tend use all three types of lenses – black for road-biking and high-altitude forays, red for most mountain biking with lower light and well as overcast days, and clear for night-rides.
The notches in the Kilo lenses make changes extra easy, as it gives the lenses a bit of additional play and facilitating popping the lenses in and out. This prevents you from scratching the polycarbonate and leaves you no excuse not to have the prefect lenses for your conditions.
What's Included?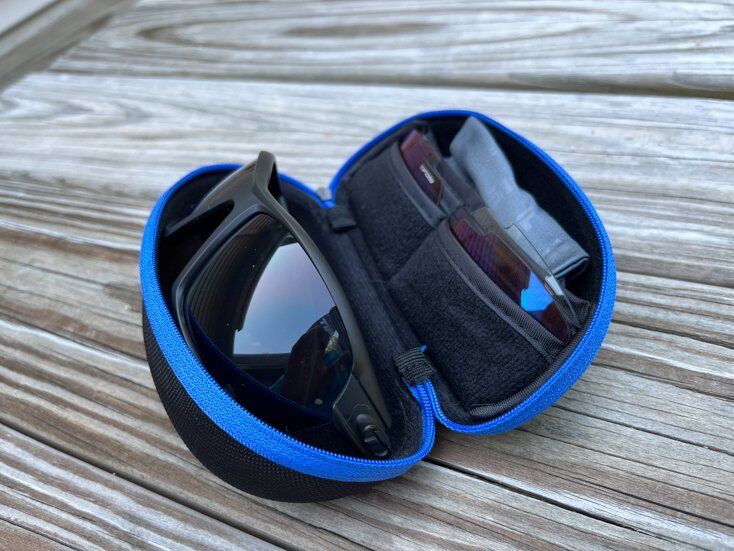 The Kilos arrived in a tidy a semi-rigid case, with dedicated slots for the two (included) pairs of replacement lenses as well as a micro-fiber cloth. The nose- and earpieces are both comfortable and highly adjustable, and they were perfect for me right out of the box. The wearability was great with good coverage without being excessive, and they did not slip or fog up during hot and humid rides.
Overall Impression
Not much left to say about the Tifosi Kilo Sunglasses ($79.99), besides that I am a fan. The Kilo Sunglasses are great running and biking sunglasses from Tifosi at a price anyone can afford.
Related Articles: